The gay spa is full of mysteries. Under the dim light, the two men's bodies cross each other and there is eye contact. The lust builds up with every touch. The erotic atmosphere of the spa is what keeps gay men coming back. 
To fulfill your curiosity, Gagatai is cooperating with ANIKI, Taipei's most famous gay sauna. We also invited Xiao Dong Yao, Mr. Gay Taiwan, for an interview while we take a peek to his sexy body in the gay sauna.
Dong Yae is a star in the gay community. He has participated in the Mr. Gay World contest where he wore a traditional Chinese warrior suit. He mightily walked down the runway with A-Mei's music in the back, showcasing the Eastern charm from Taiwan. Even though the interview was short, he still made a great impression. 
Dong Yae appears at 33:50, there is also a short interview at 1:50:55
I met Dong Yae at ANIKI. Meeting him after this year I can see how he has changed, he has become more mature and handsome. He looked more determined. We were shooting while he was holding a dumbbell. He said that working out is like eating, he does it whenever he has time, around five times a day. No wonder it seemed very easy for him to hold the dumbbell in the air many times during the shooting. 

His thick arm while working out is making me drool. 
Later, we walked into the changing room. Dong Yae told us the steps to a good sauna experience is change clothes, shower, then to the oven. But if there is a theme party, he would join the party right after changing. His child-like smile is making my heart melt.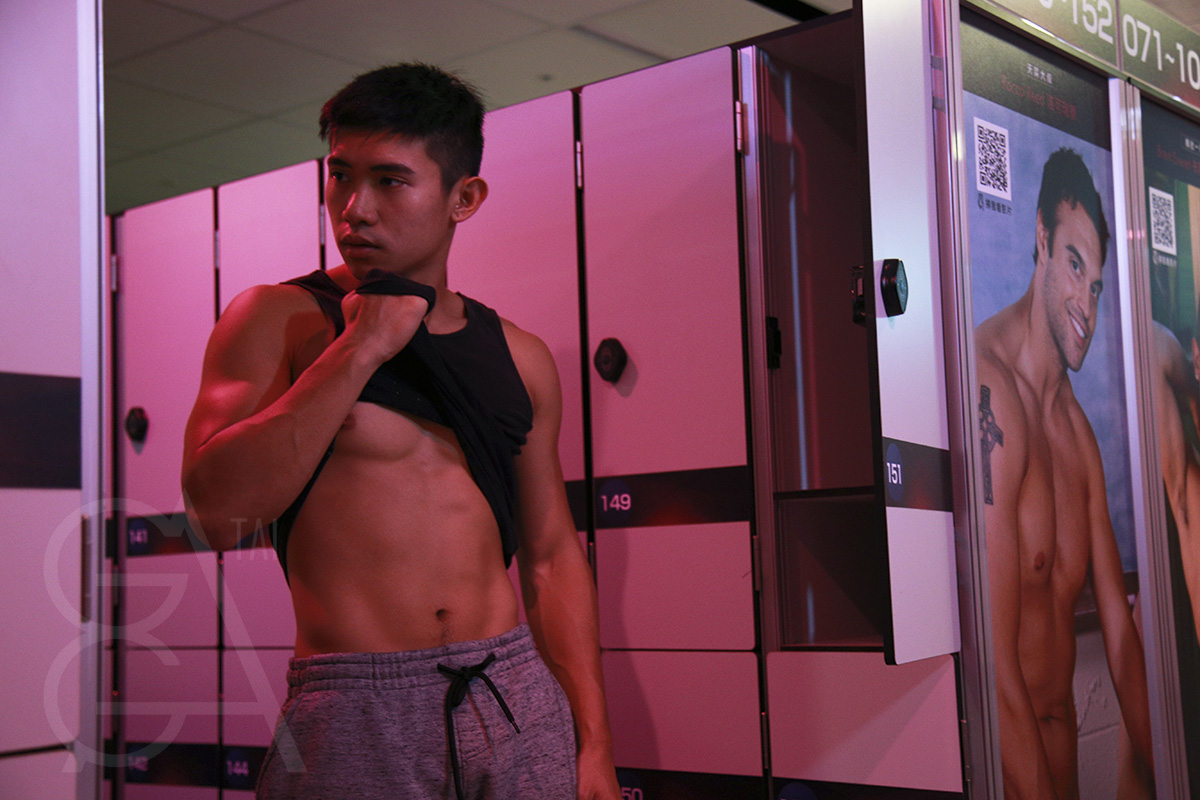 He looks so hot while changing clothes.
Dong Yae has attended to some crazy parties in ANIKI. "I love bubbles, I would put shampoo in the bathtub and start putting water when I was a kid. I go crazy when I see bubbles. I jump right in." Dong Yae's face turned from serious to a puppy. "That was my first time in ANIKI, the bubbles built up to the ceiling. I was not able to see anything around me, but there was people touching me everywhere. It was quite exciting."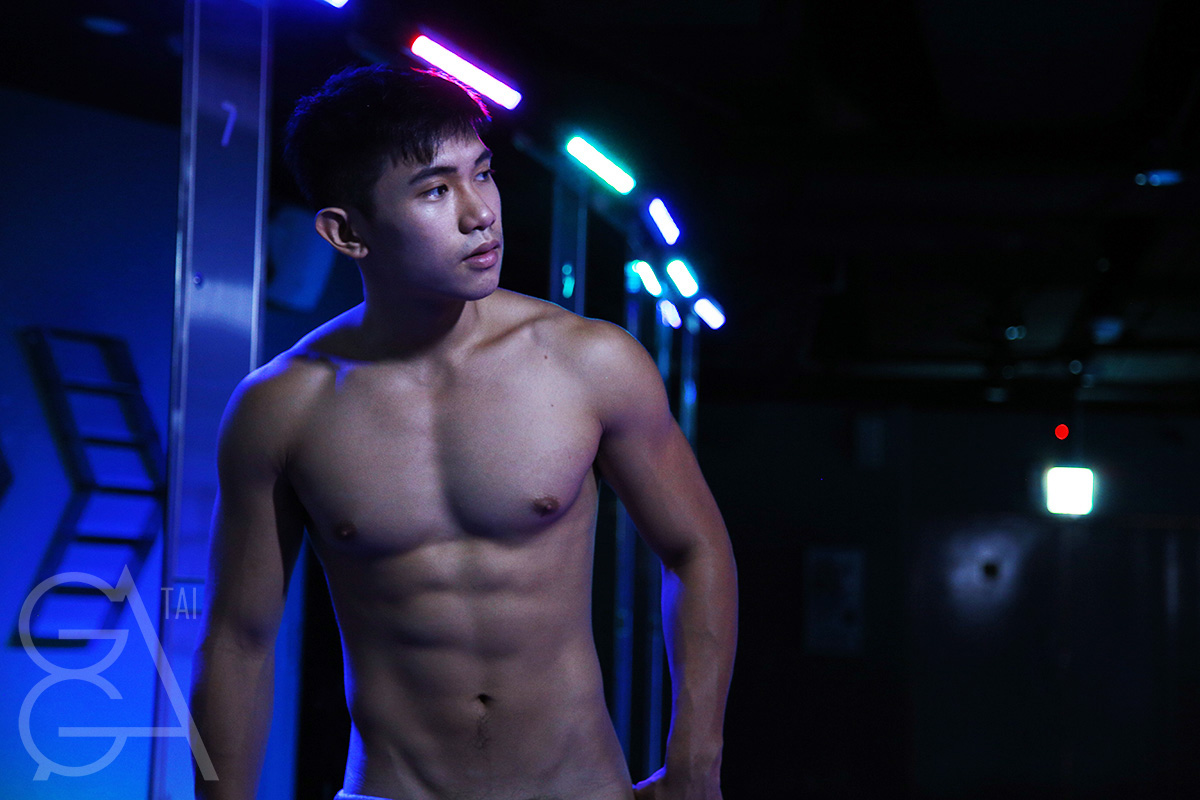 At ANIKI, Dong Yae is looking for his next prey. 
Besides a bubble party on 10/28 Saturday, there was a black leather party that Friday and a mask gym party on 10/29. Dong Yae told us that he wanted to join the mask party, "I usually focus a lot on the work out at the gym. It would be very exciting if there is a party about it." I see now that Dong Yae prefers to have it exciting! 

The bloodthirsty lion. 
The sauna is the perfect place to hit on people. Dong Yae is shy and scared to be rejected, so he does not really hit on people. On the contrary, Dong Yae has been hit on before, for good and bad results. Dong Yae does not like the dark room, because there have been some uncomfortable experiences in there. Some will pinch directly you, so he prefers to be in a lighter space. There were also some nice experiences: once, there was a pretty decent guy in the sauna, "he walked towards me, not tall, good body, tall nose, and small eyes. He looked Korean." Even though they did not do anything, they keep in touch until today.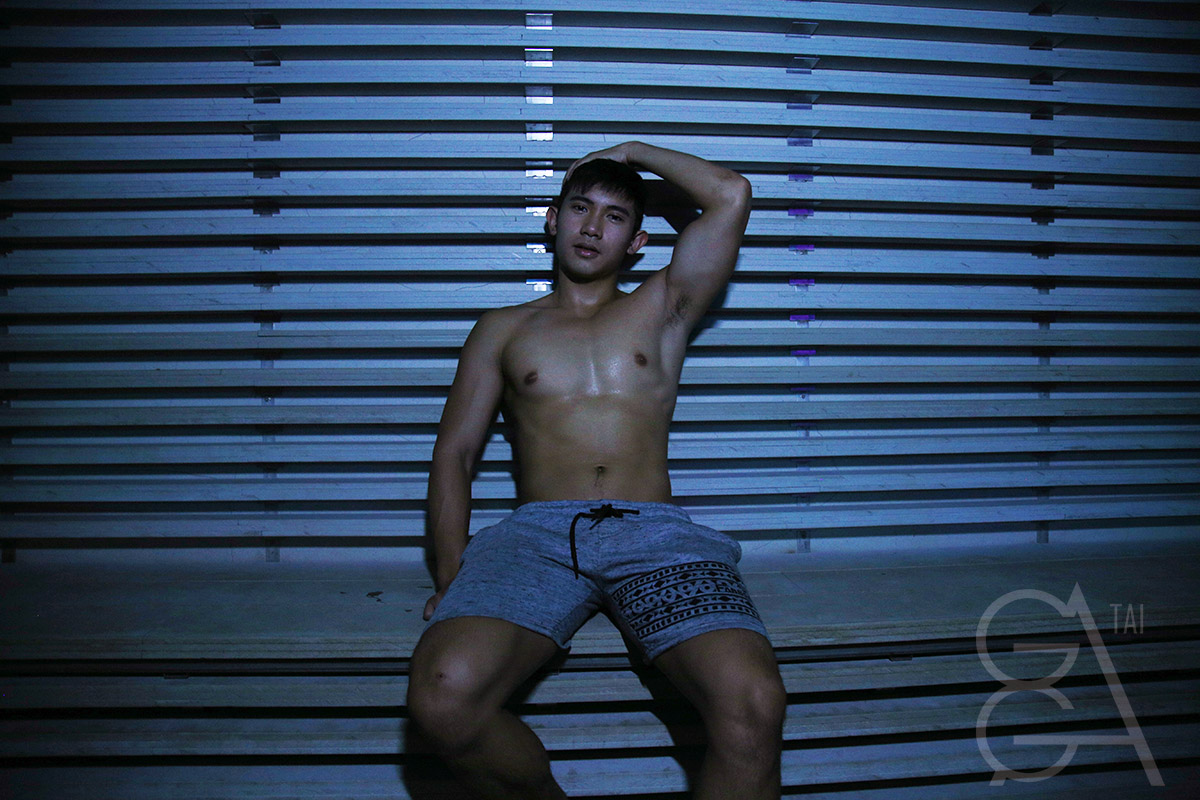 He is making you want to hug in the sauna.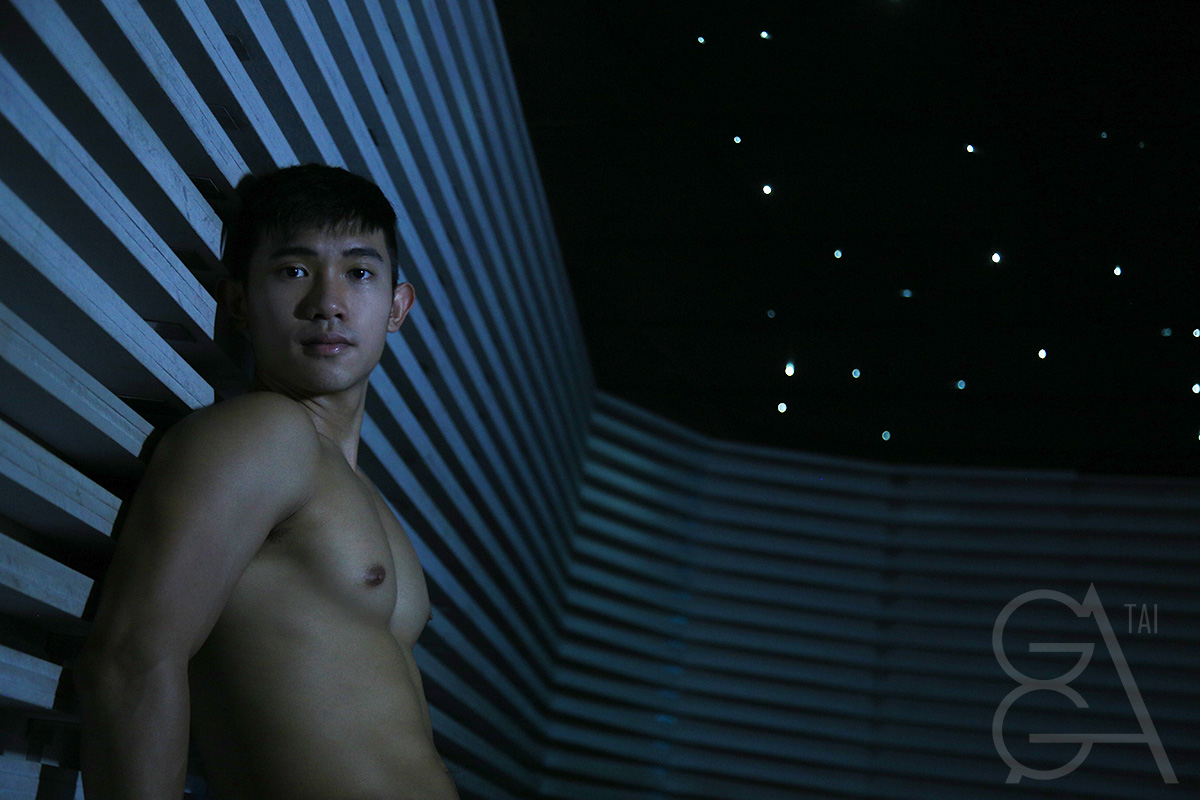 His soft eyes are killer. 
Besides the public area, there are private rooms available. The privacy for two or the excitement for three is all welcome. Dong Yae has tried threesomes in the room too. "My boyfriend wanted to try it out that day. I went with him since there was a promotion. I was thinking about just the two of us, but then there was a nice looking Hong Kong guy. We exchanged eye contact. The three of us went to the bigger room. The conclusion was that everyone was pretty good at it. (ha)"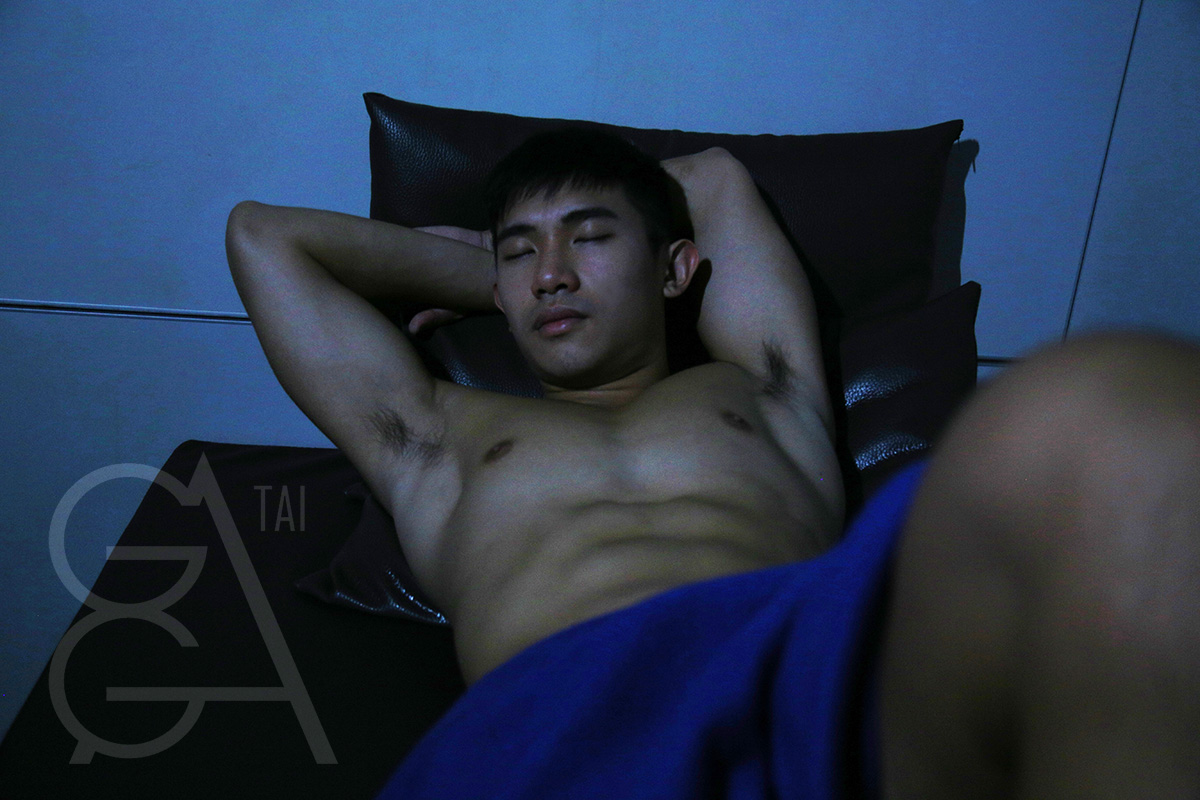 Dong Yae in the private room.
Some people will feel hurt when they are just use for sex. Dong Yae suggests not to take it seriously. "Everyone comes for different reasons, some are only here to take care of their sexual needs. Of course, they do not bother to make a connection after finishing. But there are also some cases when you feel the connection, and you two might keep in touch after the encounter." There are a hundred different types of people at the sauna. Do not feel troubled. It is like a chocolate: you do not know which one you are getting until you put it in your mouth."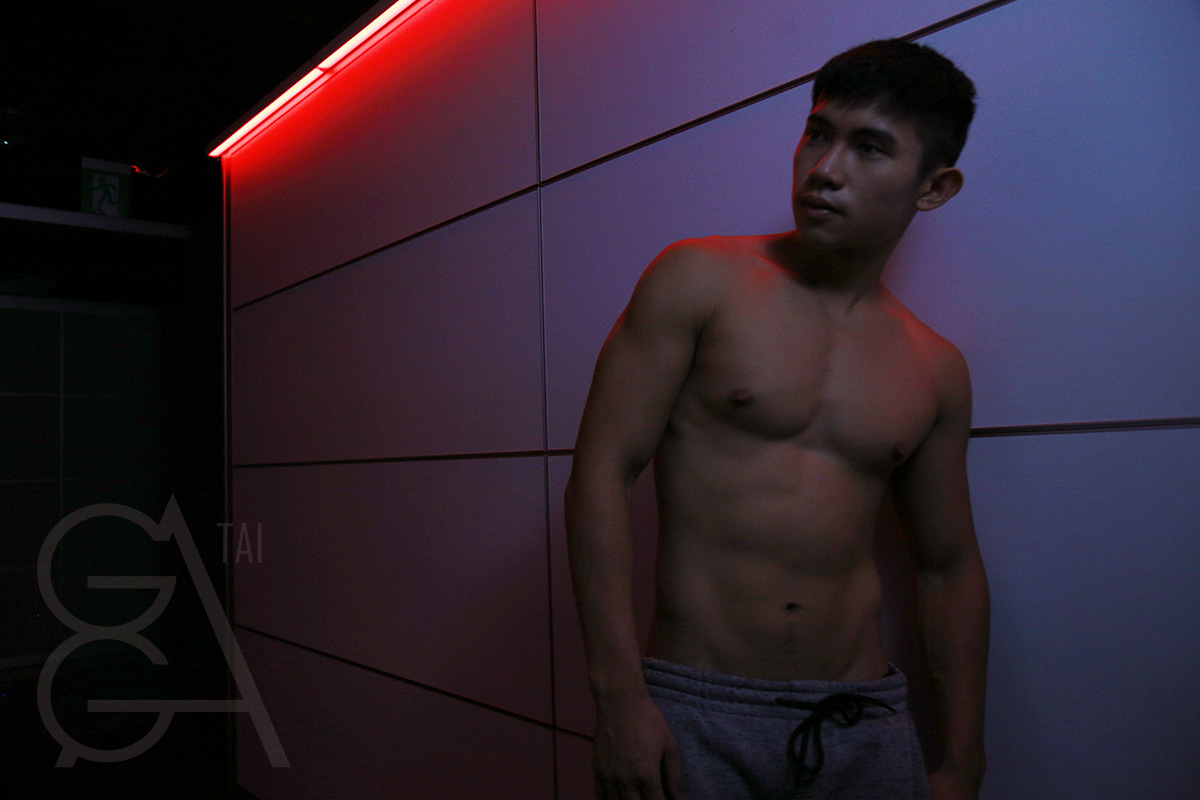 What kind of chocolate do you want?
There are a lot of sexual activities at the sauna. Some people do not think it is the right place to find a stable partner. Dong Yae thinks that it has to do with every person's need in a relationship. Some couples have an open relationship, or, of course, some are able to find their Mr. Right at the spa.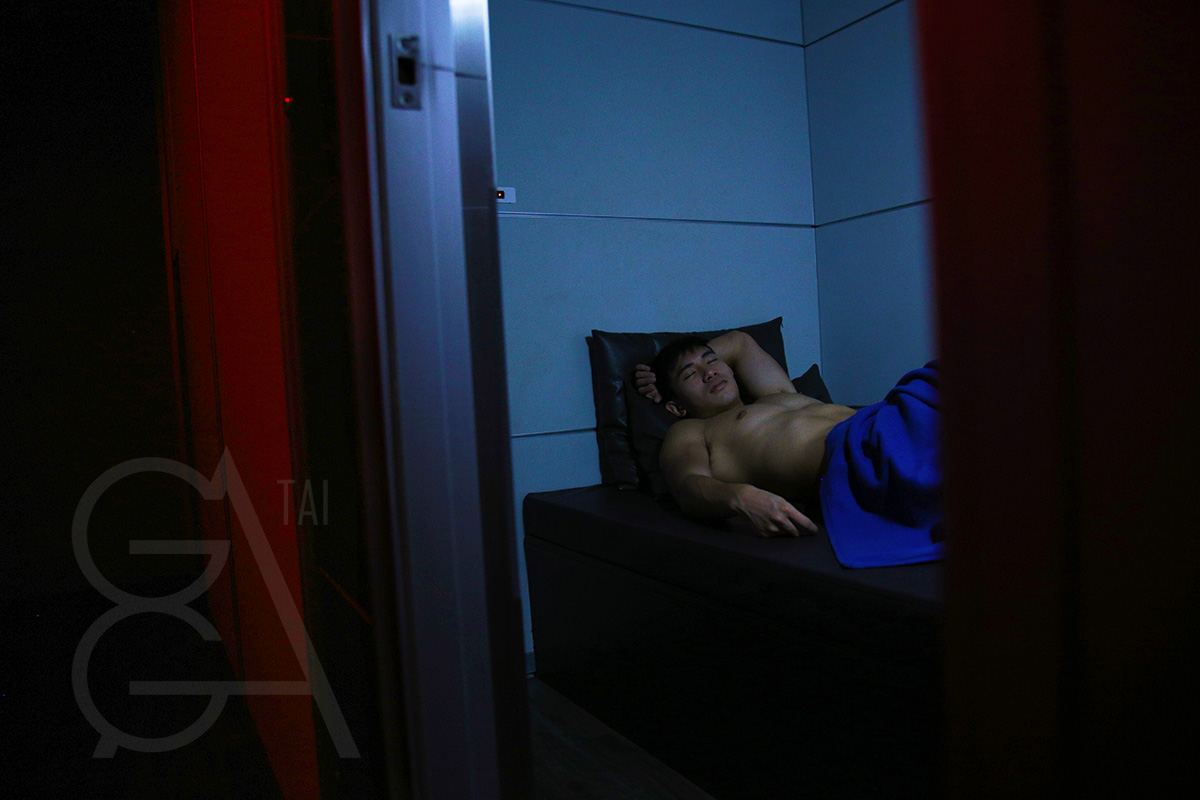 ANIKI after renovation. There are different sizes of room for all your private needs. 
Dong Yae has been to many gay saunas around the world. The one that impressed him the most was BABYLON in Thailand. He went during the water festival. There are outdoor and indoor areas. There was jazz music performance outside, and a sensual maze inside. When I asked him if he had a hookup, he said there was a guy who hit on him, but he was not his type, so he told the guy that his friend is his boyfriend. "He was a westerner and did not understanding that I was rejecting him. Instead, he asked if we wanted to have a threesome. (ha) My friend grabbed me away when he saw the situation was not right." It is obvious that you get hit on a lot when you are too hot.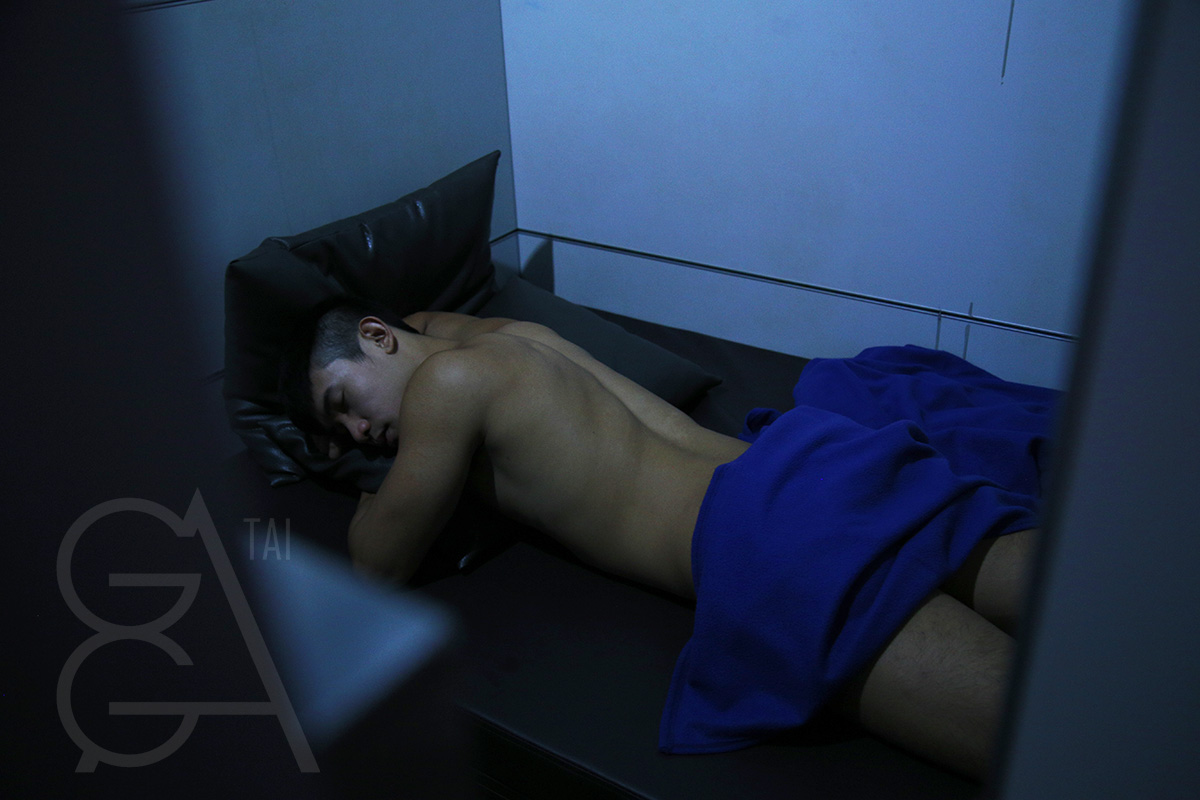 The towel is laying on top of Dong Yae's butt, hoping that towel disappear.
Many people think that the gay spa is a bad sexual place. Dong Yae regards it as the fear for humanity. "Spa is a place to use sex to socialize, some people think sex is a guilty and dirty act, so going to gay spa would make them feel guilt. However, if the two parties make sure that it is going to be safe, there is nothing bad about it.", Dong Yae continued. Fighting for gay rights is not only for gay people, but we are also fighting for BDSM, bisexual, intersex and transsexual people. "We use the name of Gay Pride to gather people's voice. Sex is one of them. I hope people do not think of us as dirty because we are gay. Sex is good, there is nothing wrong about it."

Dong Yae encourages you to enjoy sexual pleasure
Dong Yae encourage people to participate in all kinds of gay rights campaign. At the same time, it is not just for marriage equality, but many other rights. "Do not be afraid that you will bother others because of the parade. We do not live in this world just to survive, what we need to get is more rights."
For those of you who are still shy and hesitating to go to the gay spa. Dong Yae said that he has also encouraged someone like that. There was a foreign friend who was very curious about it but was too nervous. Dong Yae was trying to communicate with him while checking the dictionary. He told him that you will never know how it is until you have tried it. Later on, his friend had a blast and shared his experience with him. 
All in all, it does not matter if you have been to a gay spa before, just go for it!
There are many different parties at ANIKI. Dong Yae loved the bubble and the gym parties, and the SM themed black leather party (so, yes, he loved all the parties).
Follow the latest updates from ANIKI in his Facebook and Instagram.