Taiwanese gay couple Gary and Peter met each other in 2015 and later got married. Through a surrogate mother, they are parents to a pair of twins. Gary found a surrogate mother with the help of the American NGO Men Having Babies, which allowed them to meet Mayson (older) and Samson (younger). They live happily in Taiwan. 
(Men Having Babies will be holding an advocacy & research forum in Taipei on October 2-3, 2020. Limited registration. Register here)
---
Q: How did you to meet, and how long did you date before getting married? 
Gary: We met on a dating app in 2015. I was clear that I wanted kids, and Peter had no objections. We had had kids before the Taiwanese same-sex marriage bill passed. We wanted to marry because we would need to adopt the kids. Then the bill passed, and we married each other in July 2019.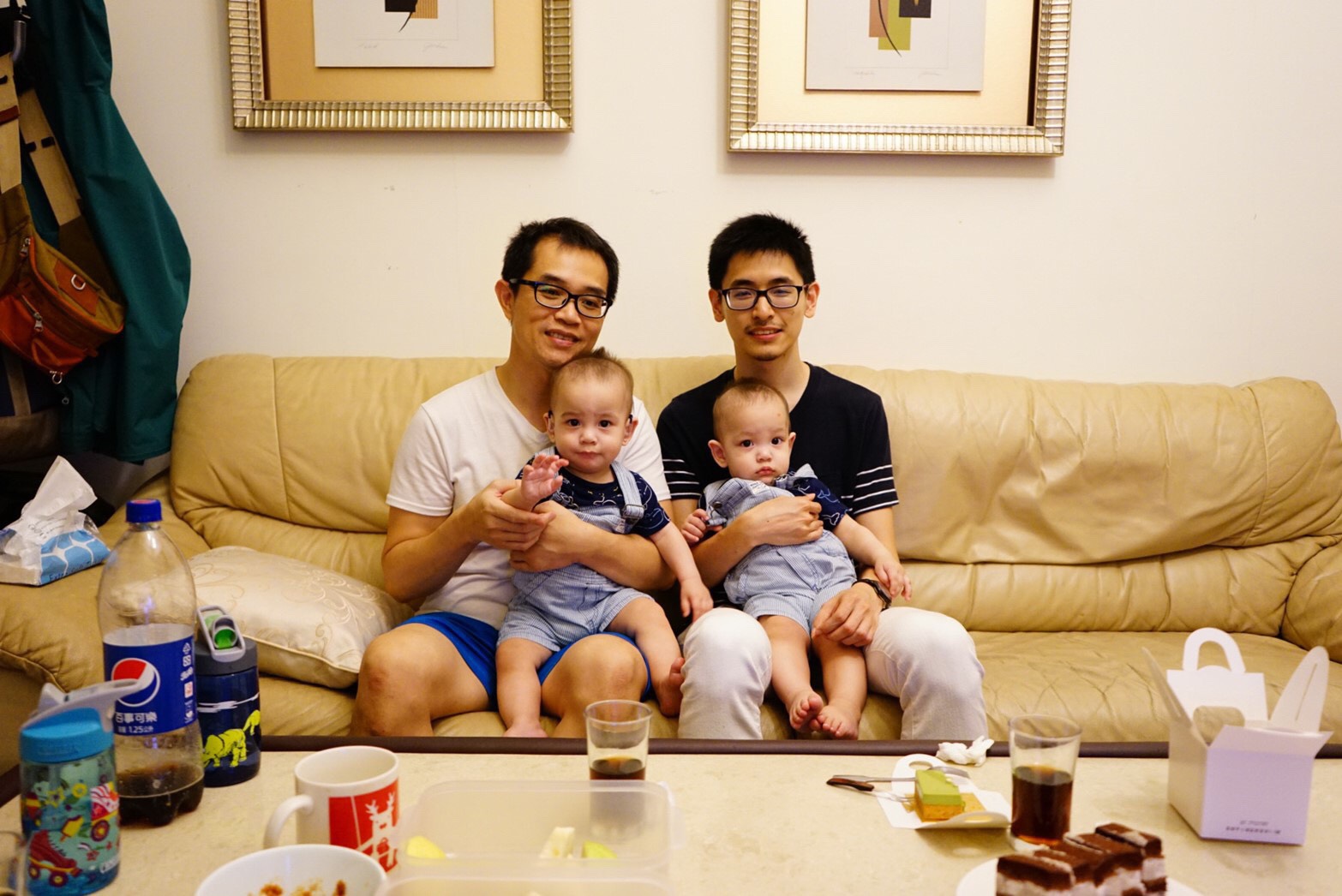 Gary (White) and Peter (Black) 
(Image/Gary)
Q: When did you two start to want kids? What do children mean to you? 
Gary: I wanted to have kids since I was 30, to grow with them, to feed, and nourish them. Having dating each other for 2 years and both of us having a stable career, we began to seriously look into it. 
Peter: I like kids too. But I've never really spent extensive amounts of time with them, so I was a bit perturbed when I heard about it. Also, we made attempts such as working with a lesbian, which involved another family's guardianship, etc. Difficulties like that made me worry.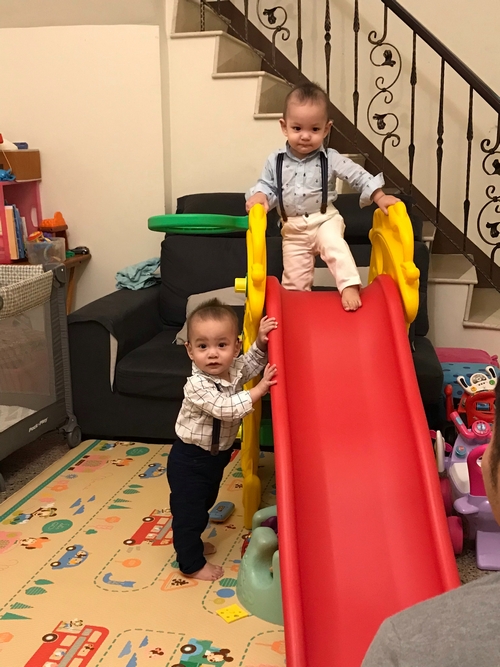 Adorable Mayson & Samson
(Image/ Gary)
Q: Of the many ways to have kids, which ones did you try?
Gary: We considered adoption, but for Taiwanese gay people the options are very limited; we then decided to have our own first and perhaps do adoption in the future. 
At first, we reached out to lesbians. I posted a story on the internet. Someone came to me and said that she was getting old and wanted kids as well. The Taiwanese law stated that you have to be spouses to do artificial fertilization, so we civilly married each other, signed the prenuptial agreement and had our lawyers review it. Then we did the first attempt on artificial fertilization which failed. I felt then that she was nervous about the process. After all, she was all alone; a year later she rejected a second attempted with various reasons. My mother was also worried that a collaboration like that would result in disputes and that we might not be able to see our kids. So I divorced her and moved on.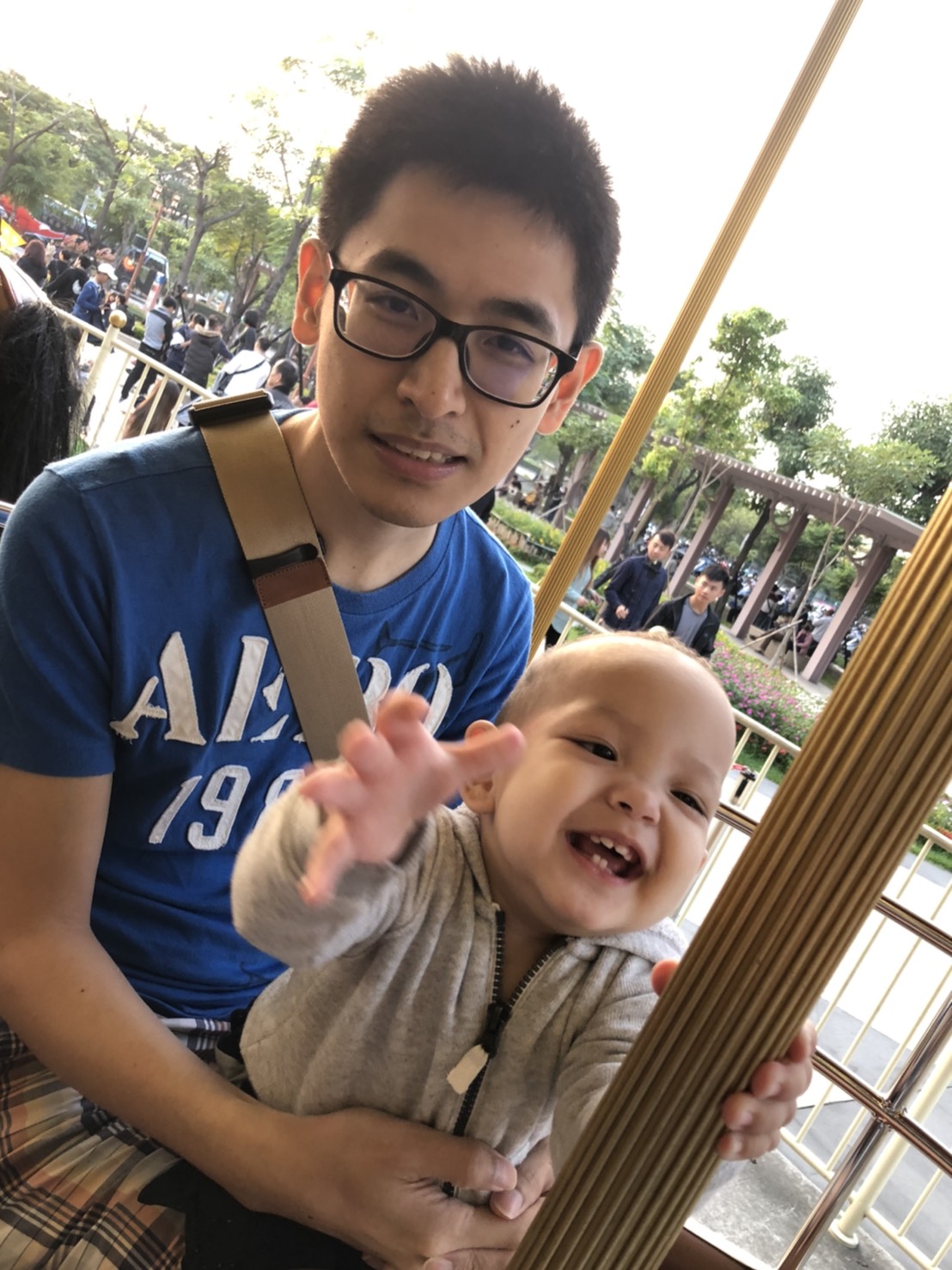 Peter taking the baby out
(Imgage/Gary)
Q: How did your parents' attitude change about your coming out, marriage, and parenthood? 
Peter: My parents still don't know that I'm gay and that I have kids. I've never really been upfront about my relationships. I've been waiting for them to ask, but perhaps they're waiting for me to tell them. I planned to tell them after we settled in Linkou. But then we turned out to start a business in Kaohsiung, and I haven't really found the right moment to come out with them yet. 
Gary: My parents divorced when I was in high school, and I stayed with my mum. I finished my masters in America when I was 28, came back to Taiwan and started to date my first boyfriend; mum asked me over the phone if I liked boys. Coming back from the states, I didn't think that it was a big deal and just said yes. We had a huge fight over the phone and didn't speak for three weeks. Then she resumed her regular contact with me. After that, I continuously brought my boyfriends home to her, and she was nice to both me and them. Until a few years ago, she still hoped that I could marry a woman and have kids with her, but not anymore. I've been trying to prove to her that gay people are people too and they do no harm. My work has been moving up, so she gradually started to support me as she no longer worried.
When I first brought up that we wanted to find a surrogate mother, I thought that she would object. But perhaps due to our prior failed attempts, she was composed and we had many long discussions. She supported me financially, went to the states to find a lawyer and surrogacy agent with me. I think my mum was excited when she learned that the surrogate mother was pregnant, and she was delighted that once the kid was born and brought back to Taiwan, she could help look after him as well.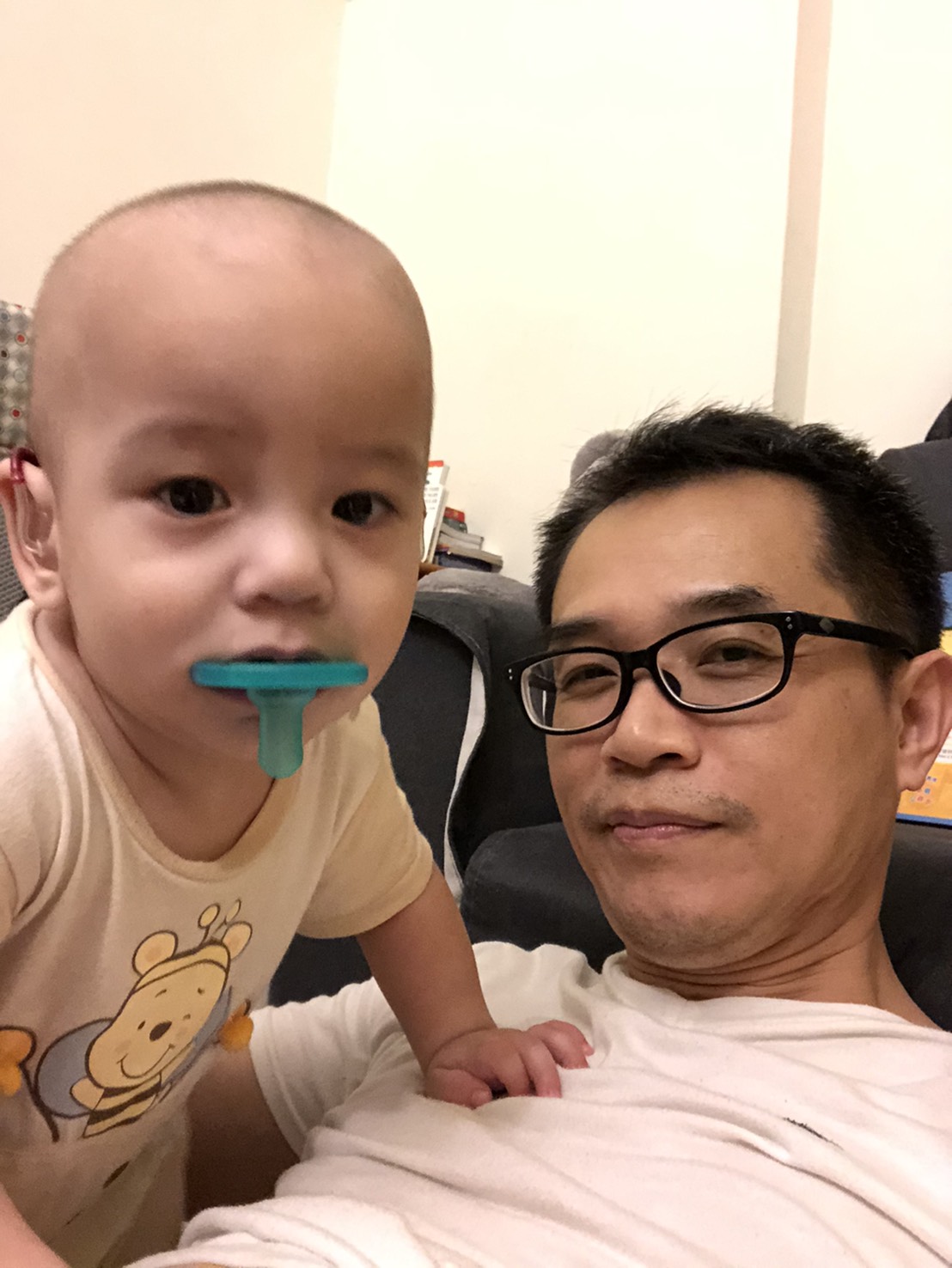 Gary and the baby
(Image/Gary)
Q: What is the reason why you decided to start an American-English language school? 
Gary: We thought to ourselves, what kind of business we'd want to start for our kids? Because of the kids western appearance and that English is an important tool, we thought that should we open up a kid's English school. They'd be able to learn English while we could stay with them, and they'd have room to play. 
On the other hand, Samson has auditory neuropathy which means that he can't hear properly. For people who can't hear well, it might even be hard to learn their mother tongue, let alone a second language. I realized that it would be difficult for him to learn language, but with a language school, he may improve.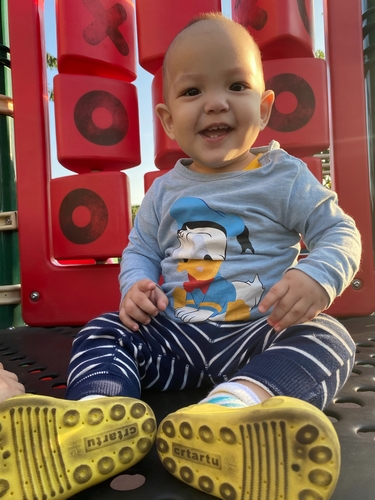 (Image/Gary)
Q: What was the biggest problem you faced during the surrogacy process? 
Gary: At first, we didn't know where to start, and there was no one to refer to. We didn't know about Men Having Babies, and we ended up finding a wrong clinic, nor did we find any agents. 
Then we saw a post on Facebook about MHB having a panel in San Francisco and found their website which contains abundant information, including recommended clinics and agencies; I made contact with 4 surrogacy centers that conformed to our location, price, reviews and needs. I then learned that it wasn't just about the clinic, but lawyers, psychiatrists, option between egg donor and cryopreservation, surrogate mother requirements, funding and trust fees. Then we found a surrogacy center which conformed to our requirements, took less time, and had gay-friendly doctors. 

Gary and the baby
(Image/Gary)
Q: How did you feel about each other during the process other during the process?​
Peter: I'm quite impressed by Gary because the entire process and paperwork were in English and rather complicated; the paperwork needed scrutiny, otherwise the cost could become huge. I wouldn't have been able to do it. The fact that Gary managed to produce babies from nothing is incredible to me. 
Gary: Having to work while having such a large expense was a bit overwhelming. Thankfully, Peter was there for me and he supported the process. He helped with the chores and wholeheartedly discussed with me. I think he's lovely support.

Peter and the baby
(Image/Gary)
Q: How did you feel when the babies were born?
Gary: The baby was due on January 22 and we planned to fly to the states on paternity leave. But we woke up on December 3 to a phone call from the surrogate mother saying that her water has broken and the babies were on their way, and then she hung up. We were terrified. An hour later, she called again and told us that the babies were born; I requested leave right away, booked a hotel and plane and flew to the states that very night. It was the afternoon of December 3 when I got there, and 9 pm by the time I reached the hospital. I was incredibly emotional when I saw them, to see that my own kids have been born. They were well taken care of in the incubator, and the medical staff were very gay-friendly. 
Peter: After being born for 4 days, Samson developed necrotizing enterocolitis and had 4 surgeries within 8 days. He had to stay in the states for many months. Gary was rather depressed by this, and I had work in Taiwan and a dog to tend to. All I could do was verbally support him and pray that the doctors would nurse the boy to health. 
Gary: I didn't let my family know about Samson's conditions, because they don't speak English and would be worried. I wouldn't know how to reply even if they asked me, so I chose not to let them know. I only told them when Samson stabilized. Mayson grew well in the incubator. He was scheduled to stay in it for a couple of months but came out in just three weeks. I took him back to Taiwan first and went back toh+ONLZ-5)%8ZMul+zoGZ$V@j-g5D3*&clf!*aOlCi=77yTkb5x take care of Samson after Chinese New Year.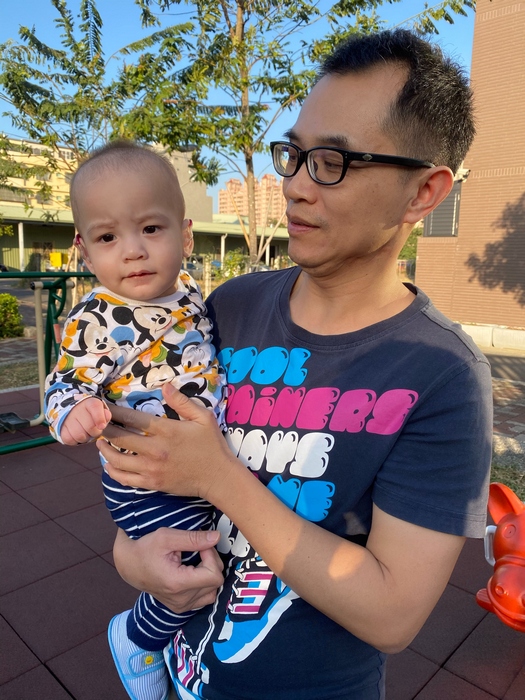 Gary and the baby
(Image/Gary)
Q: What is your advice for gay men who are considering surrogate mothers? 
Peter: Surrogacy is not as easy as one would think, some countries require couples to be married or medically infertile; some countries allow gay men to do it but ban you to bring the baby back to Taiwan. That is why we chose to do it in the US. When you're ready both mentally and financially, I suggest you find surrogate services in the US as well, because it is legal to take your children back to Taiwan and register as a family. 
Gary: I think among the many ways of entering parenthood, surrogacy is the best way to go. It is easier and less problematic. But before you do, you should first understand how it works, and get to know resources like Men Having Babies; aside from finances and balancing one's life, you should also pick your country carefully. Some countries have cheaper services, but they may also have more problems and cause you mental distress. The US has a thorough system that is legal and respected. I met no obstacles during the entire process. When Samson fell ill, I was allowed to focus on taking care of him and didn't need to worry about relationships and discrimination.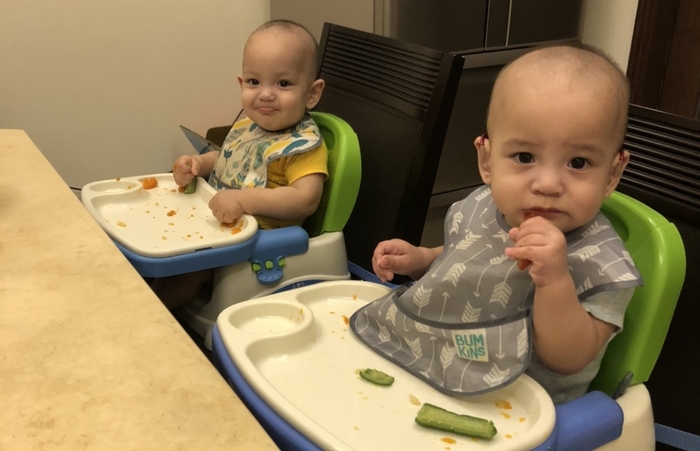 Mayson and Samson eating
(Image/Gary)
Q: Has being gay dads brought you any positive or negative consequences for you here in Taiwan? 
Peter: There weren't really any negatives, be it the household registration process or Samson's auditory healing course. We're generally optimistic about the kids going to school in the future, though we're not entirely sure what kind of problems the Taiwanese educational environment might have right now. 
Gary: I was too met with very little negatives in either coming out to people or explaining Samson's condition. Mayson's registration was done in Taipei, and the administrators there seemed to know more about it. It went smoothly as soon as I told them that the kid was mine. 
On the other hand, Samson's registration was done in Kaohsiung. At the time, the administrators didn't know what to do and asked how come the kid has no mum. I explained and told them that the surrogacy documents were applicable and we did that in Taipei, so they called Taipei and asked them and then it went smoothly. Should a member of a household get married, the registration would notify the head of the household. But the administrators spontaneously told us that if Peter didn't want the head of the family to know, then they wouldn't notify them. That was very friendly. Also, the auditory healing center was nice too. When they learned that the kid has two dads, they showed no doubts and said that it was great that two dads would be participating in the healing process, and we chatted about the details of surrogacy.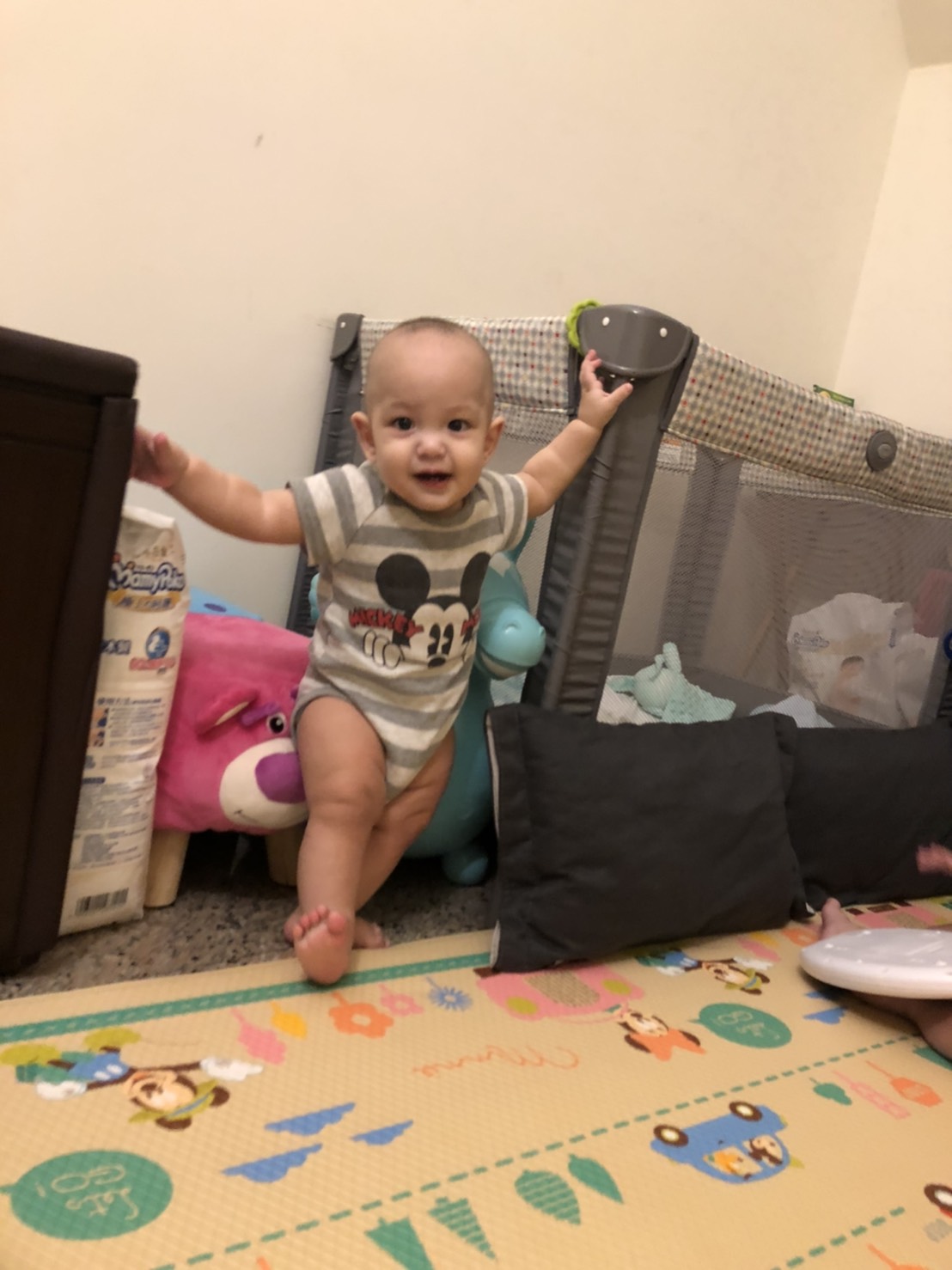 Attack of the baby
(Image/Gary)
Q: What changes do you expect for the Taiwanese community and laws? 
Peter: When going through the adoption process, we learned that gay families are required to have at least a two-year marriage or a background investigation, which may involve whether or not one came out to one's original family. They have to know that the family is aware of the kid's existence and that you're to raise them; I think that's too much trouble, and I hope it could be simplified. 
Gary: I hope that people could be friendlier to gay people and children from gay families, and that sex education would be promoted; sex education is not just for gay family children but other children as well. I hope people could understand diverse family structures and accept diversity, and treat not just gay people, but also bisexual people, underprivileged families, and babies with congenital diseases equally. When the kids go to school in the future, I'm concerned that there may be traditional teachers who are not that familiar with sex education. I'm concerned that the kids would get hurt, or they might even encourage other kids to discriminate or bully kids like ours. I'm especially worried about Samson with his hearing conditions.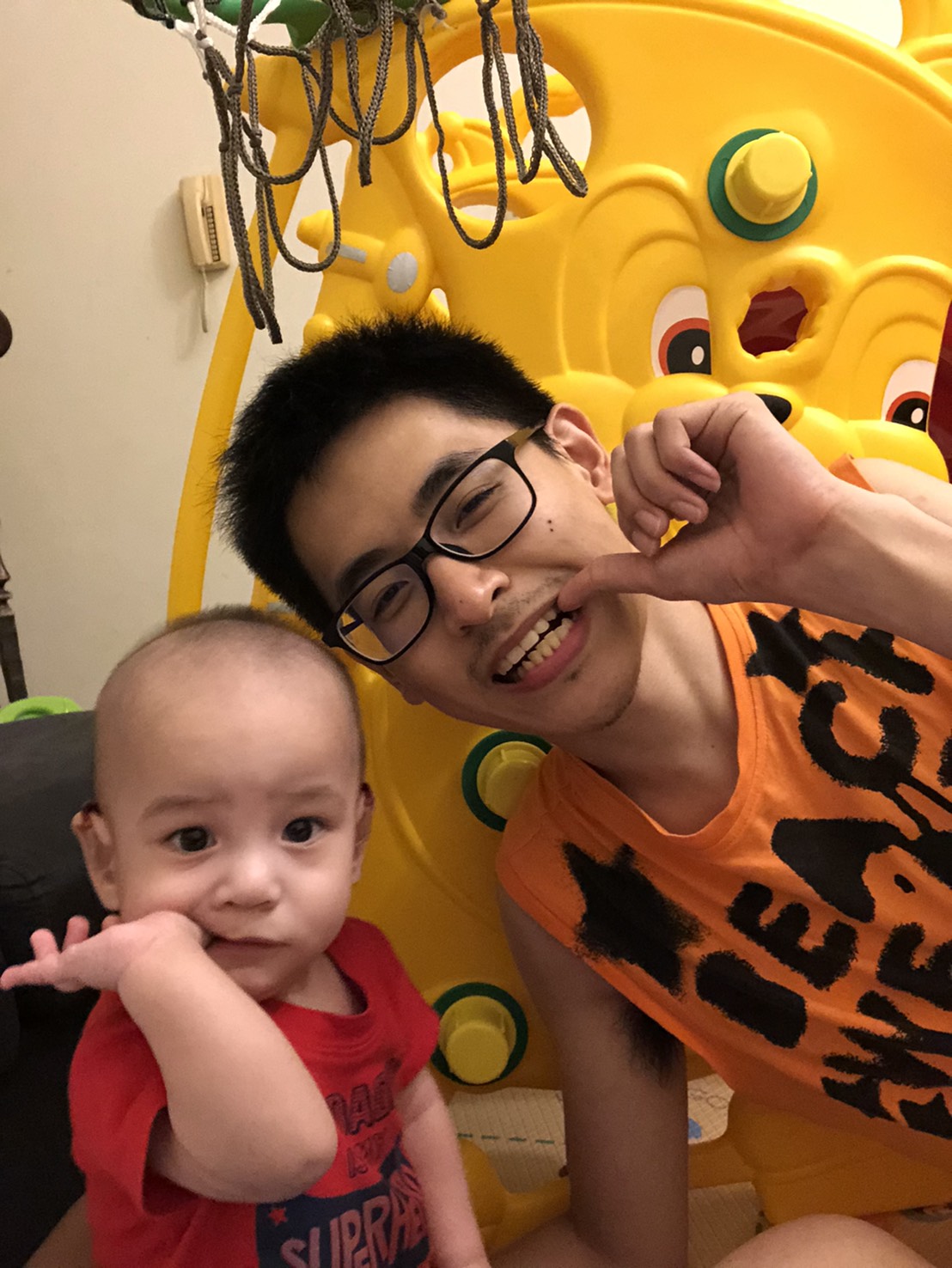 Peter imitating the baby
(Image/Gary)
Q: What was the most emotional moment between you and the babies? 
Peter: The moment they start to recognize you. At first, all they do was lie around, sleep, and eat. But when they grow up a bit, they start running to me as soon as I come home and utter gibberish to me. I thought they were adorable and that made me want to go home earlier to see them. 
Gary: When they come throwing themselves into my arms. Whenever I say "give daddy a hug", they'd crack up and hug my neck, when I say "give me kisses", they kiss me. At that moment, I knew I made the right choice. My kids are adorable and I want to take good care of them. I'd never want anything bad to happen to them.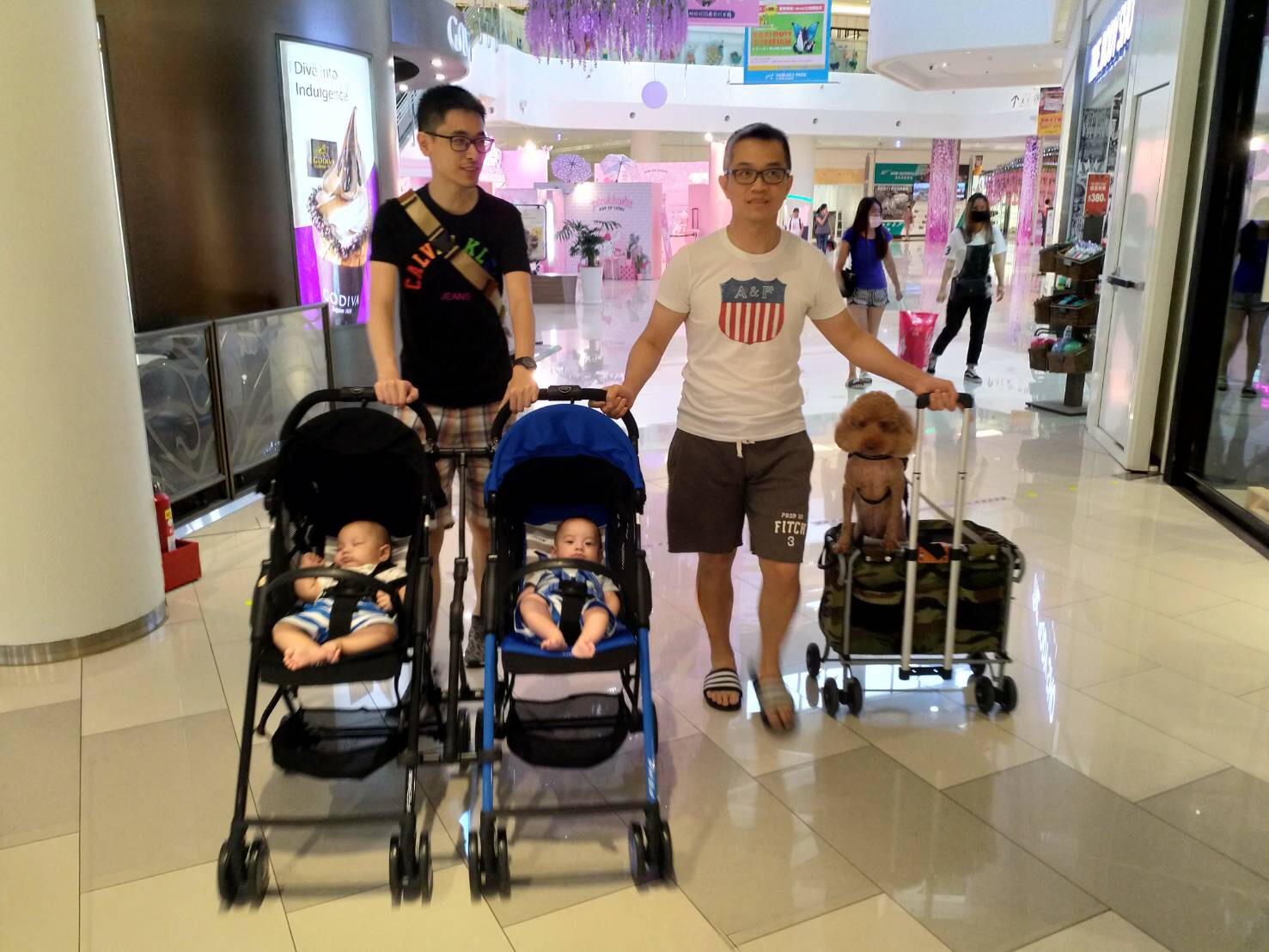 Gary and Peter's family
(Image/Gary)
Q: What is your expectation for the kids? 
Peter: Like all parents, I hope my kids would grow up safely, soundly, and happily. Because of their gay family background, I hope that their school and at work places know about their background and that they are of no different from the others, and wouldn't feel ashamed or sad that they have two dads or no mum; as long as they know what they want to do and do what they like, make every day count and be happy and be proud of their dads, we'd be happy as well. 
Gary: Dear Mayson and Samson, daddy hopes that you could truly grow up happily. No matter who you are and what you're like, as long as you're happy and think that you'd do well, go for it. Your dads will be there for you, all the way.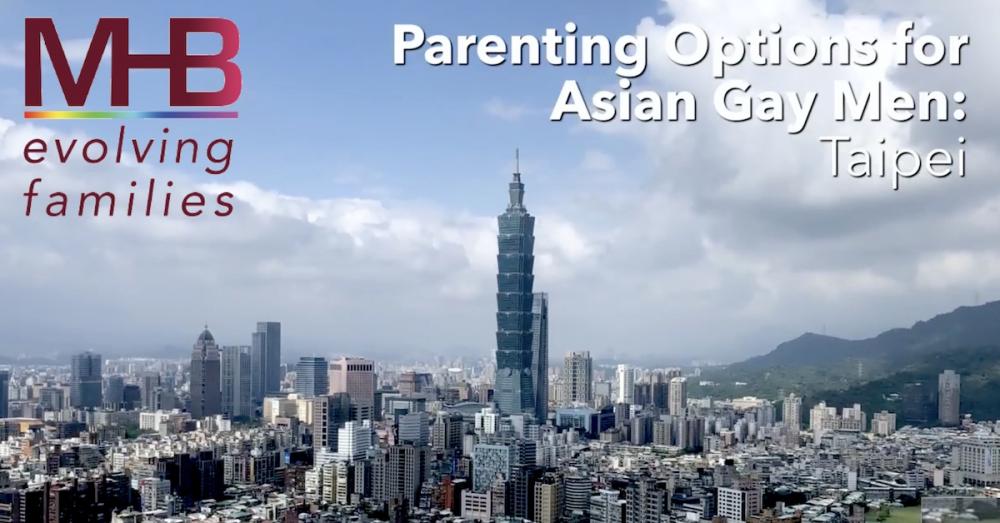 For more information on surrogacy, Men Having Babies founded by the New York LGBT community center will be holding an Advocacy & Research Forum in Taipei on October 2-3. The forum will provide advice about parenting options and social, ethical, legal and empirical aspects of surrogacy and LGBT parenting. In-depth programs will offer insights from the latest studies about contemporary gestational surrogacy in the United States, and specialty panels on insurance, budgeting, legal, medical and psychological aspects of surrogacy.