Taiwan has its own Pride on bicycles this year with the second annual ASIA Rainbow Ride. The Asia Rainbow Ride is a three-day charity bike ride supporting the LGBT community, covering 210 km along the north eastern coast. 
Despite a forecast of heavy rain, seventy cyclists gathered at Ximen's historic Red House on Friday morning for the opening ceremony before traveling to Yilan to begin their route. The rain didn't stop their enthusiasm and they completed all 210 kilometers through the difficult weather.
2021 was declared the 'The Year of Cycling' by the Taiwan Tourism bureau, and Rainbow Riders rode through some of the most scenic coastline road bike routes in Taiwan.  
Taiwan is the only country in Asia to pass laws allowing same sex marriage. Same-sex activity is currently outlawed in more than 20 Asian countries. Jennifer Lu, director of the Taiwan Equality Campaign, added, "This ride is so important because Taiwan is a beacon of hope during a time when it is increasingly difficult for LGBT people to gather safely in neighboring countries. I enjoyed cycling this year and can't wait until our borders open in future years so people from abroad can join us."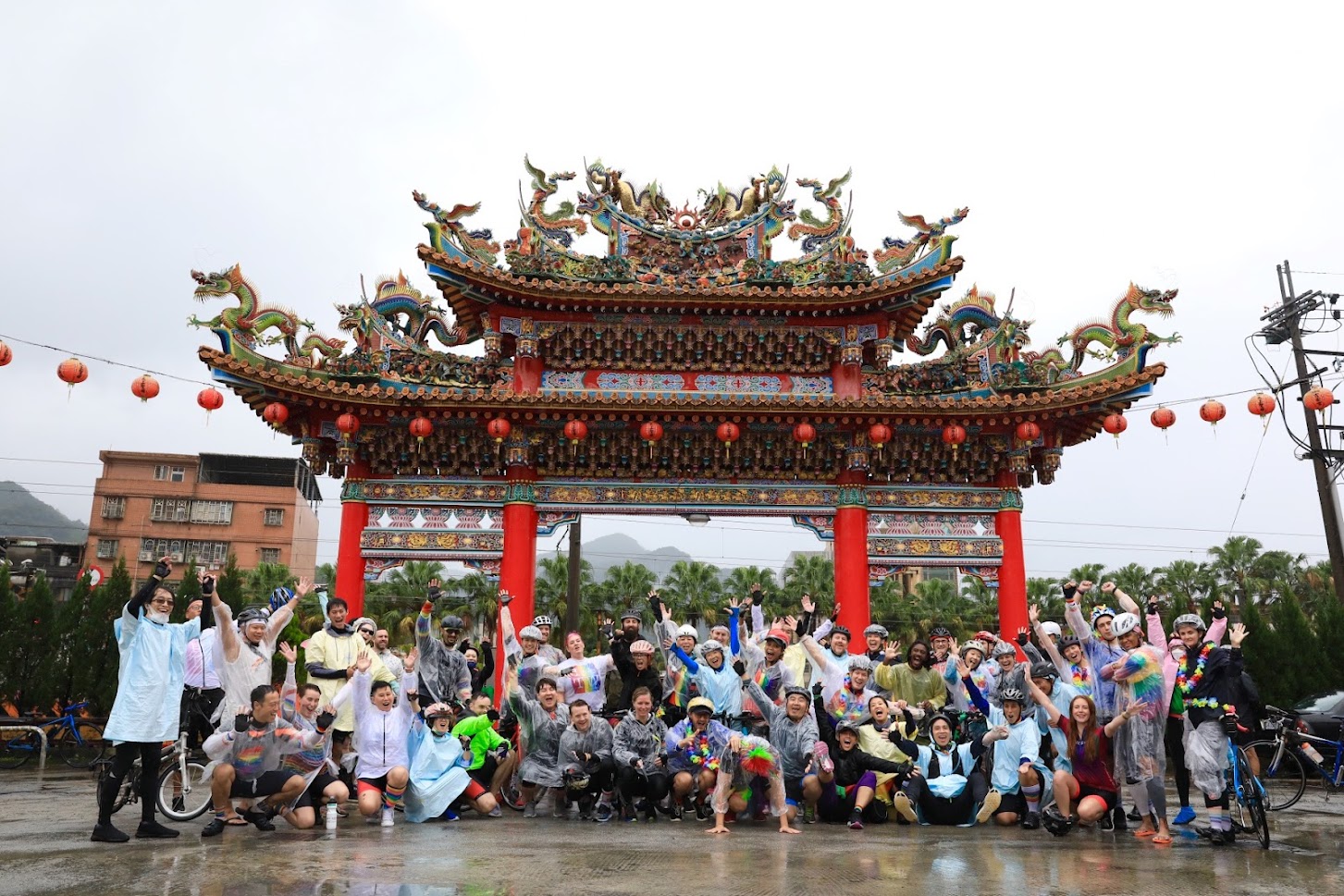 Mei-ying Juan of the Taiwan Tongzhi (LGBTQ+) Hotline Association said, "People really want to build community, and in many ways this event creates the space for LGBT people to feel supported and thrive. The group pushed me to bike further than I ever imagined while enjoying the natural beauty of Taiwan.
Jay Lin, director of GagaOOLala, contributed a screening of the film, Taiwan Equals Love, for the cyclist to enjoy as an evening event. He said, "This is a group from around the world...queers, allies, Taiwanese, and ex-pats. It's a unique space where everyone is welcome."
On Sunday they cycled back to Ximen—the heart of the local LGBT community—for a Closing Ceremonies party and drag show at Mudan. 
Director Sandra Oudkirk, Director of the American Institute of Taiwan, addressed the crowd at the closing ceremony. Director Oudkirk highlighted, "Taiwan stands out today as a model for social inclusion of LGBTQI+ persons and upholding their human rights, but this was the result of decades of tireless activism and Taiwanese's society's strong sense of justice….Taiwan has an important role to play as one of the most tolerant societies in Asia. The Asia Rainbow Ride serves as a compelling example of how Americans and Taiwanese can work together to advance the rights and dignity of LGBTQI+ community across the region."  
Sandy King of the Taiwan AIDS Foundation said, "Thanks to public health efforts, Taiwan's health system has largely contained the COVID virus. With support from events like this, we can work towards ending the spread of HIV/AIDS in Taiwan." 
The ASIA Rainbow Ride benefits the Taiwan AIDS Foundation, Taiwan Equality Campaign, and the Taiwan Tongzhi (LGBTQ+) Hotline Association.  
Sponsors of ASIA Rainbow Ride are Gilead Sciences, It Gets Better, Corning Inc, Winkler Partners, Adapted Energy, Tern Bicycles, Rikulau, and Ramiko.  Gilead Sciences is the title sponsor of the event and sees ASIA Rainbow Ride as an expansion of its efforts to support the LGBT community worldwide. The Ride's official bicycle tour company is Taiwan Bike Tour.  
For more information about the ASIA Rainbow Ride, visit www.AsiaRainbowRide.com