I first heard of "Out in Asia" and its creator, the world-famous fashion photographer Leslie Kee, in 2016, while I was a speaker at the Nara International Film Festival (NIFF). The festival's founder, film director Naomi Kawase, collaborated with "Out in Japan" to arrange the display of hundreds of black and white portrait photographs throughout the NIFF venues in Nara. At a first glance, these walls of photographs, lined up neatly in rows and columns, resembled ID pictures. Up close, however, the secret behind Leslie Kee's simplicity was revealed: every still captured each person's unique aura, all filled with undeniable confidence, happiness, and pride. The "Out in Asia" series is a project to depict LGBTQ people from all walks of life who are out of the closet with the goal of reaching 10,000 unique portraits by 2022.
Learn more about photographer Leslie Kee on our Out People series:
At the time, I did not understand the significance of an exhibition featuring out people, until I realized how difficult it is to actually be fully out. I only came out to my parents just before I turned 40, even though I have been coming out of the closet to various people (friends, classmates, colleagues, siblings, etc.) since college.  Especially amongst my friends in Asia, I still hear woeful tales of wanting to come out to your family, but ending up succumbing to family pressure, sometimes even self-inflicted, and getting married to someone from the opposite sex. I have friends who are in long relationships for decades and still cannot refer to each other as partners in the presence of colleagues or parents and, worse yet, there are gay parents who must hide the fact that they have children from family members. Sometimes, I truly wonder whether the biggest obstacle in the path towards marriage equality might be the necessity for gay people to come out to everyone, to make them realize that LGBTQ people are already everywhere. If only a few people are willing to be out and visible, then society can be misled by fake to stereotype and negatively portray LGBTQ people, and deceived into inadvertently supporting inequality, discrimination and prejudice.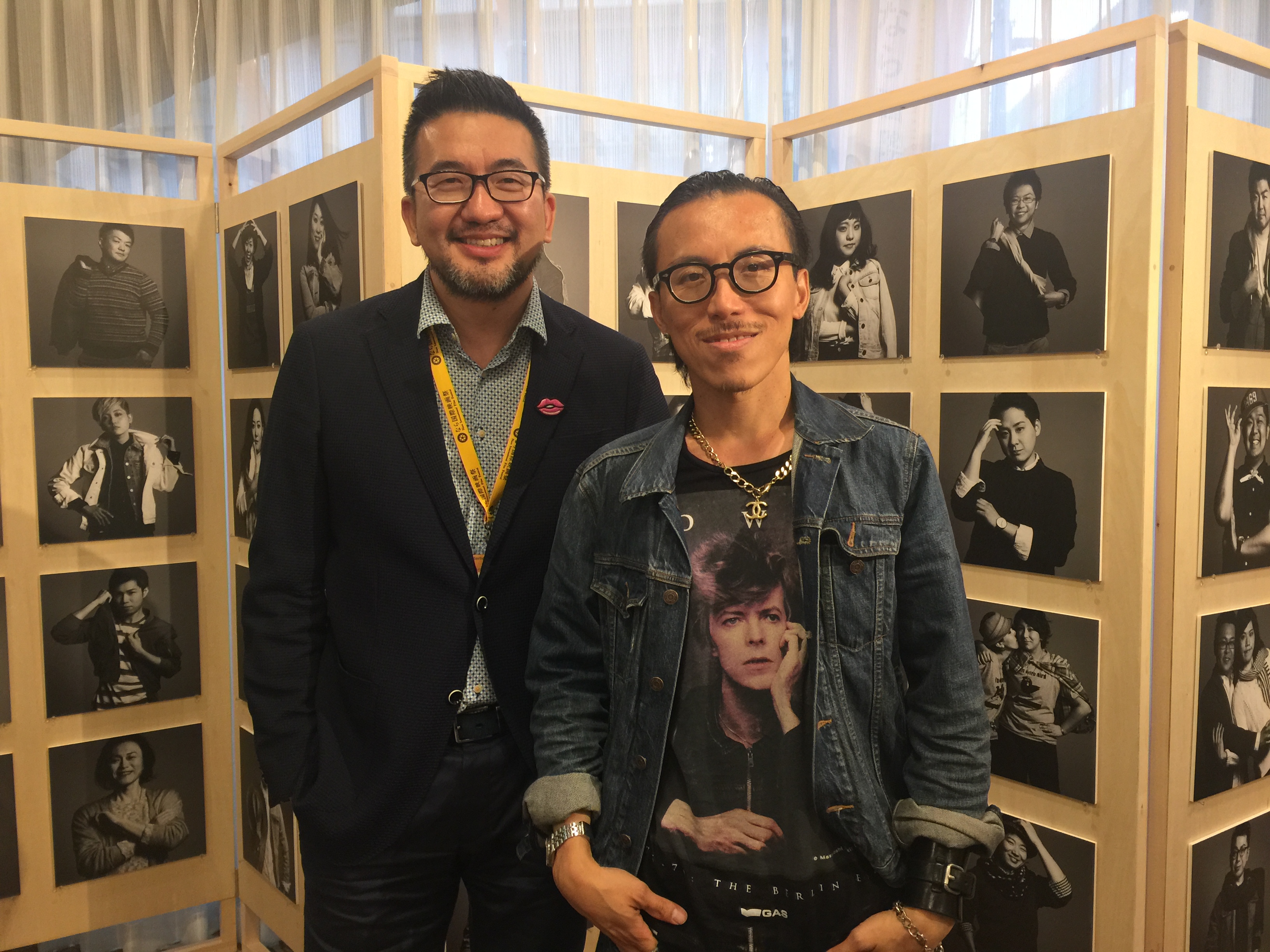 Jay Lin and Leslie Kee (Nara, 2016)
Earlier this year, Gon Matsunaka, founder of "Good Aging Yells" and sponsor of "Out in Japan", invited me to join the latest "Out in Japan" photoshoot in Fukuoka, a city that has a special place in my heart as I spent a year there after completing college. Fukuoka had just passed a law allowing same-sex domestic partnership registration, and Leslie Kee was there to photograph the proud Fukuokans that wanted to be the "faces" of this municipal ordinance. I brought a small team from Taiwan to record the photoshoot and conduct interviews, as I wanted to showcase "Out in Japan" as a fairly simple initiative that has had a massive impact in changing Japanese society's perception of LGBT people after more than 1,500 pictures. I did not realize this second meeting with Leslie would bring us one step closer to "Out in Taiwan."
During Singapore's Pink Dot 10th year celebration, Leslie photographed and later exhibited "Out in Singapore". The exhibition included Lee Huanwu, Lee Kuan Yew's grandson, together with his boyfriend, Yirui Heng. This had huge repercussions in Singapore, where the government still criminalizes homosexuality, due to the colonial 377A section, and LGBT movies and content are heavily censored or banned altogether from theatres and TV channels. I was excited to see "Out in Singapore", with 150 portraits, also play an important role in swaying Singaporeans to repeal 377A.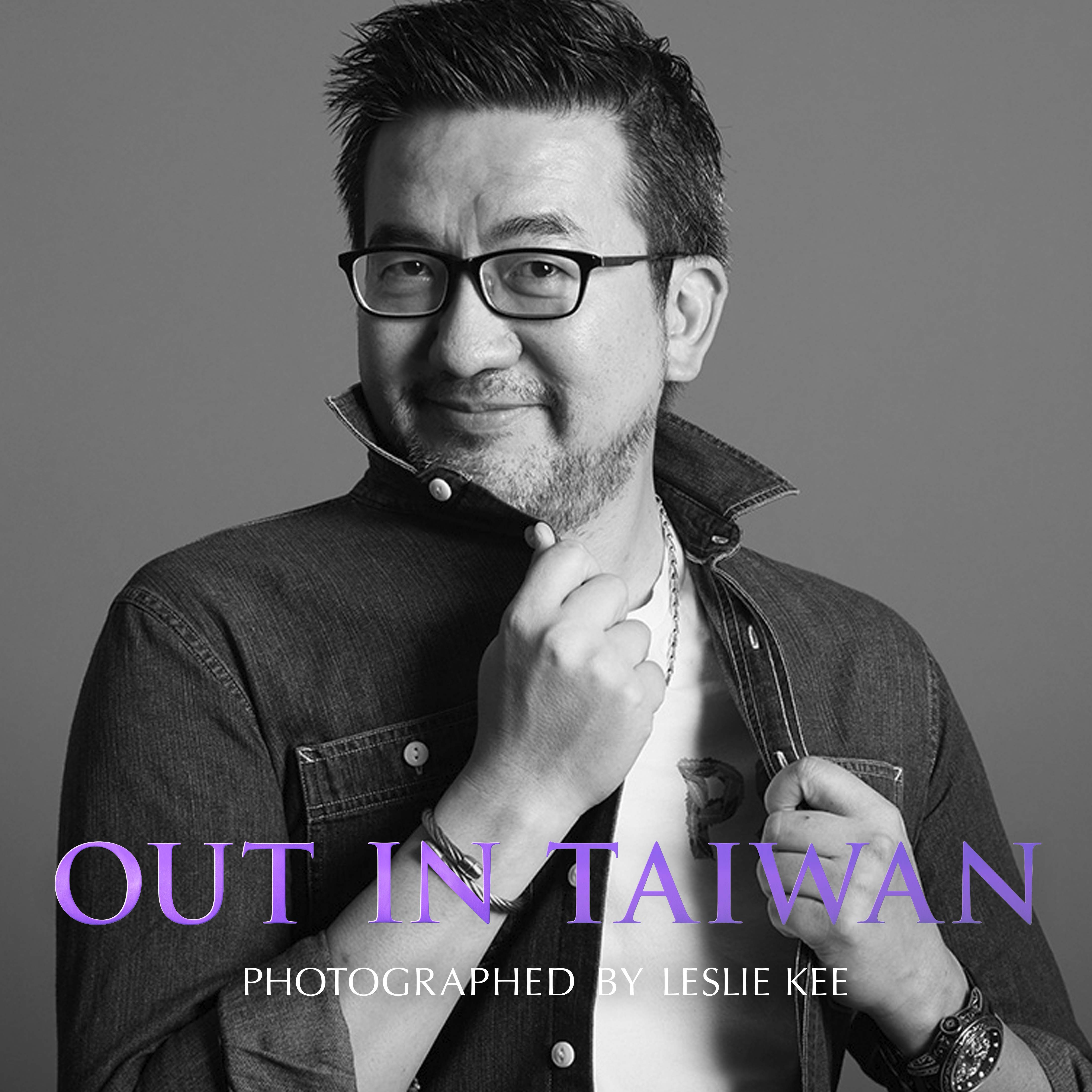 Jay Lin, Out in Taiwan
On a Saturday morning in mid-September, Leslie called me and asked me whether I would consider hosting "Out in Taiwan", especially given this year's upcoming Same-Sex Marriage Referendum on November 24. Two years had passed since our first encounter in Nara, but timing was just right to finally collaborate and bring OUT the lives of the LGBTQ people of Taiwan through these powerful pictures. Just one month later, on October 21st, a non-stop 17-hour photoshoot marathon took place until 5am. 200 people came to the GagaOOLala offices to be photographed by Leslie Kee. On October 27th, the same day as the celebrations for the 16th Taipei Pride, this year with a record attendance of 137,000 people, we opened the photography exhibition with guests coming from all over the world.
There is only about 3 weeks left before the referenda, and already so much negative smearing by the haters and anti-equality campaigners. I hope this photo exhibition (open until November 4, 2018), will bring some light and positiveness.
If you or your friends can make it, please do come.
If you cannot, please go to the online exhibition on our website and use our hashtag #outintaiwan in your social media to spread our message far and loud.
If you hear or know of people who claim that they do not know any gays or that queer people presence in society is minimal, please share the link with them.
If you happen to encounter fake news and mischaracterization of LGBTQ people, please share the link. These 160 photographs will prove them wrong.
If a picture is worth a thousand words, how about 160 of them?

Out in Taiwan wrap up, 5am!!
Exhibition location: 2F., No.41, Neijiang St., Wanhua Dist., Taipei City (TAGather store)
Official website: www.outintaiwan.tw
Jay Lin is the Founder of Portico Media, the company behind GagaTai, LalaTai, HahaTai, and GagaOOlala, Asia's first and the world's largest LGBT online movie platform.  He is also the Co-Founder of the Taiwan International Queer Film Festival (TIQFF), and father of a couple of 2 year old twins.