Author: Gorge Huang  
Teenage love stories are usually comedies or big melodramas. It is pretty rare to have a dark thriller with multiple timelines as in Boys (Christophe Charrier, 2018).
An aggressive man, Jonas, is arrested for making trouble in the nightclub. He is also kicked out from his boyfriend's place because he's been messing with other guys. This makes him reflect of the time when he dated a new student in his school, Nathan. Nathan confessed to him the reason why he was transferred from a religious school was because he was raped by a priest. Nathan, moved, kisses him for the first time in the gym. 

Source: GagaOOLala
Adult Jonas goes back to his hometown in a suburban area. He stays in a hotel room after finding out his parents are not home. He meets the receptionist, who he has been stalking on social media, and Jonas tries to get his attention. The guy invites him to a friend's party and, when he wakes up the next day, he finds out that he is in Nathan's room!  
The intimate interaction between the young Nathan and Jonas soon causes them to get buiiled. The introverted Jonas chooses to hold it back while Nathan fights back. This encourages Jonas in a new way, nobody had defened him this way before... 
Nathan's mother knows that they are dating while Jonas's mother thinks that they are just two good friends that like to hang out with each other, a big contrast between the two families.  

Source: GagaOOLala
Spoiler alert!
This film jumps back and forward in time to tell their unique love story. While it seems the guy Jonas was followin could be Nathan, in the end, this guy is actually Nathan's brother who was not yet born at the time. 
One day, Nathan's mother could not pick them up from the movies because her water broke. Nathan takes Jonas to a gay club, the same club where Jonas had a fight at the beginning of the film. Nathan could not get into the club, so he insisted on going with a guy that was hitting on him to another place. He never came back. This left Jonas confused and filled with guilt... 

Source: GagaOOLala
On the way to the movies, Nathan's mother told the true story of the scar on Nathan's face. Nathan admitted his secret right after. Once in the theater, Nathan gives his Game Boy to Jonas in one of the sweetest moments of the film. The two of them attend a screening of Nowhere by famous queer director Gregg Araki. A film that has many parallelisms with Jonas itself. 

Source: GagaOOLala
Félix Maritaud, who plays the adult Jonas, has appeard in critically acclaimed queer films such as  BPM (Robin Campillo, 2017) and God's Own Country (Francis Lee, 2017), both screened at Cannes Film Festival in 2017. But his firsts lead roles came in 2018 with his amazing performances in Boys, Knife + Heart, and Sauvage. His ability to transform from a sweet gentle boy into a dark troubled adult in one scene is amazing!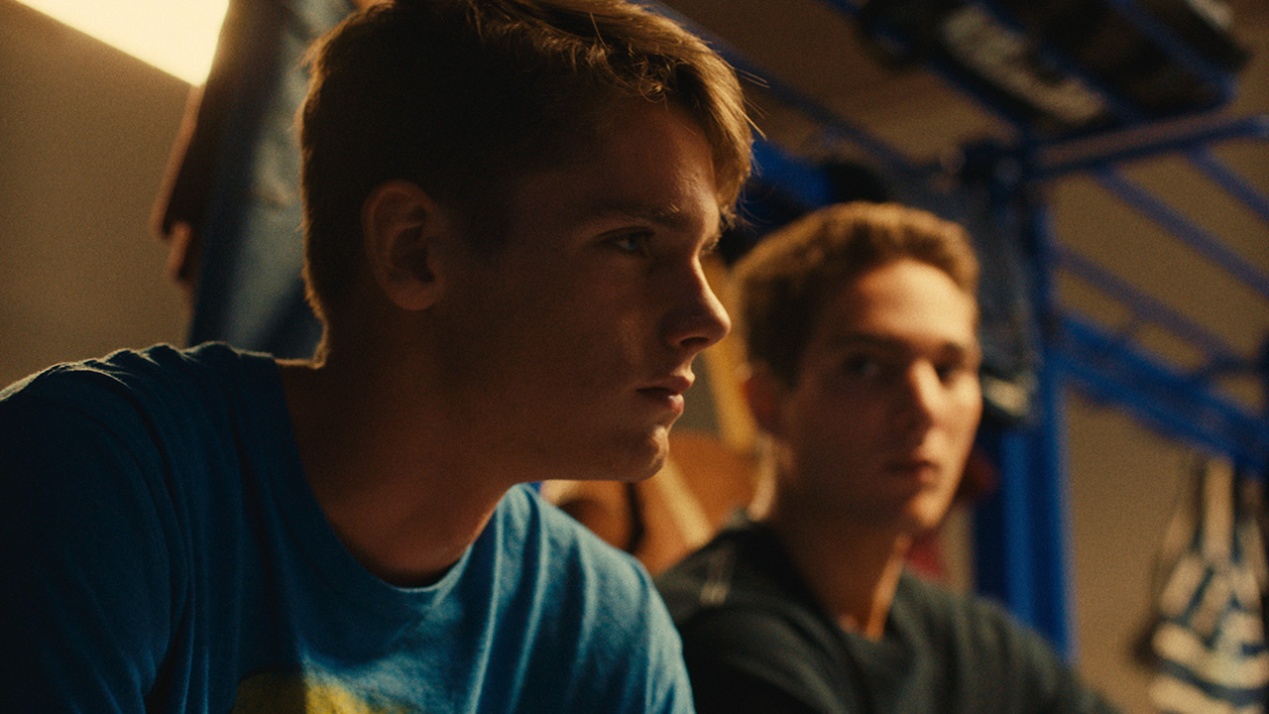 Source: GagaOOLala 
Jonas is playing the Game Boy Nathan gave him. It was Nathan who taught him how to play Tetris... After 18 years, Jonas confesses to Nathan's mother that he ditched Nathan because he was too scared and did not know what to do at the time. Although feeling devastated, his mother has a big heart and forgives Jonas. Before Jonas leaves the house, he also leaevs the Game Boy on Nathan's bed, showing that he is not punishing himself anymore. When Leo, his new boyfriend, gives him a ride, he asks him to take him to the theme park where Nathan promised to take him. There is no way to go back in time and change the past
Author: Gorge Huang