BY GEORGE PO CHUN HUANG
Those Long Haired Nights (2017) focuses on the lives of 3 transgender sex workers in Manila. Following the minimalist realism style present in the Philippine New Wave Cinema, Those Long Haired Nights delves into the worries, unspeakable sufferings, and involuntariness of a repressed minority.
There are three main stories in the film: a foreign hunk hooks up with Trixie and sets the price. Seems like it all goes smoothly. They go to the hotel, and the coy handsome guy becomes extremely horny and wants to have sex. Just when it is about to happen, Trixie goes to hide in the bathroom, afraid that she will get hurt once he realizes that she is a transgender. Surprisingly, that is exactly what the man is looking for. She thus feels relieved and has sex with him.
Amanda cannot find a client because she does not want to lower her price. As a result, she asks her pimp to let her take a day off. She goes back to her home in the countryside, where her family does not mind her being a transgender since they all depend on her financially. But she does not tell them the fact that she is a sex worker. Amanda's bestie, who is also her ex-girlfriend, asks her to come visit and attend the christening for her son. However, her husband immediately falls in love with Amanda and kisses her while drunk.
Barbie has been saving money for a sex reassignment surgery but has some trouble when dealing with a rich Korean customer. Her pimp goes to her rescue, but when she is about to go home, she is lured by the Korean customer again. The customer does not only want sex but also drug-smuggling.
Those Long Haired Nights is completely different from the other contemporary transgender classic, Tangerine (2015). There are no jokes in Those Long Haired Nights, it is a realistic portrayal of the daily life of Manila transgender sex workers. Trixie is a symbol of the danger they face when they hide the fact they are transgender from the customers. Although the scene sometimes makes the audience nervous, her part is still the funniest since, in the end, the client is only attracted to her because she is transgender.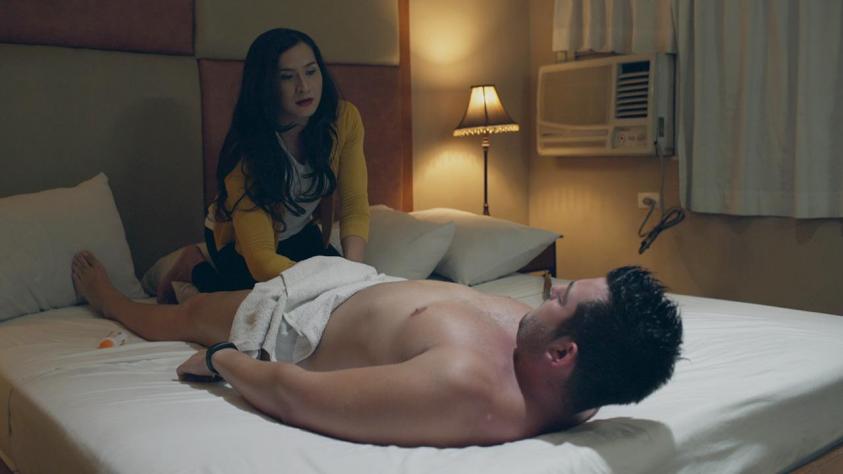 Amanda, on the other hand, is a symbol of the countryside poor people who have to leave their hometowns and hide their "career choices" from their families in order to make a living. The crush of her best friend's husband on her indicates that there are still a lot of closeted people who "pretend" to be heterosexuals. The fact that her bestie tells her that her dreams have already come true may be a deceitful gesture, but it still reveals that they would rather ignore the truth and keep the appearances. Amanda, far away from her dreams, seems free, but still lonely and isolated.
Barbie points out that they easily fall prey to drug abuse, but she is already lost and unable to separate herself from drugs. She has no choice but to live on the edge. They go into the sex industry in order to achieve their dreams, but their socially inferior identities make everything extremely difficult. Not to mention that sex work kills not only dreams but, very possibly, life.