French actor Félix Maritaud, known for his roles in BPM (Beats Per Minute) (2017) and Boys (Jonas) (2018), recently starred in the controversial Sauvage (2018), a film dealing with various male sex workers and fetishes, which has shocked several film festivals. Thanks to Sauvage, Félix Maritaud received the Louis Roederer Foundation Rising Star Award at Cannes Film Festival 2018. 
Leo (Félix Maritaud) is a 22-year-old gay prostitute looking for clietns on the street and submitting to their desires. Leo's "colleagues" are all gone in a seearch for for sugar daddies, picturing a peaceful material life. But what Leo wants is love. He meets Ahd, also a sex worker, and, unfortunately, a straight guy...
Recently, Félix Maritaud came to Taiwan to promote Sauvage. When he got here, he went to the marriage equality concert on Ketagalan Boulevard, to support the marriage equality movement in Taiwan. GagaTai film critic, George Po Chun Huang, interviewed Félix Maritaud. The following is a clip and their conversation.
George: What do you think about the title Sauvage?
Félix: I think this indicates that the film is quite energetic: camera shake and the scenes are fast. Everything goes fast, which symbolizes the character's energy and the film. 
George: What motivated you to start acting? How does it feel to become popular two years after your first movie was released?
Félix: Three years ago, I moved back to my mother's place for some personal reasons. I didn't have any motivation at that time, so I was trying to get myself together. Then, someone called and asked me if I would like to try acting in a movie. I'd never acted and never thought about it before, so I thought like, why not give it a try? So that was BPM, which was quite a success in France, and which made me a famous actor, making me fall in love with acting. I wanted to try more and see how it goes. I don't think that being a famous actor is special. It is just the way it is. What confuses me is that how come I feel nothing about this while other people consider it so special. I'm happy to inspire other people. This is the elegance of being an artist. But I'm always focused on the future rather than the past. I'm already thinking about the next film and the next phase. 
George: Director Camille Vidal-Naquet said that you have an animal-like personality. What do you think?
Félix: Meow (laughing). It's hard for me to talk about myself. I always try my best to express myself honestly. Maybe it's because I feel comfortable about my body and other people's bodies? I always get along very well with my body. Or maybe it's because I come from the countryside. I spent a lot of time in the forest when I was a kid. Maybe. I don't know. 
George: If you were to choose an animal to represent you, what would you choose and why?
Félix: I'd say otter. They're aquatic, and I like the fact that they are a bit aggressive at first, but actually very cute and adorable.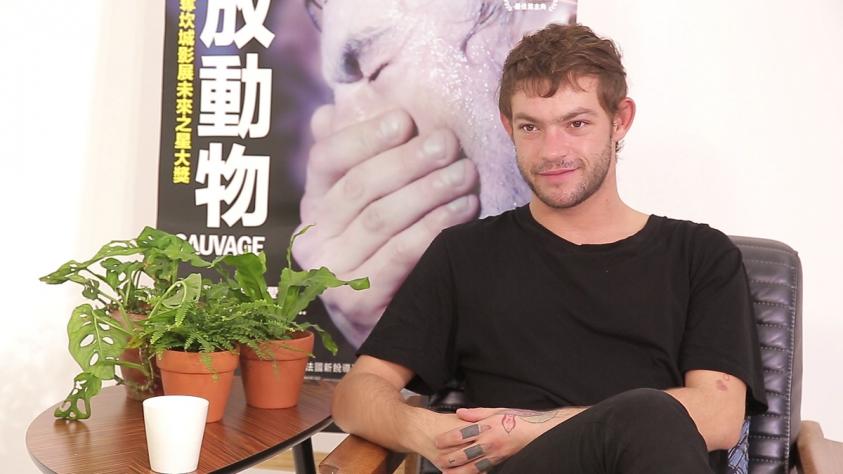 Félix Maritaud
George: He also said that you're frank and open about yourself. He's very curious about you not looking at yourself. What do you think he means?
Félix: A lot of actors are thinking a lot about their characters, trying to control the characters, making choices for their characters, etc. But I'm not like that. I don't go into it; I open myself to the character and every possibility. Maybe it's what he means by saying I'm "not looking at myself." I don't judge, at least I don't judge other people and other things. Maybe this is what he's trying to say. 
George: What was the most interesting thing when shooting Sauvage?
Félix: Wow, everything is so powerful. I cannot name a special event, but the character is really good. I'd probably say understanding this character even if I don't know about his background and context but only his life. This is a story about his life. The great thing is, I have a special relationship with the character. We are a unity although I've never known what exactly the setting of a character is. The relationship between the character and I is very intimate, which is very good and the most unique part of filming Sauvage.
George: Do you have to shoot a scene several times?
Félix: Yeah, the director shoot a scene a lot of times. He wants it to be most natural and effective so that the editing would become much easier. But the editor told me that everything is just fine. 
George: So it's not that you didn't do it well?
Félix: No (laughing). It's about details and accuracy. While shooting the film, I had to become the character completely and forget, erase myself, so that the character could be inside my body. I had to do that because the society finds the character unacceptable.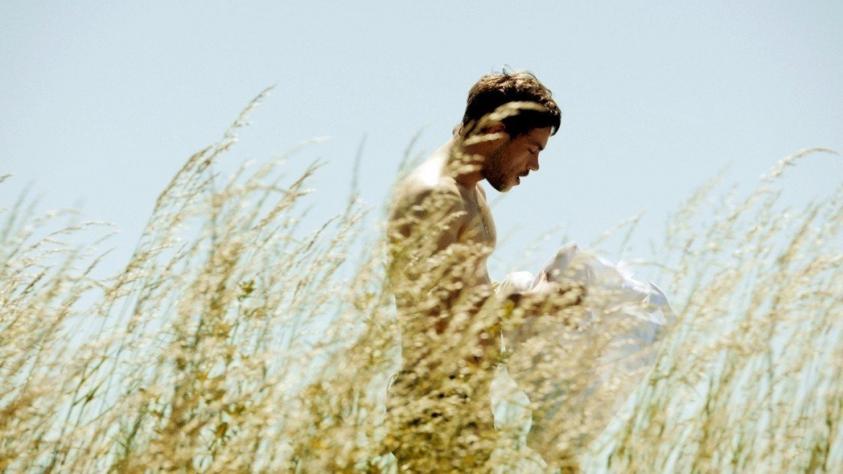 From Sauvage / Source: Swallow Wings Films
George: Have you ever tried to find street male prostitutes? Like doing some homework for the film?
Félix: I've never met any male prostitutes on the street. Some of my friends were male prostitutes because it was much easier to earn some money. But they didn't do it on the street, which is very different. I want to focus on my character, not street male prostitutes. I think it is not that important for the career. As for me, what is important is that he has the heart to love and care about everything wherever he goes. I didn't want to know a lot of people and present to the audience something sociological. This is not the point. I didn't do this kind of homework, either. I just focused on emptying myself, clearing away the judgments that I had towards everything, and erasing the sophisticated side of me. I was looking for love, care, and passion. This character has been looking for love and spreading love everywhere, which is not really about reality. It is something psychological, mental, or sensual. 
George: How did you feel about shooting the film with the other three actors Éric Bernard, Nicolas Dibla, and Philippe Ohrel?
Félix: We were all very lucky because we respect our characters and focus on filming Sauvage. It was a very unique experience. The sex scene was unique, and everyone was focused on the emotional expression, which the director Camille wanted most. So it's very wonderful working with them. We created a unique intimacy, which is very rare and precious. Most scenes I did were with Éric. I'm really proud of him. He kept reaching his limits in Sauvage and had a lot of breakthroughs. Really glad that he had the opportunity to demonstrate his abilities. It is beautiful to watch a person releasing himself to try different things.
George: He indeed also drew many people to the film. Did he really punch you in that scene?
Félix: Yeah, and I went to the hospital because of it. When I was beaten I really felt like I was knocked out. I went to the hospital and had four stitches on my upper lip. That was an accident. That happened because we were very close to finishing the film and I was so tired, didn't know how to control myself at all. So I really wanted to get beaten. But that punch was for real. There are scars on my lip now.
George: How did you feel about shooting the sex scene naked?
Félix: It's like every other film. As an actor, we have to perform what the plot needs. Camille never asked us to perform out of his personal needs. Everything was for the film. I did what the film needed, even it was being naked or sex scene.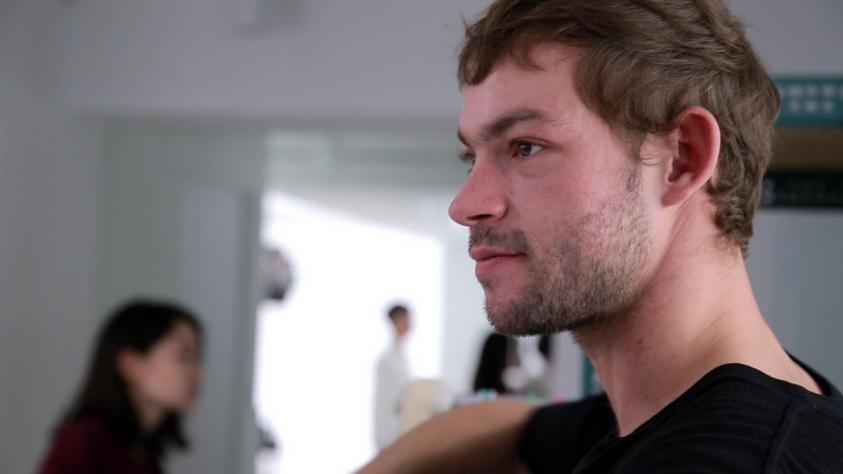 Félix Maritaud
George: Do you know that when Ang Lee was shooting Lust, Caution (2007), he asked most people to leave and only a very few people stay, in order to make the naked actors feel more comfortable. 
Félix: That was brilliant. We didn't put particular effort on the sex scene. We treated it as regular scenes. Being naked and taking bodies as tools are the everyday life for most prostitutes. So we didn't want to do anything particular to make it "special." 
George: What do you think about sex in real life?
Félix: Sex can beautifully express one's self and one's feeling.
George: Are there any similarities between you and the character Léo? Are you looking for love just like him? How do you value relationships? 
Félix: I think freedom is the most important in a relationship. I'm not looking for love like Léo, but I think we love in the same way, just like I love this (cup), I love this plant, I love you, you, and you. As for me, this is the way we express love. Relationships don't work for me. I've tried but I'm not sure. I love all of my friends. I have been in a relationship once, giving all of the love to that person, but unfortunately, that is not what I want. I want to share. I was born to share. But I don't know. Life is full of surprises. Now I don't feel like being in a relationship but being honest to everyone. 
George: Eventually Léo gave up the opportunity to start a new life and went back to his "old" life. What do you think about that?
Félix: I think he understood the truth that only he could make decisions for himself. He was going to be with another guy, but actually, no one could control him, no one was able to control him, not even he himself. That's why he ran away and found a place to sleep, quietly.
George: That scene was beautiful.
Félix: Thank you. I think it's beautiful, too.
George: How did you feel when you first saw Sauvage?
Félix: Wow. The editing took about six months. I didn't see the whole movie during that period. I knew that we must've achieved something when we were shooting the film. Everyone did their best to the film, to the filming. We I first saw Sauvage, the film felt like a waterfall, pouring. I was very proud of Camille because the movie was exactly like what we thought before. There was nothing white-washed or softened. The movie was what he wanted. I was proud of him, and of me, of course. Additionally, the first time I saw Léo, which is my character, I was deeply moved.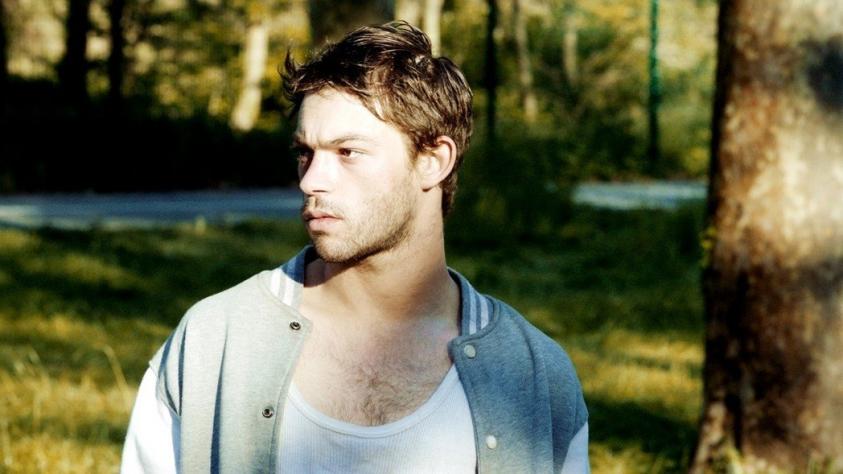 Sauvage / Source: Swallow Wings Films
George: Do you have a favorite scene?
Félix: I really like the scene where the old man asks Léo to read to him because he is illiterate. That is a very tender scene. They don't want to have sex. They just want to talk about each other's feeling. It's very beautiful because the audience would expect the other way. But I think this way is very comfortable, tender, and beautiful. But I love every scene. I love the whole movie.
George: You're very good at presenting the character's loneliness and desire for companionship.
Félix: Thank you.
George: BPM (2017), Boys (2018), and the short film Islands (2017) are on GagaOOLala, would you briefly talk about these films?
Félix: Boys is a trip to knowing one's true, honest self. Leaving behind the past, the protagonist lives like a zombie, pursuing aimlessly. So I think it shows the importance of being honest and sincere. I love the film and the unexpectable narrative. BPM is about how to change the world as a collective, including the individual world and others' worlds. Islands focuses on emotion. Everything is full of emotion, every scene is full of emotion. Everything is about love and desire. 
George: Until now, all of your works are related to the LGBTQ community. I did not see the short film Tout Seul ("All Alone", 2018) yet, but it seems like it is also related to LGBTQ. Why is it?
Félix: Tout Seul isn't really about LGBTQ, at least not intentionally. The film is about male homosociality instead of homosexuality. There are three men in the film and they have to rely on each other. The film is more about humanity than about sexuality. And why my works are related to LGBTQ? Maybe it is because I'm a fucking faggot (laughing). Just kidding. I was making a private joke. It's not a choice. It's not something that I look for. It's just that in two years, the three directors that want me to do their films that are related to gay characters. It's not something I want. It's just something I can do.
George: BPM is about what ACT UP did for the HIV+ people in the 90s. As a young person, how would you view the history? And how do you think that young people nowadays that can be treated with PrEP would think about the history and sex?
Félix: This is very important in the history of France because I think that ACT UP was a political group that had really changed something. They actually saved a lot of people's life. BPM is about people changing something collectively, and they really changed the lives of a lot of gay people in France, just like New York's ACT UP had changed a lot of American gay people's lives. They went through the same struggles. I was born in the 90s, too. I consider those people heroes, heroes of French gay people. They fought for existence. But it is complicated when talking about young people nowadays. In a way, I'm really happy that PrEP exists, because it can help to fight HIV. But in another way, it gives the opportunity to a lot of people to not taking care of themselves. Even in a relationship, a couple would go to clubs in Berlin and says that "Yeah I'm using PrEP so come and have sex with me." So it changes something about intimacy. It is not the same. But at least I think PrEP works. The thing is that HIV is not the only STD. I'm not sure of what I think about PrEP right now. I don't know if I can say something like this but these laboratories that made a lot of money during the AIDS epidemic—they do less now. So they make PrEP to make more money. I don't think it's good when things are not for people but money. But I'm happy that it can help people to take care of themselves, even if I think it might have some side effects. 

Félix Maritaud
George: Hopefully, Taiwan may be the first country in Asia to legalize same-sex marriage and the moment you came to Taiwan you went to the referendum event. What do you think about gay people and the way the world treats gay people? And what do you think about same-sex marriage?
Félix: What I saw in France is that you can never let anybody say that what you are is not natural. It's important. We just have to focus on love and freedom. It is something that really matters. The point of marriage equality is that when children learn that they are gay and the concept of marriage, they can feel comfortable. It's not that they can only be heterosexual. No one should be the outsider of a society. We are all human beings. "Special laws" are not for gay people, because gay people are not "special." We love as every other person loves. There are a lot of girls that are forced to get married, and it is not illegal, why is gay marriage illegal? So we have to say that gay people really exist. It is undeniable. 
George: Which actor and director you appreciate the most and why?
Félix: I've got a list of some master directors such as Wong Kar-Wai. His films are beyond movies itself. They can only be called the works of Wong Kar-Wai. And there's another American director, but I'm cannot recall his name. And I love the actors that involve in the films of the directors mentioned above. The only thing they care about is not reputation but what they can bring to the audience.
George: Do you have a favorite Wong Kar-Wai film?
Félix: I think it's 2046 (2004). That one is my favorite.
George: According to your Instagram you really like 35mm and use the beautiful and unique photos to express what you think. Do you want to be a director someday?
Félix: I've thought about it. I like the idea of being a director, working with a group of energetic people. But I need more time. Maybe after ten years. Now they're just thoughts and not plans. I've got a lot to learn. I want to be an excellent actor first. As an actor, you can observe everything when shooting a film. I think it helps if one were to be a director. As for the theme, I think I'll be focusing on feeling. We're living in a world where people are afraid to express feeling. Nobody dares to cry in the public, laugh in the museum, or run and scream on the streets. We are afraid of our feeling. This is the most serious symptom of the society nowadays. As a movie person, we have to balance between giving people deep and powerful feeling and making people feel. 
George: Have you ever been to Asia or even Taiwan? How do you feel? Have you ever seen Taiwanese movies?
Félix: No, never. This is the first time I came to Asia and Taiwan. I really love the fact that I started with Taiwan. I completely fell in love with the Taipei city. I might've seen some Taiwanese movies but not sure of their names. A person gave me a few Taiwanese films I should see, which I'll watch when I go back to Paris.
George: Maybe like Ang Lee's The Wedding Banquet (1993) Tsai Ming-Liang's Vive L'Amour (1994)?
Félix: I definitely have seen some of them but I don't watch a lot of movies except when someone asks me to. I really don't have a lot of time to watch movies now. 
George: Would you like to shoot films in Asia or Taiwan?
Félix: Of course.
George: Would you like to share your upcoming projects?
Félix: There's a very unique movie that I'm excited about. I met a director and talked with him. We got along very well. The movie is about a DJ, a Greek tragedy about a DJ. I think it'll be marvelous. 
George: So you're getting ready for the character?
Félix: Yes. Even sometimes when I walk on the streets I will shoot myself, as if the DJ is now in Taipei. I'm gradually getting the character inside my body.
George: And what about Yann Gonzalez's upcoming film? 
Félix: Except for Knife + Heart (2018, Cannes Film Festival Award for Best Screenplay), we also shot some film for the César Awards. It is not his personal work, but I think it would be interesting because I love him. We had a really nice time working together. I don't know what his next film will be, but it will definitely be great. As an artist, when he gains an opportunity, he will express his experience and feeling through a more powerful and more solid way. So I think his next film will also be great.
George: I hope that we don't have to wait five years for his next feature film like we did for You and the Night (2013) and Knife + Heart.
Félix: It's quite normal for French cinema. It often takes a lot of time shooting films in France.
George: A film production company in Taiwan has bought Knife + Heart. It will be released maybe next year.
Félix: Hopefully you'll enjoy the film. It's weird but also full of emotion. It's a strongly emotional film.
George: Which means that all of your feature films (will) have been released in Taiwan.
Félix: Thanks for the support from Taiwan. I'm very proud of it.