After years of endeavour and campaigning, Shinchi (信奇)&Guzifer (阿古), a transnational gay couple who found themselves left out by the 2019 same-sex marriage bill, is now officially married. Here's an exclusive interview by GagaTai, in which we followed them back to their hotel room just a few hours after they registered and asked them about their journey through the years. 
---
With the one thing that they wanted most finally done and being relieved from the cameras of the press, the couple seemed rather relaxed. Guzifer unbuttoned a little (with some chest muscles popping out), and much like how they deal with the press, he did most of the talking, while Shinchi laid back and contented with adding a few words now and then.Speaking of muscles, Guzifer has been posting pictures on Instagram of him hitting the gym. With his thick biceps, perfect pecs and tanned skin, it indeed seemed like he took his training rather seriously.This wasn't our first interview with Guzifer. The last time we saw him, he was little more than a young Macanese boy who seemed like he still had a few hairs to grow. Now, he is a strong, confident man and, of course, a husband.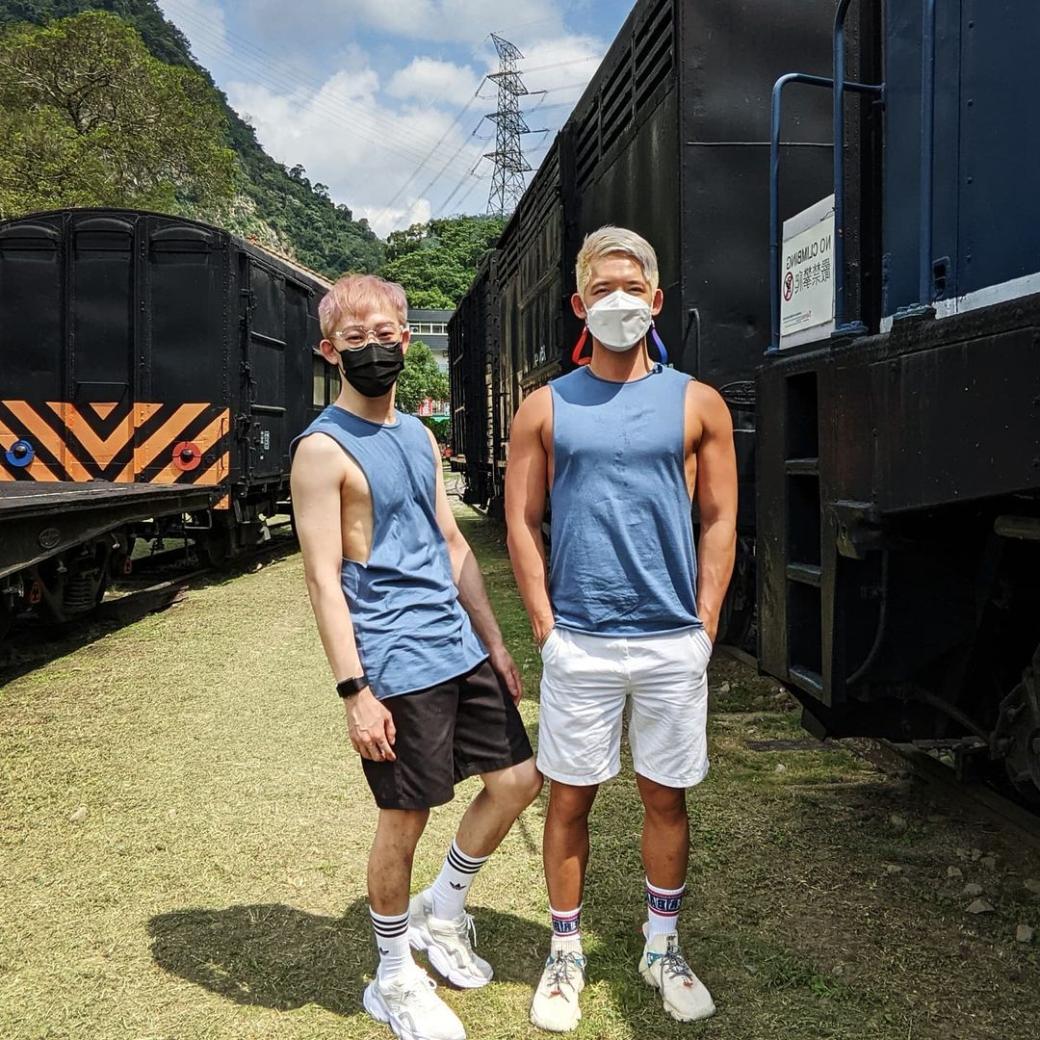 (Image/@guziferleong/Instagram)
---
Q: Your marriage, as the first-ever transnational same-sex couple in Taiwan has hit the headlines, has this changed anything in your life?
Not really. Perhaps a bit more interviews than usual. That means that we need to watch our words and be more precise about what we want to say. My job as a psychologist requires me to be discreet about my choices of words, so it's not too much of a problem for me. This is also one of the reasons why I am usually the one who talks in these interviews, although Shinchi is quite a talker too. (They smile at each other) Also, we did meet some rather supporting people on the streets, who asked us how we were doing and encouraged us. 
---
Q: You have been sharing a lot of workout pictures lately, any particular reason for this?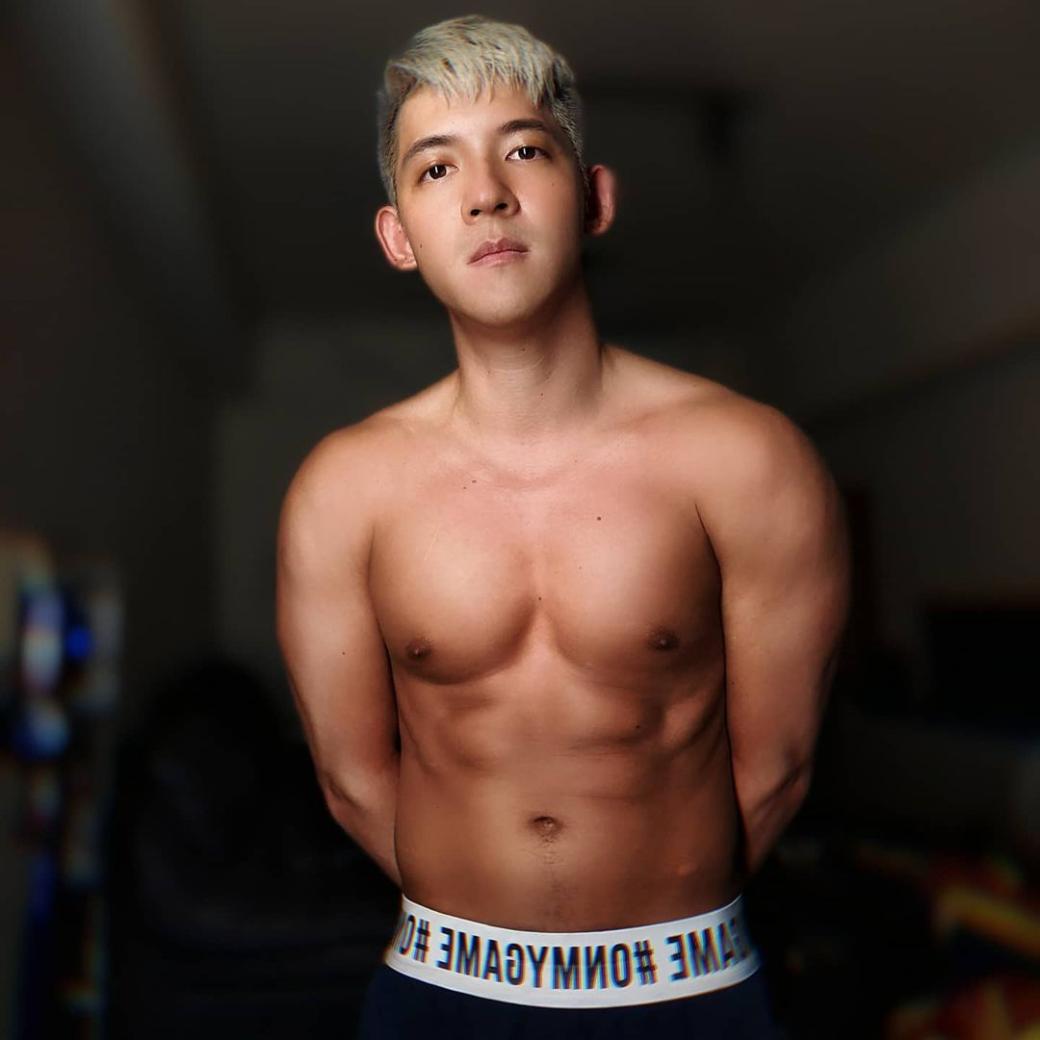 (Image/@guziferleong/Instagram)
Interesting question… I trained hard, did 365 push-ups every day, and bought a recliner to set on the roof so I could get properly tanned. It's just not right for me if I don't share the results with my friends!
I am a collection of contradictions. I am a social movement activist but a body-building fanatic, I'm addicted to homemade dishes but I also enjoy going out for food. I like to stay at home but I hate seeing people camping on their couches. I like to dress pretty but I hate wasting time picking the clothes. I don't fit into any specific category. I believe that, as long as you put your mind to it, anything is worth sharing. Anyway, I like the way I live my life, and that's why I share it on social media.
---
Q: Can we expect more of these pictures in the future? Perhaps something…creative?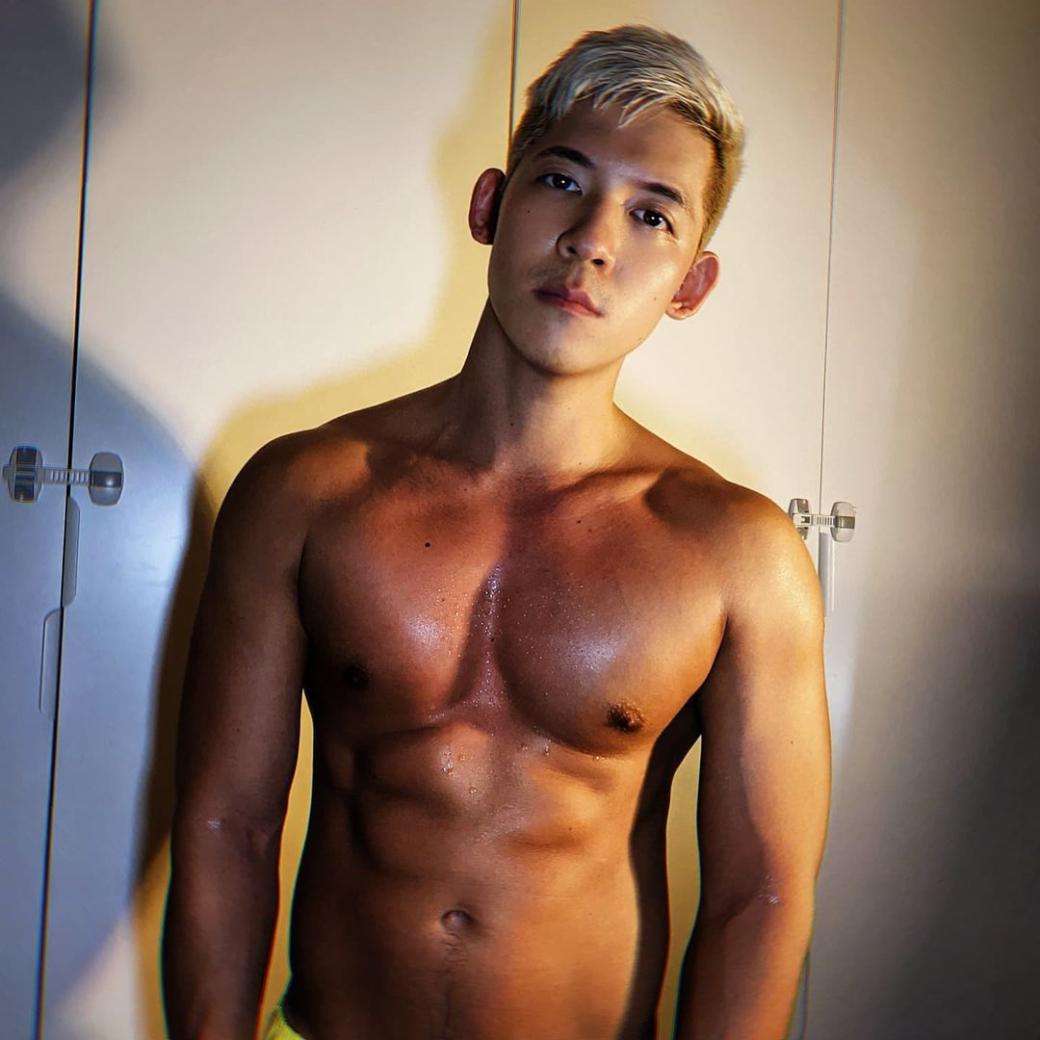 (Image/@guziferleong/Instagram)
Are you suggesting an Only Fans page?! Or maybe some original products? Perhaps we'll do a "man-scented pound cake" (Shinchi's bakery specializes in making pound cakes), ha-ha!
---
Q: When you first got together, Taiwan was yet to pass a same-sex marriage law, how did you plan your future back then?
We had no plans whatsoever. We didn't have our hopes up, and like a lot of transnational same-sex couples out there, we were just trying our best to live a life together. Many transnational same-sex couples struggle to plan a future together as they can't get married. But we did what we could and we took what life had for us. We just wanted to live together. No matter how hard life gets, as long as we're holding each other's hand, we'll get through it.
---
Q: Did your family show any form of support for your marriage?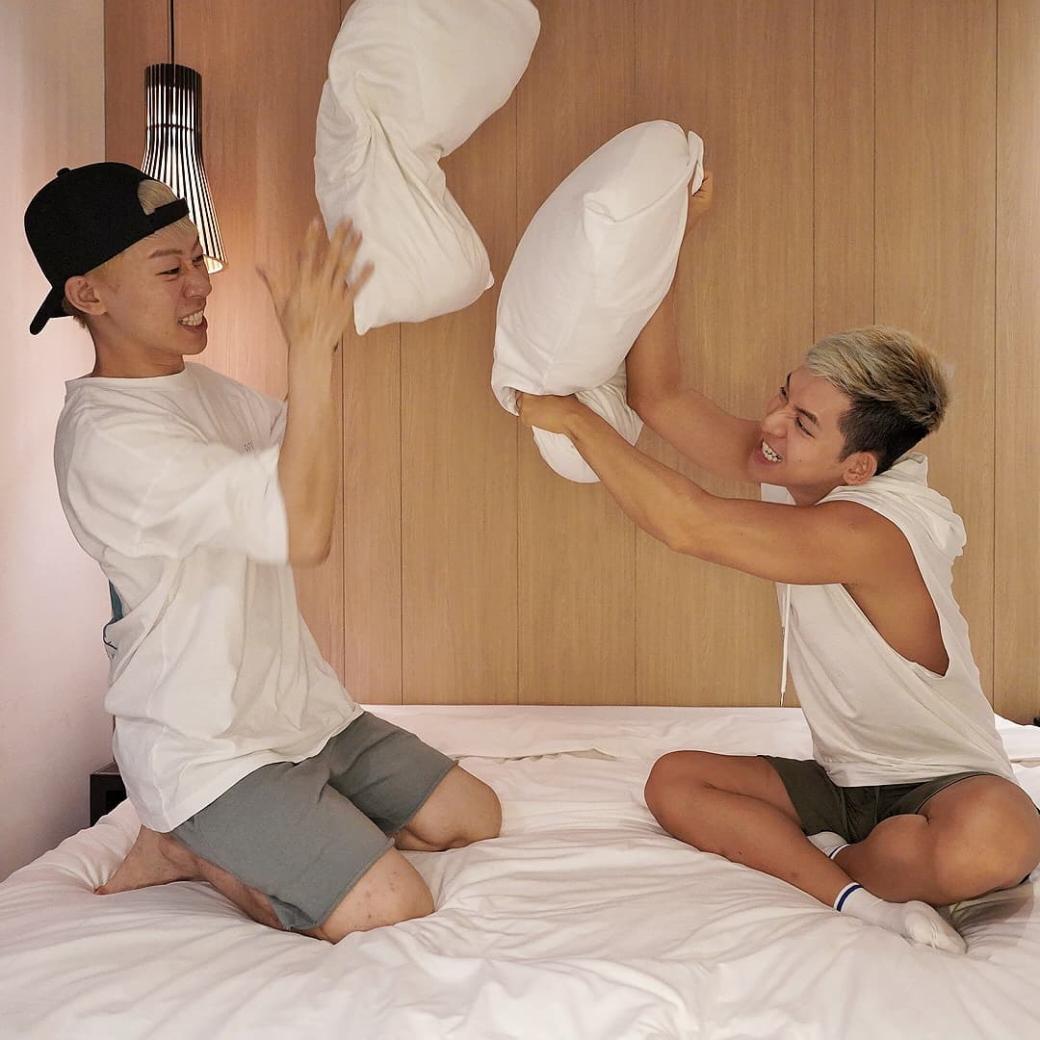 (Image/@guziferleong/Instagram)
Does a house count? They gave us a place to stay and have sex in. (?) Our parents are quite supportive, both emotionally and physically. My mom and my sister held a wedding for us back in 2019, and my dad is always saying that if we have enough of Taiwan, we can move back to Macao anytime. Shichi's parents were way more practical than we expected. They financed our company in Kaohsiung. The place we're living right now belongs to their family, too. They may not be that good at talking about their feelings, but we know that they love us very much, and they treat me like one of their own. 
I think family support plays a huge role in marriage. Maybe it's not essential, but it helps you get through life. The fact that we can be here today is possible because of our family. 
---
Q: Now that your marriage is finally legal, what do you want to say to those who used to look down on you?

(Image/@guziferleong/Instagram)
Oh, don't get me started!
I'm kidding, of course. I really haven't got much to say to them except this: As human beings, seeing someone wholeheartedly happy should be enough to make yourself happy. We all deserve to be, after all. It's a basic human right. I hope those who looked down on us would one day understand this. We're going to be very happy in the future and the others like us will be as well. Just let go of your hatred, please?
---
Q: August 13, 2021 is the official date that you were legally married in Taiwan, how did you celebrate it? What's your plan for the future?
We had a little gathering with our supporters and we dined out. After all, the pandemic is still going on. The official wedding will take place after our family can fly freely to Taiwan from Macao, so that might take a while. Our next step is to continue what we have always been doing––– promoting equality for transnational same-sex marriage. Us getting married is certainly a milestone, but we cannot stop here. I'm the one who started it, so it's my job to see it through. We were lucky. But there are thousands more out there who are still struggling, who are yet to be given the right to marry their loved ones. 
I am also planning on writing a book. I want to put my journey into words and share them with those who could use some strength and courage. You can follow our fan page (Chinese) on Facebook to see how we're doing. I started to take my fitness seriously last year after I resigned from the commissioner of the Kaohsiung Pride Parade. That's when I realized that I wanted to create more wonderful things and perhaps even leave a legacy in life. 
---
Q: How did your family members, friends, business partners, and neighbours support and bless your marriage? 

(Image/@guziferleong/Instagram)
I think I am a very hard person to deal with. But I am also a very lucky guy. I have many friends. Without our family's support and help, I don't think we could have made it this far, let alone advocating and pursuing our rights. Shinchi's mom is always on about how we should be spending more time on work. But she never once stopped us from fighting for others. She is a member of an NGO herself, you know. So perhaps helping people is in her blood, too. Many of my friends and the neighbours are exactly the ones that stood beside us during the Pride Parade in Kaohsiung last year. They've helped us tremendously, and we are forever grateful to them.
---
Q: What do you want to say to those who have helped you and supported you on the way to marriage equality?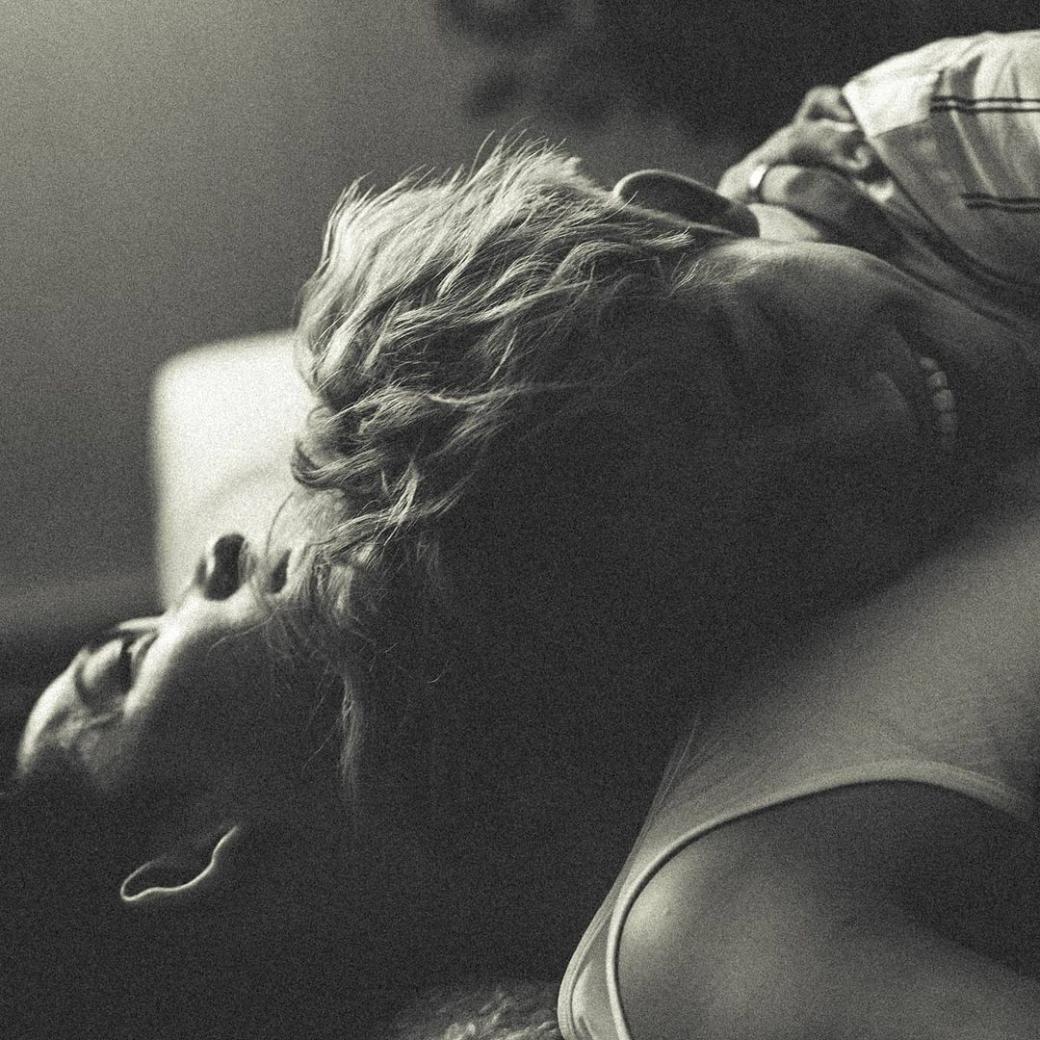 (Image/@guziferleong/Instagram)
"Gratitude" isn't a strong enough word to express our appreciation. We sacrificed a lot, but it is nothing compared to the help had we received on our way to equality. 
I remembered when we first settled down in Taiwan, we met GagaOOLala's founder Jay for the production of Taiwan Equals Love. He told me that if I needed help on anything. anything at all, we were to reach out to him. I don't normally like asking, but whenever I encountered something related to equal rights, I would seek advice or ask a favour from him, and he never hesitated to offer it.  As for the promotion of transnational marriage, we have to express our deepest gratitude to Taiwan Alliance to Promote Civil Partnership Rights and their team of lawyers. We have been allies all along the way and we are still in this together. Despite occasional differences of opinion, we trust one another and we are continuing to do our best to bring happiness to the transnational sex same marriage community. Last but not least, shout out to Howard Chiang, thanks for everything you have done. It's was you who made the remake of the song SEA You Soon possible, a song that raises public awareness to our cause –– realizing true quality for transnational same-sex marriage.