Hong Kongese director Simon Chung has filmed numerous movies about gay people's life experiences. From Innocent (2005), which explores the coming-out years of a young homosexual, and End of Love (2009), a film about the rejection homosexuals face in the Sinophone world, to I Miss You When I See You (2018), a story of redemption of a past life. Simon Chung depicts gay people's stories and struggles from different points of view and his works are always thought-provoking. GagaTai invited film critic George Po Chun Huang to interview Simon Chung and ask him about what motivates him and the process of producing a gay film in Asia.
George: When did you realize that you're gay? and when did you become interested in film?
Simon: I knew my gay identity since I was a kid, but I didn't fall in love with film until I was a teenager. My family and I emigrated to Canada, where I lived in a small town without much entertainment but a theater that played old movies, like European art cinema, Hollywood old movies, etc. That's when I started to enjoy movies.I was also a film major in college. Among all directors, Ingmar Bergman's work inspires me most. I realize that stories can be told in many different ways after watching his movies.
I think that film takes a certain responsibility to tell a different story and to speak for the minorities. The audience in Hong Kong has fewer chances to see their own stories, just like when I was a kid, so I wish I can make certain people's stories visible.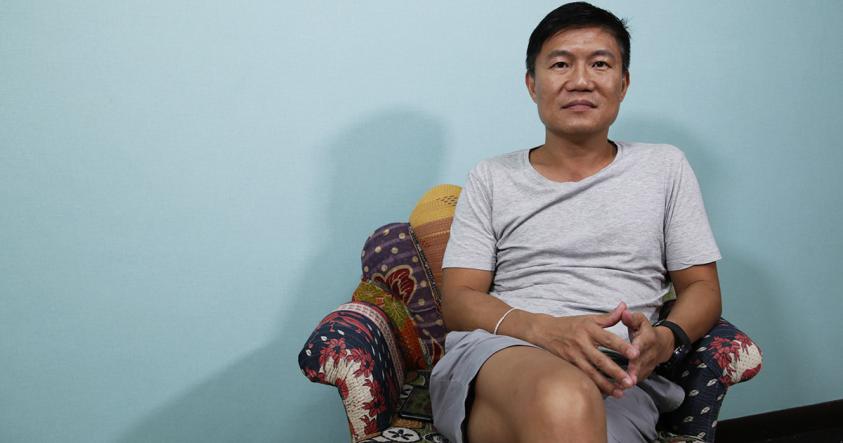 Director Simon Chung / Source: GagaOOLala
George: What was it like when you did the casting of Timothy Lee for Innocent? and how does it feel to have worked with him?
Simon: I did the casting myself. I saw Timothy Lee was going to the castings for other movies but he didn't get the part. However, I thought that he fit Innocent quite well. He was a teenager but had already participated in several gay movements. Actually, he also plays a part in my new film I Miss You When I See You.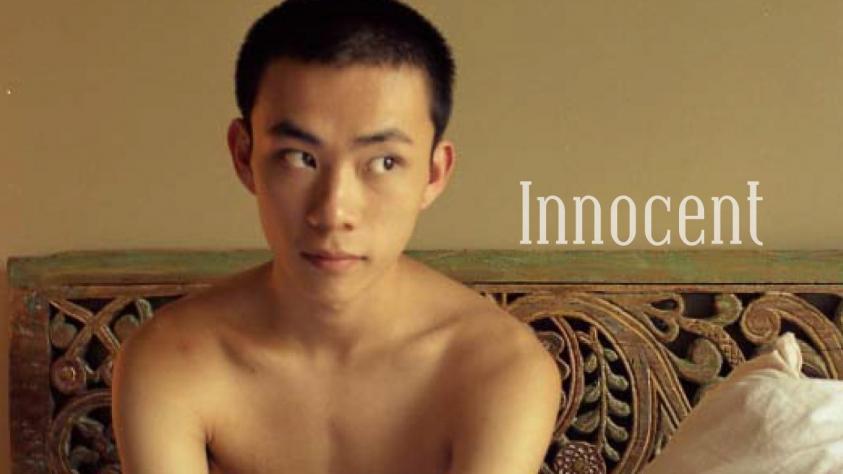 Innocent / Source: GagaOOLala
George: End of Love is your first feature film set in Hong Kong and where all of the characters are locals. What's the concept of the film and what do you want to express through this film?
Simon: End of Love focuses on two themes: drugs and religion. These are the issues that I've always focused on. Since 2000, the drug use among the gay people in Hong Kong has deeply increased. As for religion, it's somehow connected with drug abuse, people will make a connection between the two of them. So, these are the themes of End of Love.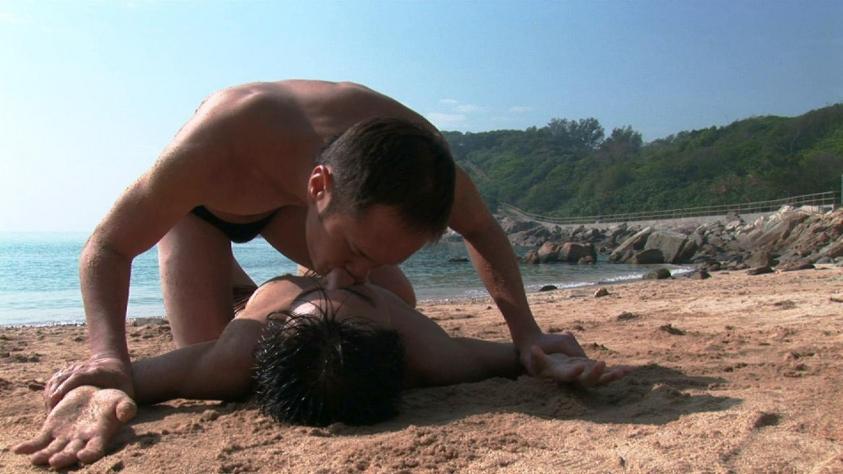 End of Love / Source: GagaOOLala
George: Speechless (2012) was shot in China, and one of the protagonists is a Western white male. You said that relationship represented the freedom that Chinese people could get, which remains unknown. Do you still think the same? 
Simon: One of the motifs is exactly the freedom of Chinese people. I cannot, however, say that all of them take the West as a symbol of freedom. But in Speechless, the foreigner is, as for Jiang, someone that he doesn't usually go out with. It is safe to say that in Speechless, Jiang is gazing at the West, but whether it comes true or not—I'm not sure.

Speechless / Source: GagaOOLala
George: What was it like when you did the casting of Jun Lee and Bryant Ji-Lok Mak? And how does it feel to have worked with them?
Simon: I saw Jun at a public casting. He was doing research in the university and planning on leaving and was shooting something himself. He was experienced before shooting I Miss You When I See You. And, after this, he kept making short films and even received the Fresh Wave Prize at the 11th Fresh Wave International Short Film Festival. He has also released a feature film Tracey (2018).
On the other hand, Bryant Ji-Lok Mak has been featured in Hong Kong's TV programs for a long time. I saw his performance and thought he was a fit for I Miss You When I See You.
I used to be nervous when shooting movies, but not this time. Before filming I Miss You When I See You, we shot the rehearsals. The actors were more focused instead of performing intermittently. The bloopers mainly came from the difficulties to express emotions or affection rather than from the dialogue. The house featured the film was my house. I took all the furniture away and sold the house after I filmed it. It is like bidding farewell to the house after finishing the film.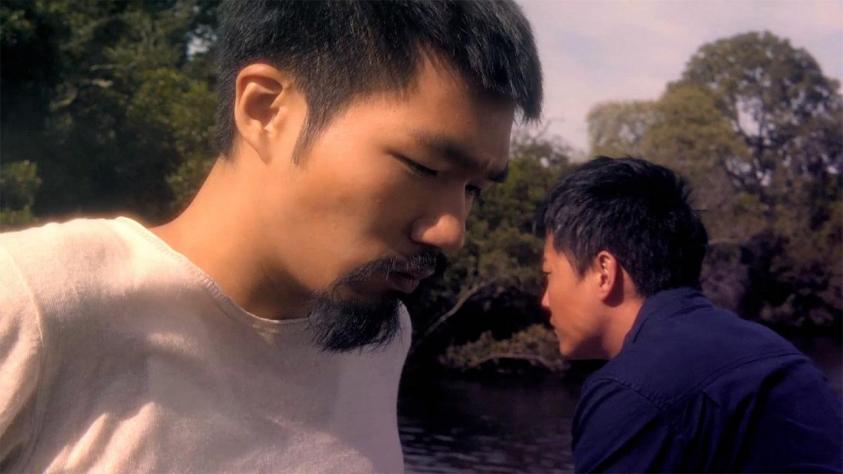 I Miss You When I See You / Source: GagaOOLala
George: Originally, you were going to shoot I Miss You When I See You in Canada, but then changed the plan due to budget constrictions. Did it make any difference?
Simon: The script had to change a lot. Originally there were 1/3 of the scenes that were supposed to be shot in Canada but then changed to Hong Kong. And there was a lot of about Kevin's family and parents story, but we deleted it all. Originally, Kevin's mother appeared in a dream, but we deleted it during the post-production process because it would be too weak if the character suddenly appeared. But the movie in itself is a curious thing. I think this is much more interesting.
George: As an openly gay director, do you want to make the LGBT community more visible through your work? And what do you think about LGBT equality?
Simon: Overall, I hold a positive attitude towards LGBT equality. It is unstoppable now. For example, there's a gay couple in Hong Kong that filed a lawsuit against the Immigration Office. And the court ruled in favor of the couple. From now on, Immigration in Hong Kong has to recognize overseas gay couples and allow them to apply for a visa.
George: Innocent is a gay coming-of-age story, End of Love presents the predicament that gay people in Sinophone world face, Speechless represents the correlation between the East and the West, and I Miss You When I See You depicts a story about redemption. Are these all part of your life experiences?
Simon: In a way. Most of the films I shot are related to my life experiences, but I feel like I tend to distance myself from the characters I crate.
George: Do you believe in love?
Simon: (Laughing) It depends on how you define love and why you want to be with someone. As for me, in the past I had some needs that I wanted to achieve with other people. But now I don't think this way anymore. I don't think I have to get something from someone. I Miss You When I See You is more like what I thought before: you want to be with someone and you think he is your life. But now I'm not sure whether this kind of thing exists. There's no way of knowing what kind of people you find comfortable being with. I think a person can be with numerous people as long as he wants to. If you're comfortable being with somebody, and you don't expect anything, then that's it.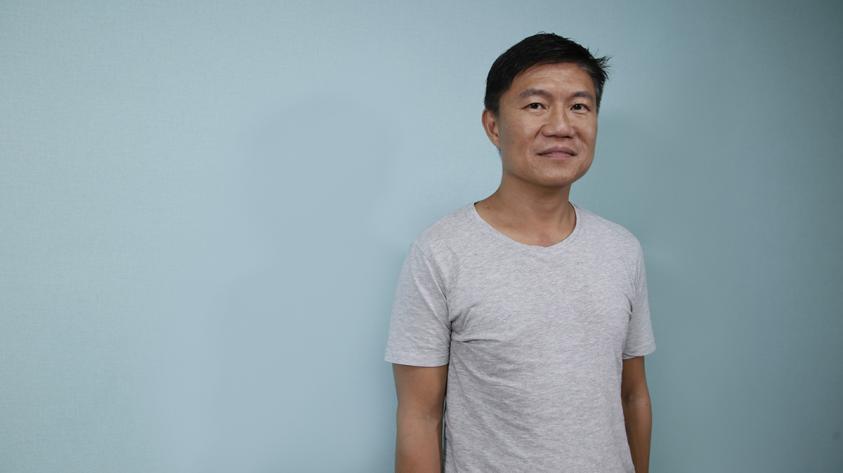 Director Simon Chung / Source: GagaTai
George: When directing sex scenes, especially Timothy Lee's in Innocent whn he was still underage, how did you work with the actors?
Simon: We discussed the script very carefully, and I offered a lot of preparation and rehearsals when shooting the film, like arranging meetings for them, rehearsing the scenes on bed, etc. so they wouldn't be shy or embarrassed.   
George: Could you share with us some movies and directors that have influenced you and the LGBTQ+ movies that you've seen and enjoyed recently?
Simon: There were a lot of films that influenced me a lot when I was a teenager, such as My Beautiful Laundrette (1985) and Another Country (1984). I think recent LGBT films didn't influence me that much.
George: Are you planning on producing anything right now? Would you like to share with us?
Simon: I want to shoot a documentary about Chiang Mai, about the minorities living there. And I would probably try to shoot a non-LGBT feature film. But yeah, it depends on how the script goes.  
George: Do you want to collaborate with any Taiwanese actor if you were to shoot a gay film? Why?
Simon: I think Ko Chen-tung is a brilliant actor. He has become a real actor in The Road to Mandalay and not just a pop idol anymore.
Simon Chung's works on GagaOOLala: