Portico Media, the company behind Asia's biggest LGBT streaming platform, GagaOOLala, held a press conference today together with several Taiwanese directors and officials from the Ministry of Culture of Taiwan, to announce the launching of its latest platform, GOL STUDIOS.  This new service will provide LGBT productions with a vast array of resources through its global network of film professionals. Filmmakers will be able to find equipment, actors, crew members or funding, distribution channels and connect with other producers and directors from all over the world. After the inception of GagaOOLala, and the gay and lesbian news and lifestyle websites GagaTai and LalaTai, Portico Media now launches its newest platform focusing on LGBTQ+ film production and distribution. For its first slate of originals, GOL STUDIOS has collaborated with 12 LGBTQ+ projects, including Handsome Stewardess and Killing Love Chronicles (unofficial translation of 愛情殺人紀事), directed by the Teddy Award winning director Zero Chou, and My Soul Is Made of Love, a film prophesying the recognition of gay marriage by the Taipei Film Award nominee Chen Ming-lang. Furthermore, GOL STUDIOS is currently working with director Cheng Hung-i for his next film, As We Like It, a sequel of its Golden Horse Award winner Candy Rain (2008).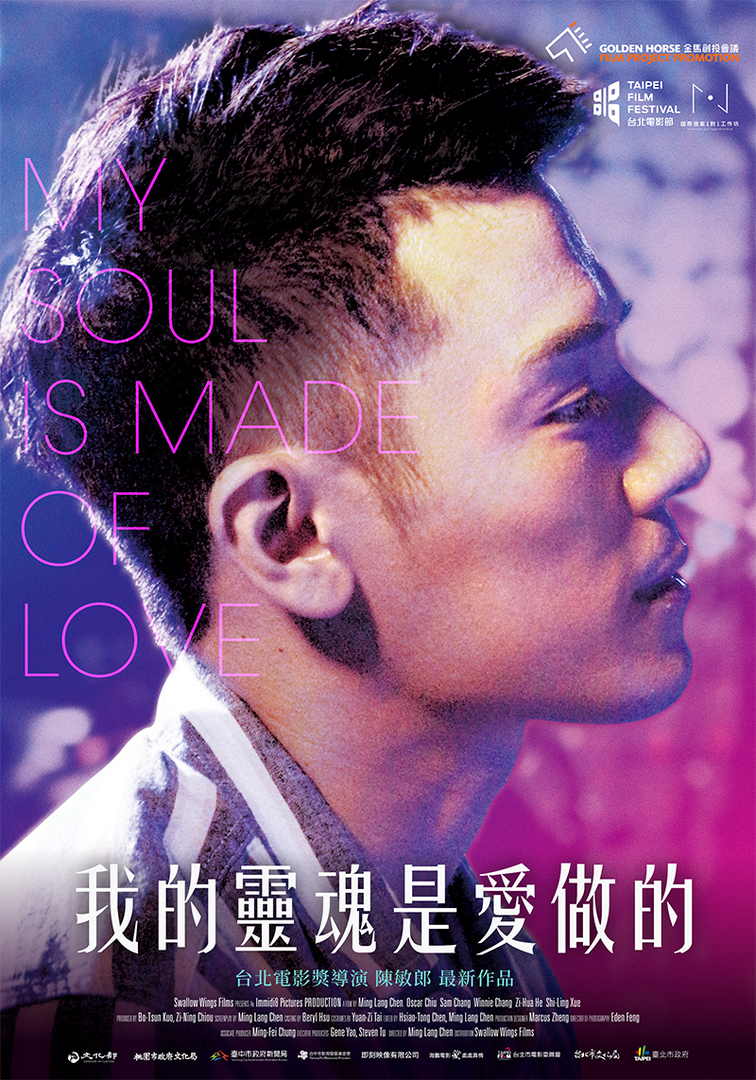 My Soul Is Made of Love poster
Two years after the inception of GagaOOLala, Portico Media now presents a new platform that goes beyond bringing LGBTQ+ cinema to the mainstream by integrating international resources to support queer cinema production. With 150,000+ members and 1,000+ titles, GagaOOLala has now expanded from its native Taiwan to other 12 countries in Southeast Asia, with plans of reaching South Asia this year and reaching, this way, one third of the total world population. The platform also opens Taiwan to the possibility of co-producing content with other territories and that is why it counts with the support of the Ministry of Culture.
Jay Lin, founder of Portico Media and recently named one of the top innovators of the year in Newsweek's The Creative Class of 2019, stated that "in recent years, the western film industry has changed rapidly. After an increase of 700% in the number of LGBT characters in recent years, many queer films, either commercial films or arthouse, have been presented and celebrated all over the world. As the gay community steps into the mainstream, I believe that Taiwan, one of the most democratic, progressive, and liberal countries in Asia, does have the potential to become an LGBT cinema production hub."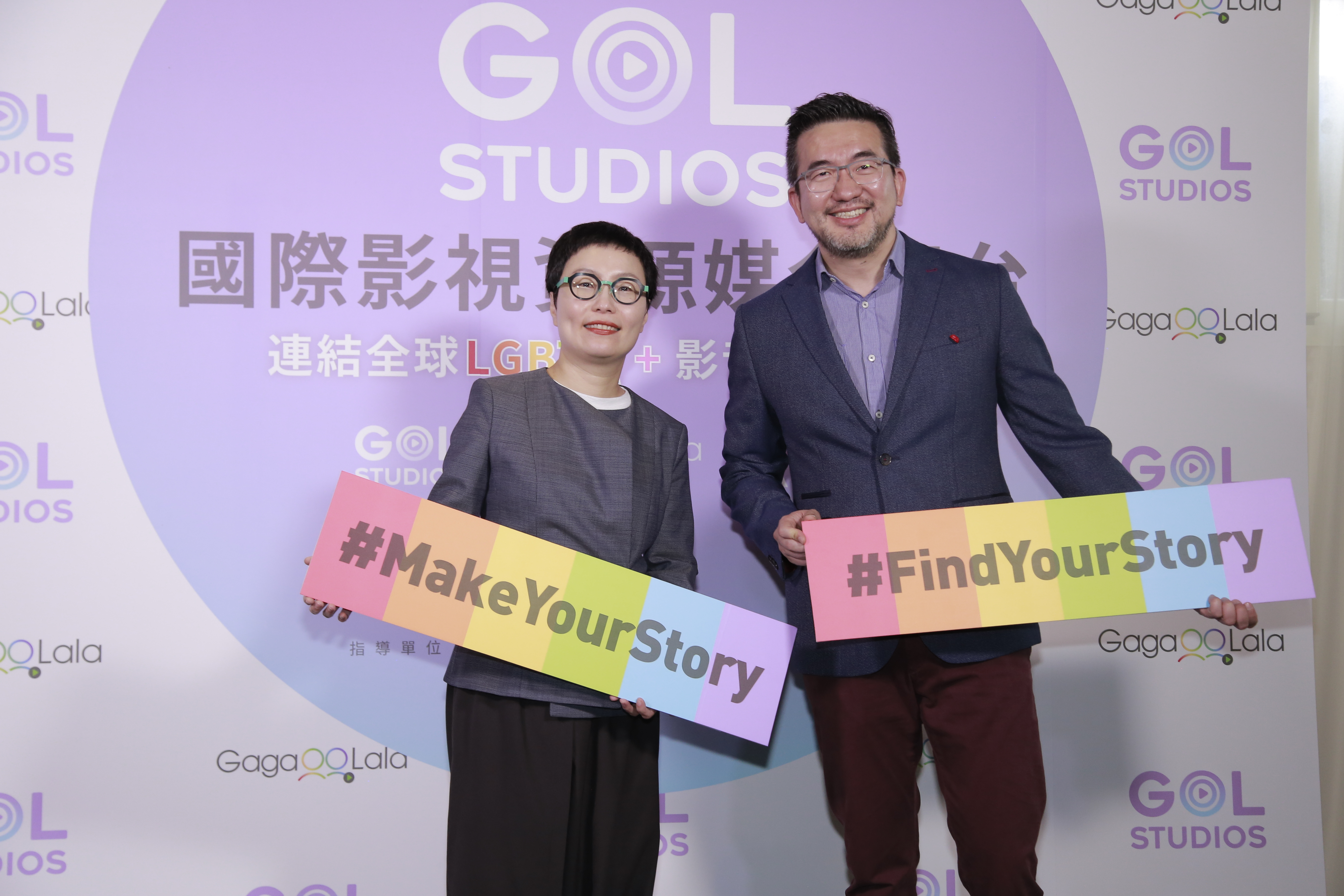 Deputy Minister of Culture, Celest Hsiao-ching Ting and Jay Lin
GOL STUDIOS has now collaborated several local and international projects, including Gentleman Spa, a Taiwanese short film officially selected by BFI Flare this year; Chen Ming-lan's My Soul Is Made of Love, Emmy Award winner Beth Aala's new project Made in Boise, a documentary focusing on surrogacy for gay parents in the USA, and Hong Kong director and Teddy Award nominee Kit Hung new film Forever 17 about an elder gay couple reminiscing  their life together. In earlier stages of production are Boy Meets Boy set in Berlin and with a Spanish director, the Taiwanese same-sex marriage documentary Are We Married Yet?, the sequel to Sodom's Cat, a brave, celebrated film contemplating dating app culture nowadays, and new features by outstanding lesbian director Zero Chou including Handsome Stewardess and  Killing Love Chronicles. This year, moreover, GagaOOLala's original docu-series Queer Asia will keep exploring LGBTQ+ culture in South Korea, Myanmar, Thailand, and India. All of the above-mentioned works will be presented on GagaOOLala across 20+ countries.

Boy Meets Boy artwork
Zero Chou shared that her new features, part of her "Project Rainbow in Six Asian Cities", will be shot in Singapore and Taipei, "in recent years, we have been silently planting the rainbow flag everywhere, fighting for human rights, connecting with LGBTQ+ communities through film. I am really glad that GOL STUDIOS and GagaOOLala are always by our side." Meanwhile, Chen Ming-lang explained that "while I was making My Soul Is Made of Love, I witnessed the defeat of the same-sex referendum and the proposal of a special law which, surprisingly, is exactly what the protagonist of my film go through. I hope that GOL STUDIOS brings the film to more countries, demonstrating Taiwan's struggle for gay marriage."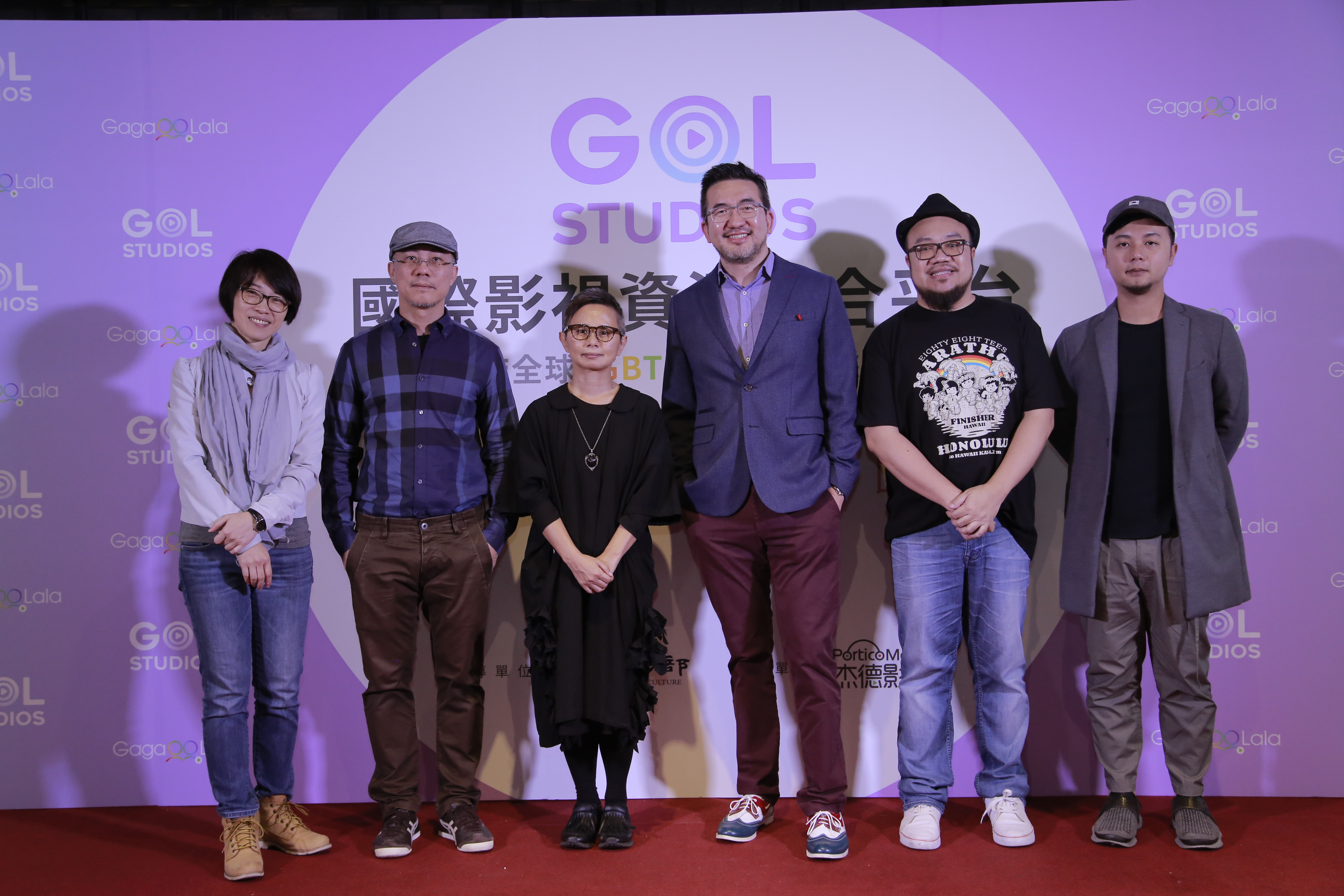 From Left to Right, Zero Chou, Cheng Ming-lang, Wei Ying-chuan, Jay Lin, Nelson Yeh and Yu Jhi-han.
In addition, other projects will launch on GOL STUDIOS to explore new investment and resourcing options internationally, including the sequel to Candy Rain, which is going to start shooting in April; and Doi Boy, directed by the Locarno International Film Award winning Thai director, Nontawat Numbenchapol.
Jay Lin concluded that "2019 is the year that gay marriage will be legalized in Taiwan. With more understanding and acceptance, the Pink economy is ready to strive. We are looking forward to the integration of GOL STUDIOS and GagaOOLala, and to passionately stimulate LGBTQ+ film productions. Together with global collaboration and local creativity, LGBTQ+ stories will flourish and reach every corner of the world."
GOL STUDIOS originals announcement:
Visit GOL STUDIOS: https://gol-studios.com
Facebook: GOL STUDIOS
IG @golstudios