In what could only be described as a gripping finale to Asia's very first gay parenting series (Spoiler Alert: Yes, we're left with a major cliffhanger), the final episode of Papa & Daddy was one heck of an emotional roller coaster ride with the series ending on a soaring note that had us smiling and tearing up at the same time. After going through the joys and challenges of raising a child all the while juggling with the highs and lows of their private and professional lives throughout the first five episodes of the series, lead characters Damian played by the Malaysian actor Melvin Sia and Jerry, played by Taiwanese Mike Lin, open episode six on an intimate note where we see them embracing each other passionately in the comfort of their sheets.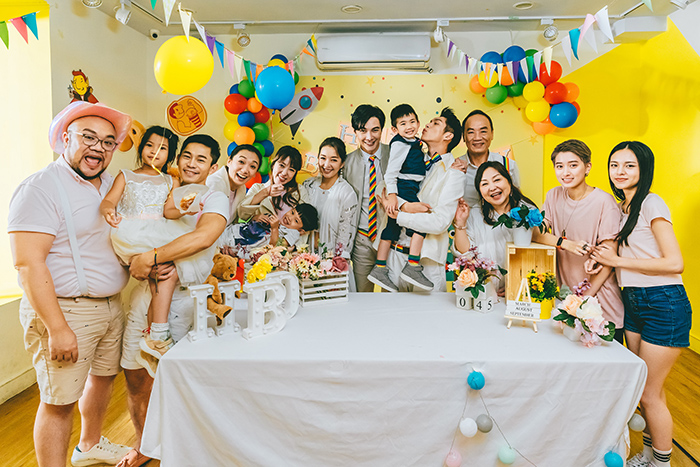 The full cast of Papa & Daddy on set for Kai Kai's birthday scene (Source: GagaOOLala)
As they continue getting intimate, Damian and Jerry begin making plans for their son, Kai Kai's grand birthday party. As they discuss the scale of the event and who they should invite, Damian devises a plan to call all of Kai Kai's friends and their moms from his kindergarten, and to much of Jerry's surprise, Jerry's parents from Hualien are invited too. This has Jerry feeling anxious and out of his insecurities about his closeted identity, Jerry begins debating with Damian as to whether they should actually go ahead with such a plan only for Damian to accidentally send out all of the invitations via his phone. Too late to recall the invitations, Damian and Jerry make the ultimate decision to come out publicly about their status. 

Damian's emotional speech at Kai Kai's birthday event (Source: GagaOOLala)
On the day of the party, Damian makes an emotional speech addressing everyone in attendance. He genuinely thanks them for their unconditional love, care, and support for his rainbow family. He even tears up a little not being able to withhold the intensity of emotions he's been experiencing.
However, just when everything seems to be going perfectly, the birthday party takes an unexpected turn when Damian suddenly gets a call from the States, which forces him to reveal a secret that has kept buried for the longest time in his heart. At that very instance, Damian's other child, Jimmy, shows up at their front door without any warning, thereby making Damian realize that he has built together with Jerry and Kai Kai so far is uttimately at stake and the future they behold is eventually beginning to tumble.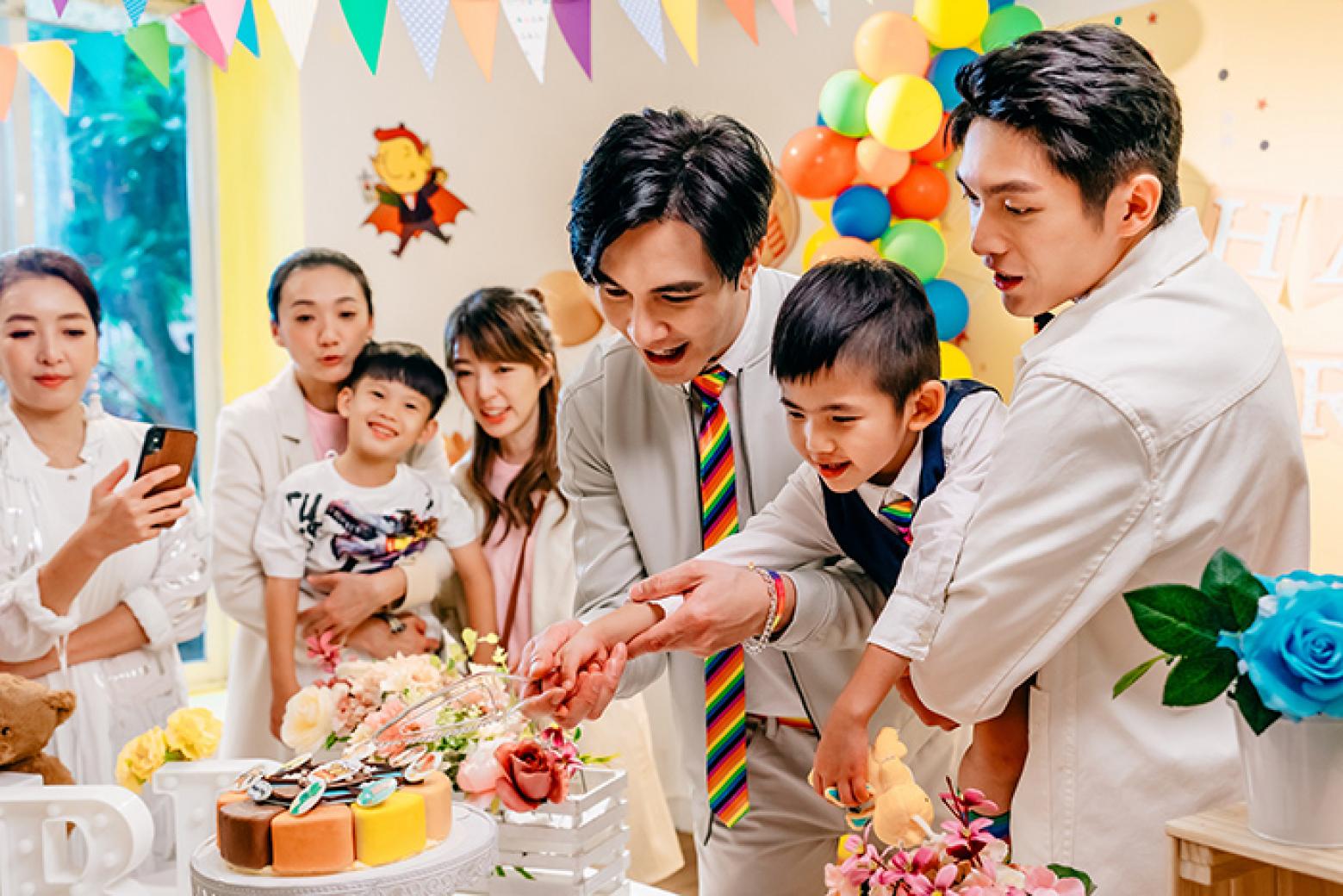 Damian, Jerry and Kai Kai as the definition of a "Rainbow" family (Source: GagaOOLala)
Since its official release on GagaOOLala, Papa & Daddy has successfully amassed a genuine and dedicated group of followers and viewers from Taiwan, Malaysia, England, the USA, Brazil, and several other Asian and European nations. The rating for the series reached a record high that has never been seen before since the founding of the streaming platform. Likewise, the series successfully made a formidable milestone in the history of queer drama series from Taiwan in being Asia's first-ever gay parenting drama series. Elsewhere, Papa & Daddy also reached the top ten most discussed BL series in Taiwan based on the "KEYPO Big Data Key Engine" by DailyView.
Apart from GagaOOLala, the first three episodes of the series is now available to stream on several other platforms such as the likes of MOD, KKTV, MyVideo, Friday 影音, HamiVideo, and CatchPlay+ in Taiwan. So, make sure not to miss the one and only gay parenting drama series from Asia.