After bringing you Taiwan's most successful LGBT movie of all time, the only gay movie to ever cross the NT$ 100 million mark in the Taiwanese box office, Patrick Liu, the director behind 2020's epic romantic gay drama Your Name Engraved Herein, is finally back and at it again with his latest offering. For his most recent venture, Patrick has partnered with GagaOOLala to bring to life a one-of-a-kind 'drag' short film titled Best Sisters Forever, which will be available for streaming on the Asian LGBTQ+ streaming platform globally 2 July 2021 onwards. The original drag short film centers on the story of two gay best friends 'sisters' who are finally reunited after a heated argument has them go their separate ways for almost a decade. Knowing that their days are now numbered, the two 'sisters' set out on a once-in-a-lifetime journey that has them rediscover the value of life, love, friendship, and family. Best Sisters Forever stars the prestigious singer-songwriter Heng-Chi Kuo and the Golden Bell Awards winning aboriginal actor Ta SU in the roles of the Xuerong and Yihong as the main leads in the film. 
As of late, Ta SU has been busy doing his best to promote the short film. While he was originally slated to go live on popular internet influencer Jay Chang's YouTube show, the initial arrangement had to be adjusted into an online interview due to the ongoing COVID-19 situation in Taiwan. To much people's surprise, the stay-at-home virtual interview somehow made Ta SU more at ease and he seemed more than willing to open his heart out, sharing up close and candid details about himself and his career over the course of the exchange. In the end, the stunning actor even spilled the deets on how he has managed to master the secret art of enhancing his manhood. Trust us, Fellas. You don't want to miss this one. 

Ta SU plays the fun and frivolous hair and makeup guru Yihong in Best Sisters Forever. (Source: GagaOOLala)
Ta Su confessed to being doubtful of his acting abilities and had to cut his time short at the military because of his depression. 
In the candid interview, Ta SU reminisced his time as a freshman at the Taipei National University of Arts where he would often get scolded about his acting performance by his seniors, with one of his seniors going as far as to tell him, "You simply can't act, no matter what kind of character you are asked to play." Upon hearing such a comment, Ta SU was so devastated that he chose to drop out in his sophomore year at the university to go join the military. During his time at the force, he was soon assigned to the Navy where he began his 20 months life onboard as a boilerman. However, the immense pressure from the commanding officers, prolong hours of work and exposure to the sea, and the intense feeling of being trapped in a confined space, ultimately made him question himself, "What am I doing here? Did I make the wrong decision? Shouldn't I be shining brightly on a stage somewhere?" And just like that, the depression he had managed to suppress came crawling back at him. Ta SU was asked to check out the military only after 12 months of his time here, leaving him unable to complete military service and thereby making it the biggest regret of his life.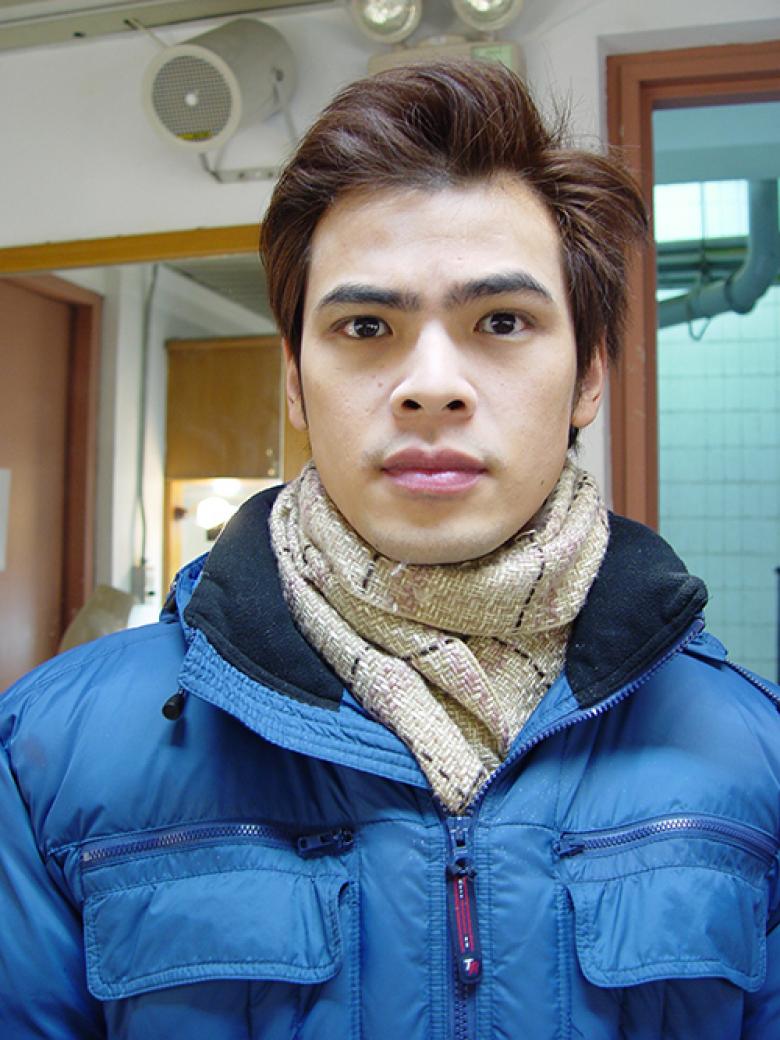 Ta SU was told that he has no talent in acting and was asked to check out the military for his depression. (Source: GagaOOLala)
After his departure from the military, Ta SU started his journey as an actor by playing supporting characters in several films and series before moving on to major lead roles in what has now become a decade-spanning career in the Taiwanese entertainment industry. And while Ta SU has forever remained an ally of the LGBTQ+ community playing a number of queer roles in films like Tale of the Lost Boys and Lady CaCa, Best Sisters Forever marks his first playing the role of a drag character on screen. While sharing his thought on the topic, Ta SU said "If you truly love someone, you should view gender as the second priority. The first priority should always be that you really love this person." Ta SU talked about his performance in Best Sisters Forever being very different from his other undertaking, where his interpretation of the role of Yihong needed him to employ both high and low key performing methods. thereby giving natural form to the fun and flight character, which earned him deep respect and admiration from the host, Jay.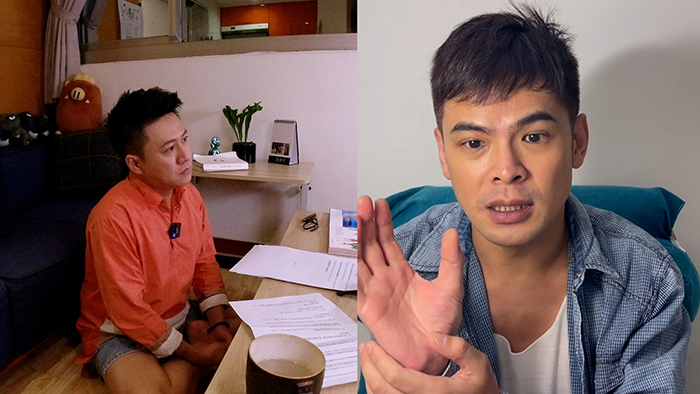 Ta Su promotes Best Sisters Forever on YouTube sensation Jay Chang's channel. (Source: GagaOOLala)
Ta SU, who, besides when it is required in films, has never sung a song in public before. Upon hearing this, Jay specifically asked Ta SU to sing the iconic theme song of the film for his time at the show. First written and composed by Heng-Chi Kuo in 1999 for A-Mei, the famed Taiwanese indigenous singer that virtually no Mandarin-speaking person has not heard of, "Don't Rub Salt on the Wound" is an emotional track seeped with feelings of nostalgia and regret and a parting message of glimmering hope and faith. The lyrics to the iconic track reads: "Don't let yesterday pours salt over wounds. It aches once you touch it. It hurts once you think about it. Love ages you in a blink of an eye. Don't let yesterday pours salt over wounds. Flash out the remains of love inside you. Live once again." Apart from his natural, soothing voice, his experience as a decade-long actor helped add a unique feel to his performance of the song, thereby prompting Jay to clap and compliment the actor, "Wow, you're truly an actor, it is full of emotions in your interpretation." Ta Su then shyly replied, "No No No, I don't have a good voice. I could only count on my acting."

Ta SU takes pride in his manhood. (Source: GagaOOLala)
Loud and proud of his manhood! Ta Su spilled the deets on how he enhanced his man part.
While playing the signature "Quick Q&A" round of Jay's show, Ta SU instantaneously picks the character of Birdy over A-Han from the film Your Name Engraved Herein as his possible partner, to which he explained, "Birdy looks like he's easy to control. And I know A-Han is a Leo. Leos are always commanding of people, and often very difficult to handle." However, when Jay was quick to point out that A-Han has a "big" one under, Ta SU stated that it didn't matter to him that A-Han has a big one as he, too, has a very special one himself. Moreover, Ta SU genuinely shared his fear of getting fat. He explained "The most terrifying thing for an actor during quarantine is getting fat, especially, because your penis will shorten if you get fat. For every 15 kgs you lose, your penis will look 0.8 cm longer. In fact, there was someone who said that if you lose 5 kgs, it will get 1 cm longer." The idiosyncratic remark made Jay laugh so hard that he promised he would start to lose some weight himself.
Best Sisters Forever, the third installment in GagaOOLala's "Queer Up The Volume" anthology after Call It What You Want and Papa & Daddy, will make its exclusive premiere on the LGBTQ+ streaming platform globally on 2 July 2021. The story of the film centers on Xuerong and Yihong, two best gay "sisters" who decided to go their different ways due to a terrible argument about a love triangle that took place ten years ago. Now, that the older sister, Xuerong (played by Heng-Chi Kuo) has fallen ill, the pair decide to come together and reminisce about the past all the while thinking about the future. The younger sister, Yihong (played by Ta SU) is quick to notice his sister's anxiety and hopelessness towards life. Thus, in the hope of making the best of their limited time together, they decide to go on an adventure, wishing to gain lost opportunities and make fond memories. Along the way, they find themselves immersed in laughter and tears and ultimately realize the importance of family, friendship, and love, with their long-lost dreams coming true at the end.
So, tune into GagaOOLala on your devices and enjoy the best of what Best Sisters Forever has to offer during your time at home amid the lockdown. And while you're at it, make sure to call your family, friends, and BFFs to reminisce your own memories together and fight off the loneliness of this dreadful pandemic.