Marty Forth and Patrick Sinclair are a foreign gay couple living in Hong Kong. They live a lovely life together with their son Grayson. GagaOOLala's original series Queer Asia - Hong Kong had the chance to interview this happy gay family.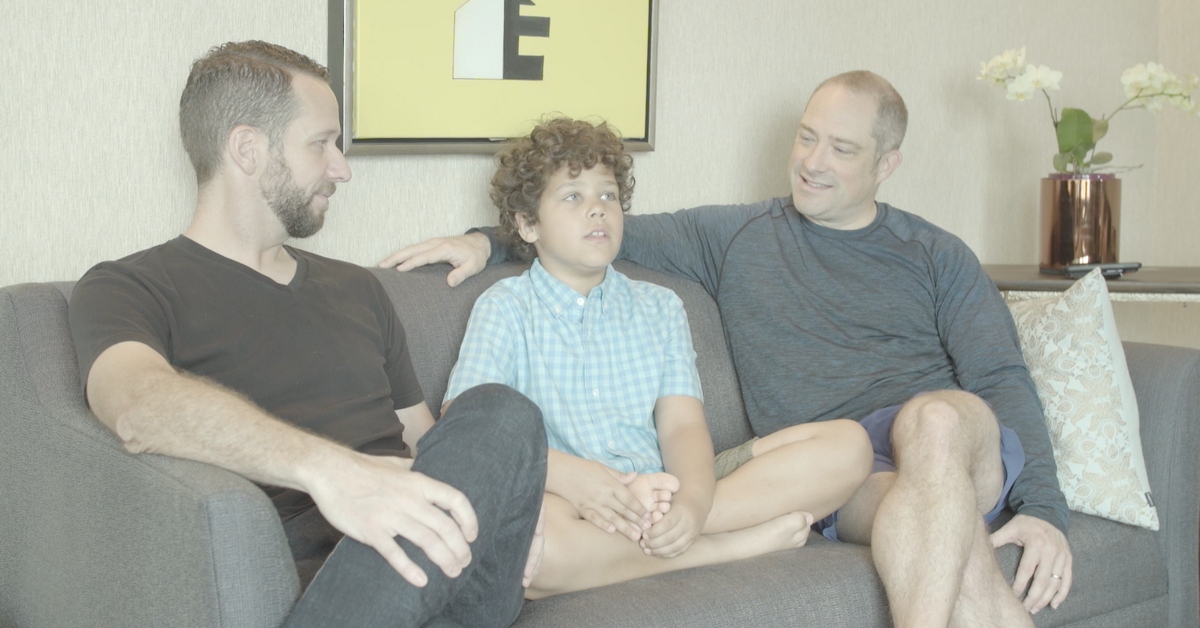 Marty (left), Grayson (middle), Patrick (right) / Source: GagaOOLala
The joyful coming of their son. 
Annie is Grayson's birthmother. Not being able to raise her kid, she started looking for adopting families. After interviewing with Annie and send her many letters, she chose Marty and Patrick to be the fathers of Grayson. 
"That application ended up being over 100 pages. I think it was very complex, and very detailed." Regarding the adopting process, Marty mentioned that the complex and thorough the application is necessary, "it made us think of things we never thought of before. For example, where do we want to raise our kids?" (...) One of the application steps is to make a photo album, with our daily lives, family photos, and neighborhood. It has become a tradition to make an album every year for Grayson's birthday."

Marty and Grayson looking at an album together / Source: GagaOOLala
Integrating in Hong Kong 
Marty and Patrick were living in New York before Patrick got an offer in Hong Kong. They moved there in 2015. Marty had a dream of pursuing a Ph.D. which was accomplished in Hong Kong. Meanwhile, Grayson was able to grow up in an international city and to learn Mandarin and a different culture.
When it comes to being an expat in Hong Kong, Marty said he totally immersed himself into Chinese culture. Even though there are some looks and stares, he does not regard it as discrimination. For example, when the three of them are staying in a hotel, the front desk clerk usually asks if they want separate beds. "I don't think it's judgment. I think it's a lack of exposure and confusion."

Source: GagaOOLala
"We are unique, but every family is."
Marty said that he often gives interviews to share his experiences.His goal is to make others more aware, to make them able to discuss this kind of topics more naturally.
"We are not an anomaly. We are unique and different, but every family is and has its own story to tell. Just because something is different, it doesn't mean it should be ostracized or feared," Marty said. Respect for diversity is also greatly rooted in Grayson's values. When he was asked, "What daddies think is important to you?" He said, "To be caring for everyone."
Have you learned to love your differences?