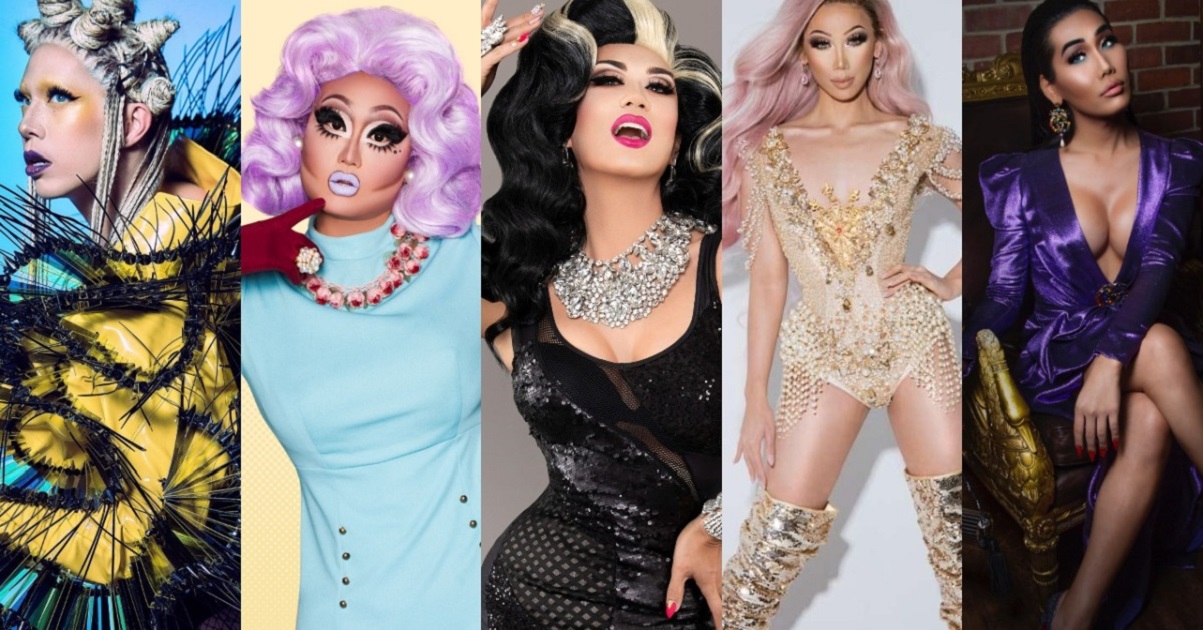 From Left to Right: Pangina Heals, Kim Chi, Manila Luzon, Plastique Tiara, and Gin Gunn
(Source: Generation T, RuPaul's Drag Race Wiki Fandom, Out Front Magazine, Scenester, and L'Officiel USA)
"We're all born naked, and the rest is drag." – RuPaul Andre Charles
From its early beginnings as an art form depicting gendered expressions to its meteoric rise as an inseparable part of the current day zeitgeist, it is clear that "drag" has come a long way from its heydays to becoming the major cultural force that it is today. The term drag refers to a gender-bending art form in which a person dresses in clothing and makeup, usually of the opposite sex, in order to exaggerate a specific gender identity. While drag's main purpose has been for performance and entertainment, it is also used as self-expression and a celebration of LGBTQ+ pride. A typical drag show will include lip-syncing or dance, and performers often have elaborate clothing, hair, and makeup.
Much of drag's rise to worldwide popularity today can be exclusively credited to RuPaul Andre Charles and his award-winning drag reality competition show, RuPaul's Drag Race. With a universal fandom that now extends to every nook and corner of the globe, the commercially and critically acclaimed TV series which is currently in its thirteenth season has been a one-stop drag entertainment source ever since it first premiered in February of 2009. But beyond its extravagant outfits, campy catwalks, over-the-top lip-syncing, and near-to-perfect celebrity impersonations, RuPaul's Drag Race has always stood for self-expression, confidence, and authenticity and serves as a platform to bring drag concerns and issues into the mainstream.
Thus, in borrowing from the show's success and its much-needed drag advocacy, we here at GagaTai have exclusively put together the following article to bring to you six of Asia's boldest and baddest drag queens. With most of them having previously competed on RuPaul's Drag Race as well as starred in other drag shows and spin-off series, these empresses of the East mean serious business the minute they take on their drag avatars. So, bow down, Fellas, and get ready to get amused, enthralled, and entertained. The queens are finally here to SLAY!
1. Pangina Heals (Thailand/Taiwan)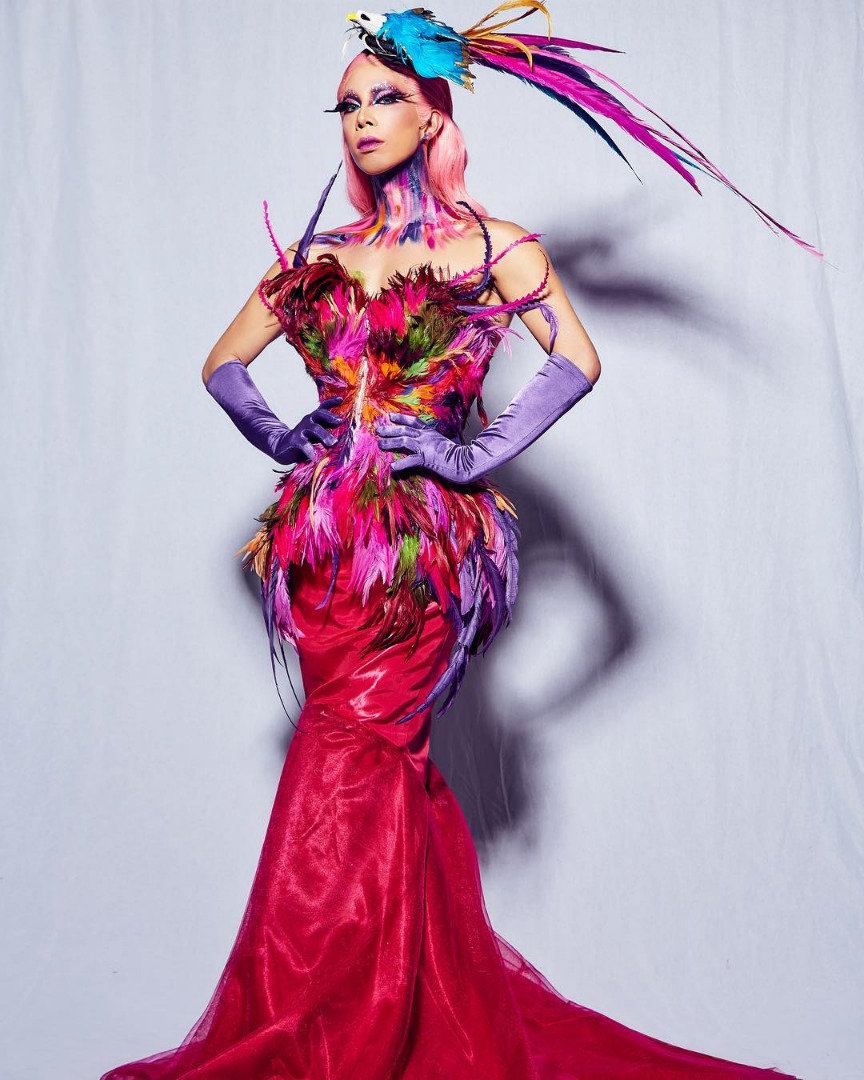 (Source: Tumbral)
"FIGHT FOR YOUR LIFE."
Hailing from the province of Samut Prakan, the south of Bangkok, Thailand, Pan Pan Nakprasert, popularly known by his drag name, Pangina Heals, is most notably recognized for co-hosting and judging the first two seasons of Drag Race Thailand, a sister series to RuPaul's Drag Race that airs in Thailand and focuses on the vibrant drag scene of the South East Asian nation. Originally of Taiwanese-Thai descent, Pan Pan studied at the prestigious University of California, Los Angeles before returning to Thailand in 2010. Upon his return, Pan Pan participated in and won Thailand's first-ever drag competition, T Battle, and quickly became one of Thailand's most famous and influential drag queens. In 2018, the city of Taipei, Taiwan, chose Pangina to be their brand ambassador to Thailand. Pangina, who is fluent in both English and Thai, is best known for impersonating the likes of Lady Gaga and Mariah Carey and for her skills in waacking, a form of dancing commonly found in ballroom settings.
2. Kim Chi (South Korea)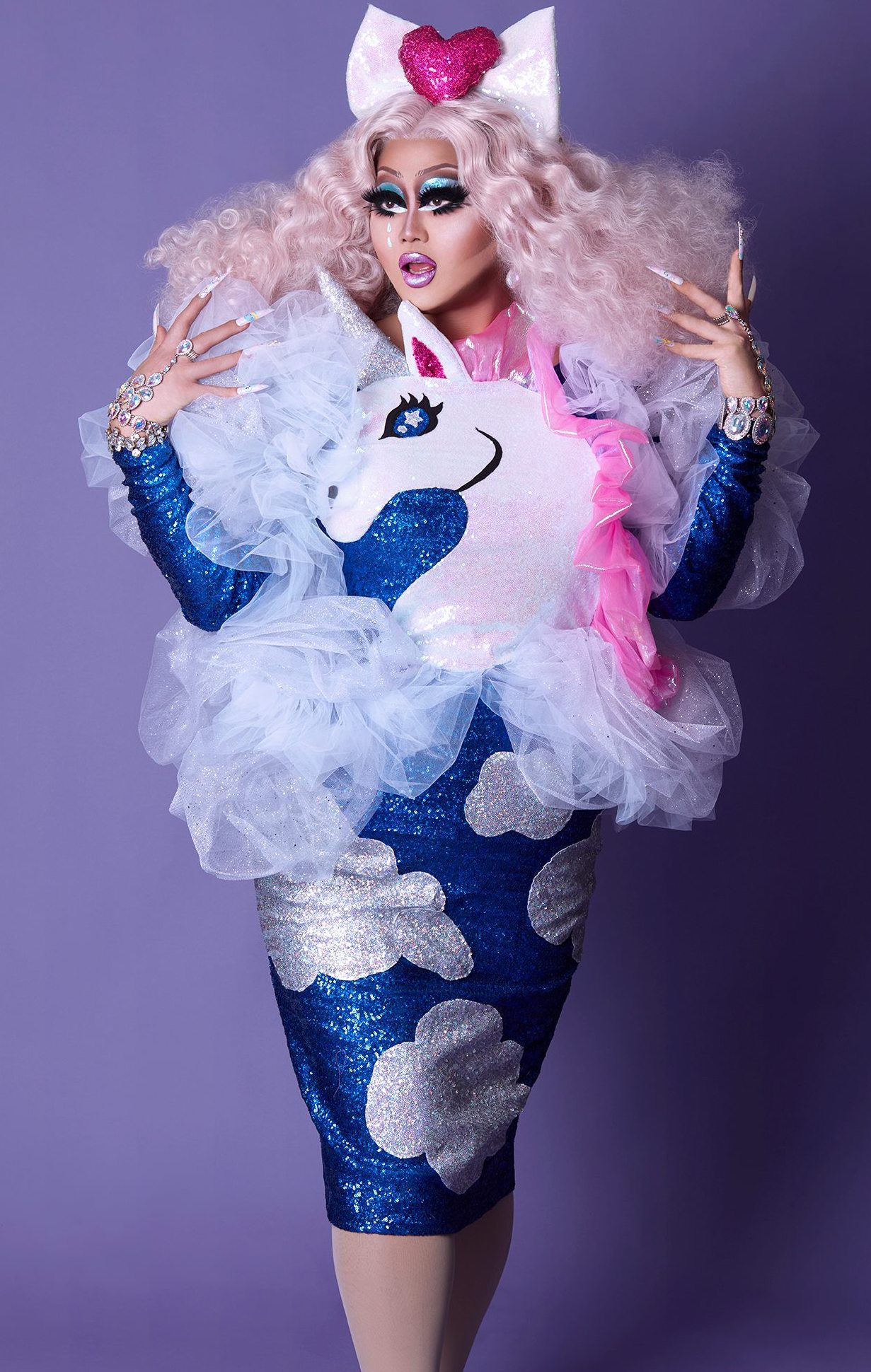 (Source: Kim Chi's Official Website)
"I came to DESTROY EVERYONE, with my make-up."
As the first and perhaps the most popular Korean-American drag queen, Kim Chi is the stage name of Sang-Young Shin a drag queen, performer, makeup artist, and a contestant on season eight of RuPaul's Drag Race, where he placed as a runner-up alongside Naomi Smalls. Born in the United States, Shin moved to South Korea as a child and lived there for most of his early years. Eventually, Shin went back to the States to study graphic design in college before working as an art director and exploring sculpture, fashion design, and painting. Shin officially began his drag career in Chicago in 2012 with the drag name of "Jizzney Princess" which he later changed to "Kim Chi" which stands as a pun for "Kimchi", the national dish of South Korea. Known to be particularly fond of make-up, Kim Chi defines her drag aesthetic as "a live-action anime character whose fashion aesthetic could be described as 'bionic doily.' I imagine my aura to be an array of ultraviolet colors that spews glitter. I celebrate all things cute, fun, weird, and exotic."
3. Manila Luzon (Philippines)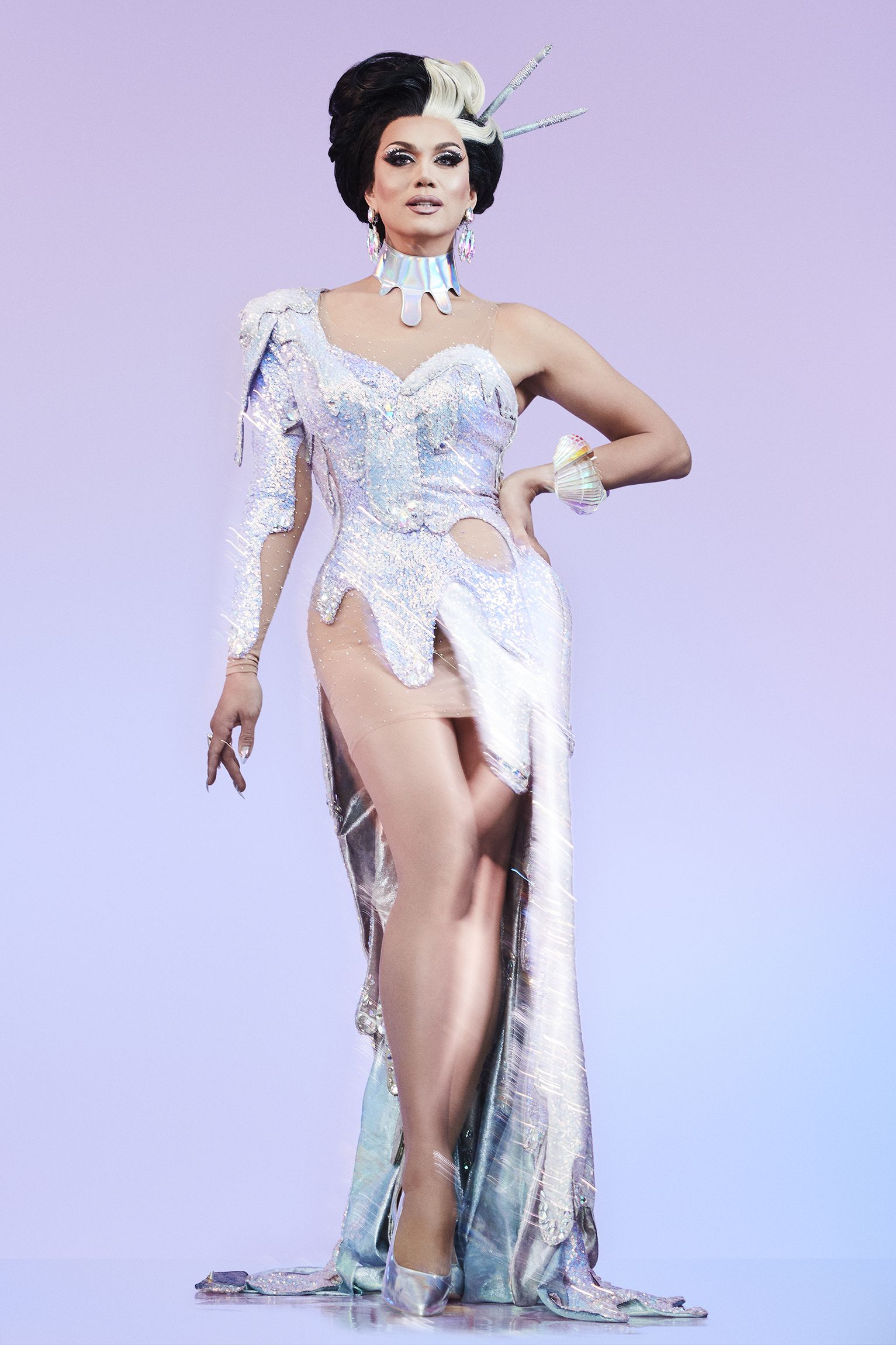 (Source: RuPaul's Drag Race Wiki Fandom)
"Is this bitch for real?!?"
Karl Philip Michael Westerberg who takes his drag name from his home country's capital city, "Manila" and the island of "Luzon" where his mother was born, is a drag queen, recording artist, comedian, and reality television personality who drew international attention after finishing as the runner-up of the third season of RuPaul's Drag Race. During her time in the competition, Manila Luzon proved to be a force to be reckoned with. She showed a wide set of skills that solidified her status as a front-runner, making her worthy of being a finalist for the crown, which she narrowly lost to Raja during the finale. After her appearance on the show, Manila has remained very active within the LGBT community. She has been a strong activist in terms of AIDS support and research. In a television ad called "Red Ribbon Runway", she appeared in a designer gown that was later auctioned by Logo TV to fund AIDS research. Most recently, Buzzfeed, the popular media network, ranked her as one of the 27 Filipinos who make you proud to be Pinoy.
4. Plastique Tiara (Vietnam)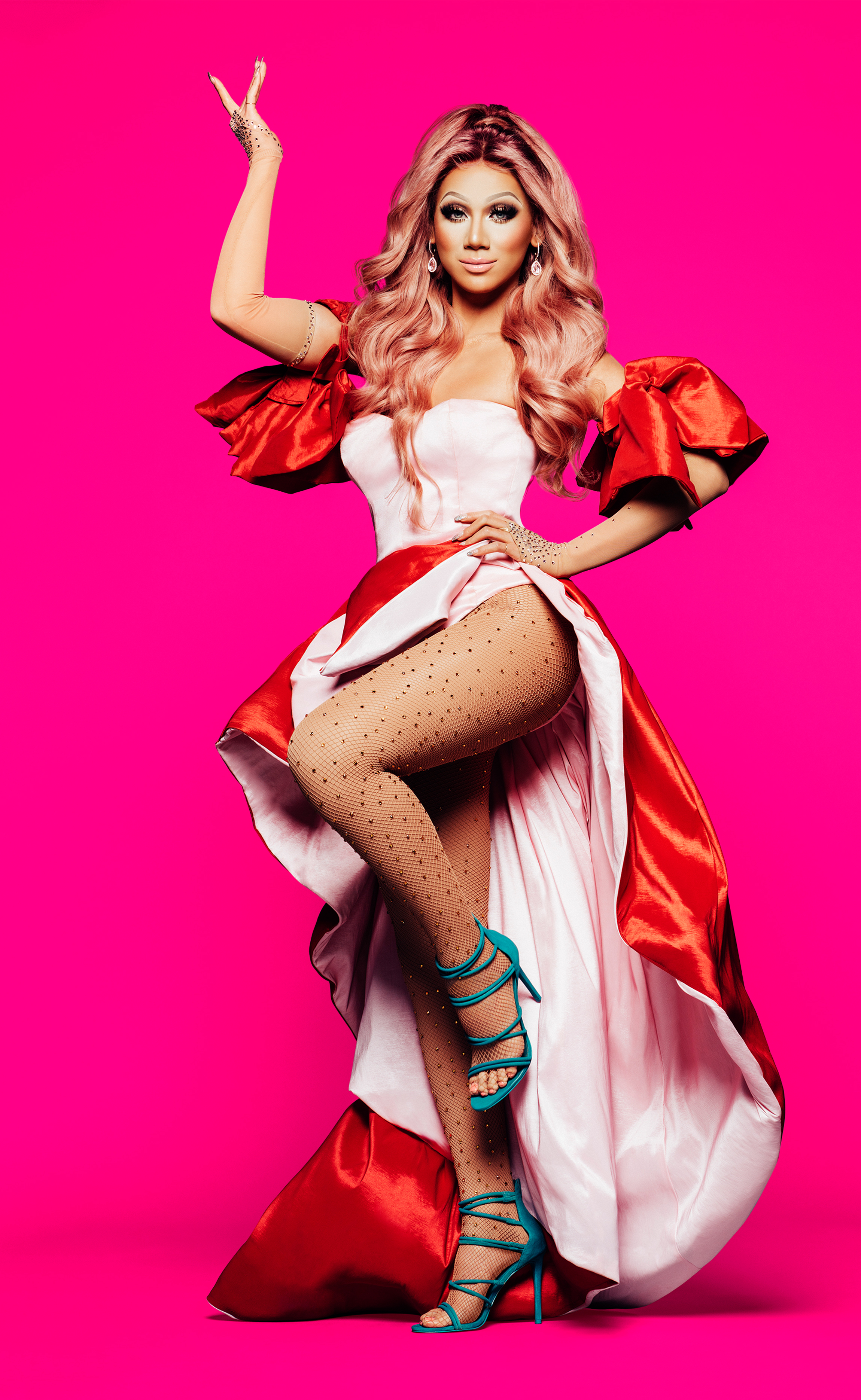 (Source: RuPaul's Drag Race Wiki Fandom)
"I like to describe my drag as 3 P's: polished, persistent, and pussy."
Duc Tran Nguyen, who is popularly known by her drag name Plastique Tiara, is a drag queen, performer, model, dancer, and one of the contestants in season 11 of RuPaul's Drag Race. Born and raised in Vietnam, Duc moved to the USA when he was 11 years old. Originally from Ho Chi Minh City, Duc is known to take inspiration from the styles of Vietnamese pop stars into his drag persona of Plastique. Known for her unique sense of style which is a combination of everything flowy, pretty, and feminine, Duc borrows from Asian culture and beauty to give Plastique her unique, youthful sense of energy. The inspiration behind Duc's drag name is believed to come from a character named "Diamond Tiara" in "My Little Pony" which she chose to mix with the term "Plastique" instead of "Diamond" as an allusion to plastic, a cheap material that is used to make luxurious Barbie dolls.
5. Gia Gunn (Japan)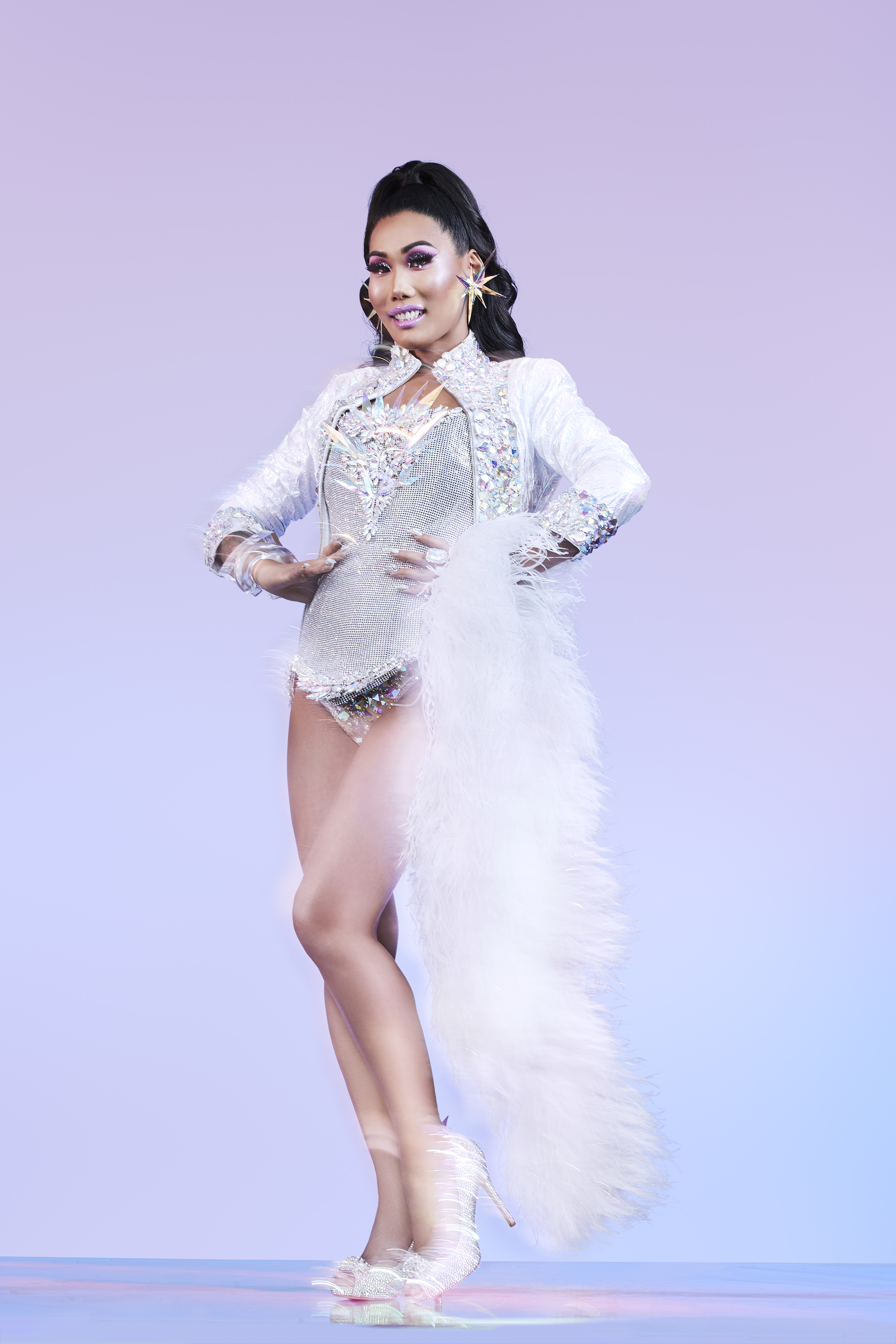 (Source: RuPaul's Drag Race Wiki Fandom)
"Just got off the boat, you know, little trip from Asia. Just landed like fresh tilapia."
Born into a Japanese-American family in Carpentersville, Illinois, Gia Keitaro Ichikawa began performing Japanese traditional dance and kabuki in onnagata roles when she was as little as five years old. Upon completing his high school education, Ichikawa enrolled in a cosmetology school and received his cosmetology license. Thereafter, Ichikawa moved to Chicago where he had the chance to observe numerous drag shows. Possibly being influenced by these observations, Ichikawa decided to perform himself and became a headlining drag performer. Finally, Ichikawa auditioned for the sixth season of the reality drag television series RuPaul's Drag Race where she placed 10th under the drag persona of Gia Gunn, which is believed to be inspired by Project Runway's very own Tim Gunn. In April 2017, Gia officially came out as a transgender woman, making her the sixth contestant to come out as transgender in RuPaul's Drag Race's history.
Finally, GagaTai would also like to introduce you to GagaOOLala's latest original drag short film, Best Sisters Forever, the latest movie by Patrick Liu, the creator behind Taiwan's most successful LGBT movie of all time, Your Name Engraved Herein. Best Sisters Forever is director Liu's attempt to shed light on and champion the drag spirit and sisterhood of Taiwan with the movie featuring real-life performances from some of Taiwan's most famous drag queens in Taipei's most iconic LGBT location, the historic Red House of Ximending district.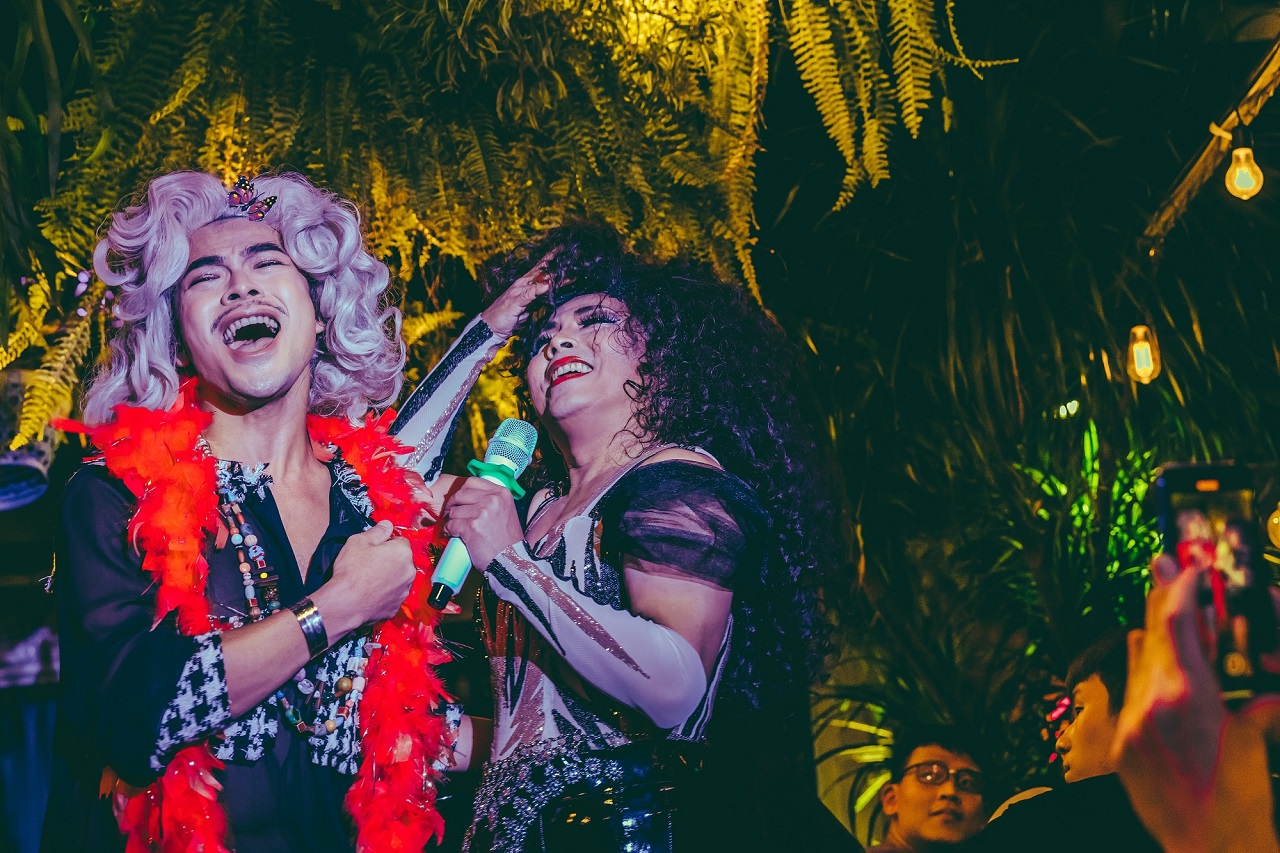 Ta SU (Left) as Yihong and Heng-Chi Kuo (Right) as Xuerong in Best Sisters Forever (Source: GagaOOLala)
The film centers on the story of the graceful Xuerong (Heng-Chi Kuo) and the fun and frivolous Yihong (Ta SU), two gay best friends 'sisters' who are finally reunited after a heated argument has them go their separate ways for almost a decade. Knowing that their days are now numbered, the two 'sisters' set out on a once-in-a-lifetime journey that has them rediscover the value of life, love, friendship, and family, with a long-lost dream ultimately coming true for the life-long duo. Best Sisters Forever stars the prestigious singer-songwriter Heng-Chi Kuo and the Golden Bell Awards winning aboriginal actor Ta SU in the roles of the Xuerong and Yihong as the main leads in the film.
The drag short film from Taiwan is now available to stream globally via GagaOOLala.