Following the steps of Weekend (2011), British gay film Sodom presents once again the romance in a perfect one night stand. A young football player is tricked by his friends after his bachelor party. Fortunately, a handsome man appears and rescues him. It is supposed to be pure friendship. But the player rediscovers his sexuality, and has his first gay sexual encunter with the rescuer. Sodom is the first feature film from director Mark Wilshin, and he has received several awards from Outfest and other queer film festivals around the world. Moreover, the film brings up the timely topic of the hidden closet life of many athletes.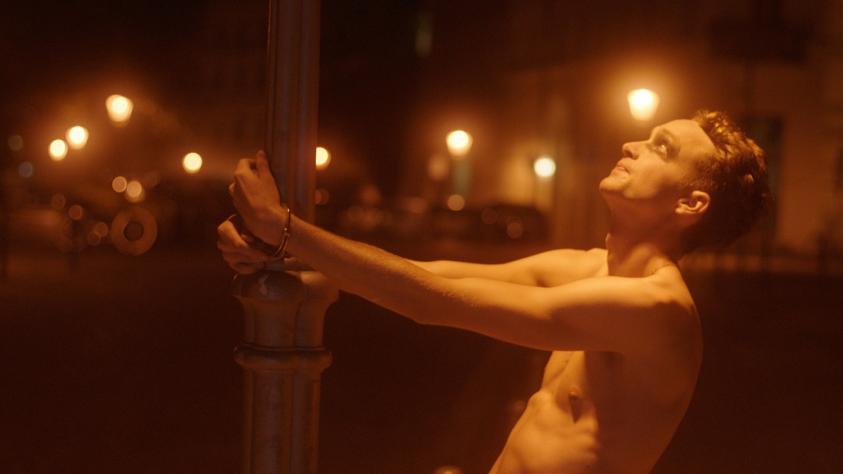 Young soccer player being tricked, naked and cuffed to a lamppost.
Sodom begins during a strange and mysterious night after a young football player, Will, leaves his bachelor party. After getting sober, he finds himself naked and cuffed to a lamppost. There is no one there. Fortunately, a mature dreamboat comes to Will's rescue, asking him if he needs help. The guy gets Will underwear and helps him get rid of the handcuffs. Thankful and grateful, Will walks the guy home, wanting to know more about this passionate man. However, he falls into the gay vibe and is "cuffed" again but, this time, he is cuffed to the man he just met. The sexually ambiguous interaction between them makes him unsure of his affection: is it just hangover or is he in the closet? Tonight, he will have to face his rawest desires.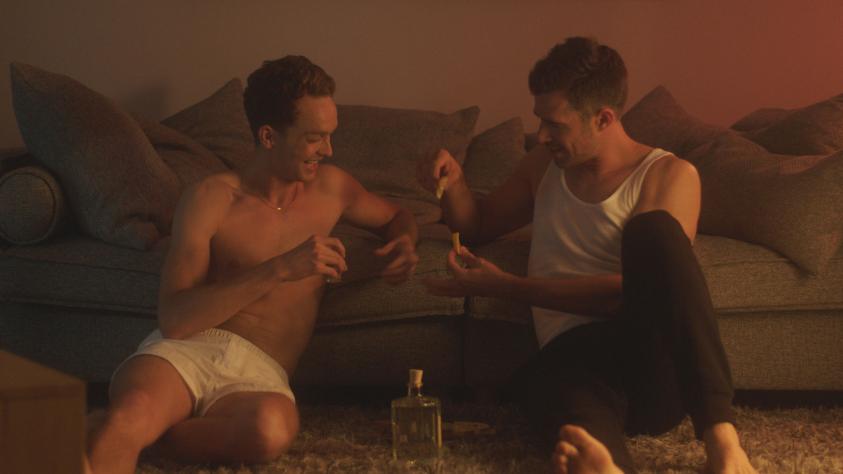 Will being "cuffed" again

It took only 9 nights and 4 days to shoot the film Sodom, but it took 2 years to director Mark Wilshin write the script, putting into it his personal life experiences, and achieving this one-and-only work which explores the issues of coming out, sexuality, and desire. According to the director, the reason why one of the main characters is a football player is to tackle the issue of sports and homophobia. They might be married, have kids, be athletic and masculine, but many of them might be living a lie. The director explained that the younger generation does not like the binary opposition; they feel comfortable being in a gray area. This is why Will keeps denying he is gay: his appearance presents his inner conflicts.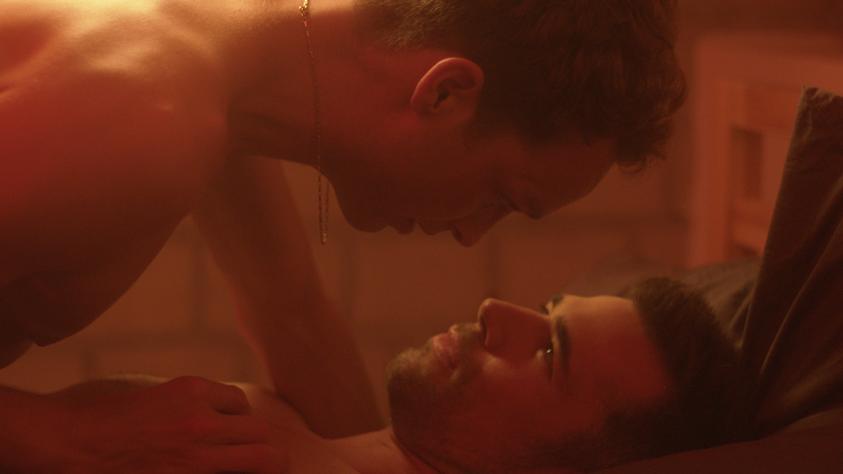 Sodom is Mark Wilshin's first feature film and received awards from Outfest, the East End Festival, and Florence International Film Festival. It has been praised by the media highlighting that, "[the film] starts from the stereotypes of male homosexuals, and then passion and conflicts within a partnership, making the audience witness the fluidity of emotion," or that it is "a 90-minute enjoyable romance. A tour de force of director Mark Wilshin."