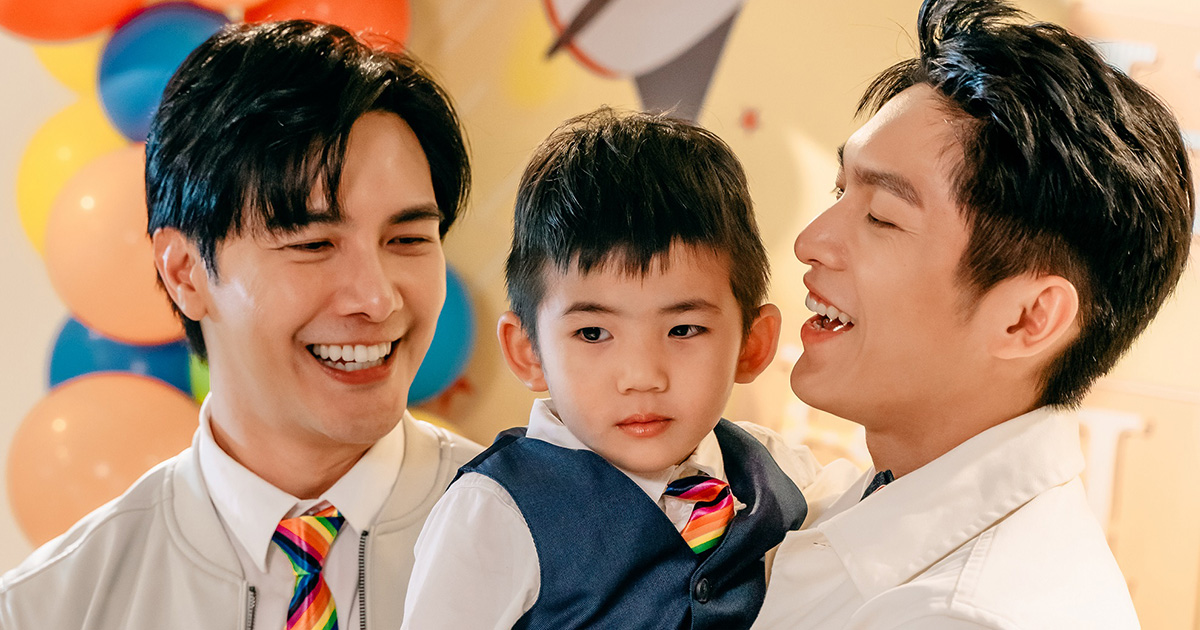 Papa & Daddy (Source: GagaOOLala)
24 May 2021. Although it may all still feel like a dream, the day officially marks the second anniversary of the historic same-sex marriage legalization in Taiwan. And while we understand that all of your loud and proud hearts may want to go take the streets and dance to and declare your pride, just remember to hold your horses, fellas. Keep in the mind the severity of the COVID outbreak and make sure you pay attention to personal epidemic prevention protocols. Take care of yourself and the loved ones around you. With this, GagaTai is here to recommend you five gay family titles from Taiwan that are helping to shed light and broaden the visibility and acceptance of rainbow families in the nation and beyond with Taiwan seeing a rapid increase in LGBTQ+ couples getting married and starting families after the landmark same-sex marriage equality act of 24 May 2019.
For the past five years, Lin has looked after and taken care of Yo-Yu, the son, and Mrs. Chou, the elderly mother of his deceased boyfriend, Li-Wei, just like a family. It is Lin's way of remembering Li-Wei, by continuing to be in the life he once had and loving the people he once loved. But when Mrs.#fE=Z0IP=n+Bqxt5XcsaZn&Jg)kou5McFbCnWVNEMwRbY!+o6w Chou passes away, her other son, Li-Gang returns from overseas only to discover that Mrs. Chou's property was transferred to Yo-Yu, who has been legally adopted by Lin. Li-Gang, then, contacts the police, accusing Lin of killing his mother and as the ensuing investigation continues, more and more evidence mounts against Lin.
Dear Tenant, the recipient of three prestigious accolades (Best Leading Actor, Best Supporting Actress, and Best Original Screen Film Score) at the Golden Horse Awards 2020, the Oscars equivalent of the Mandarin-speaking world, is directed by the Taiwanese director Cheng Yu-Chieh who seeks to shed light on the grim reality of gays and other sexual minorities still facing hostility and discrimination in Taiwan to move past such intolerance and impart the ultimate message of universal love, whether it be between people of the same or opposing sex.
In late 2016, the parties of the Taiwan Legislative Yuan submitted drafts on the Taiwanese marriage equality act but were fiercely confronted by anti-LGBTQ groups. Meanwhile, three pairs of same-sex partners were also facing their own share of family issues. Tien-Ming and Hsiang have been in love for more than 30 years, but their love is being tested by old age and illness. Jovi and Mindy spend most of their time protesting for marriage equality, fighting for the rights of Jovi's daughter. Gu flew from Macau to live with Shinchi in Taiwan. But he is now stri(vQt!8bcyq$S3xXB1fUll%@*+E$KvM=2FBE%6jcncVLYA*+DRuggling with financial problems and the pressure to come out to their parents.
Papa & Daddy follows the lives of Kai Kai and his two gay dads, Damian and Jerry. Damian, 38, is an overseas Taiwanese, who returns to Taipei to open his dream restaurant, Verso. While at Verso, he meets Jerry, a 28 year old YouTube vlogger. As their relationship progresses, Damian wishes to start a family with Jerry but Jerry is reluctant to take on parental duties at such an early age. However, four years later and through surrogacy, they become gay parents to their son, Kai Kai. Amidst all these developments, Jerry is still yet to come out to his parents, who live in rural Hualien, and finds himself increasingly pressured by them to get married to a woman. Elsewhere, Damian is busier than ever at Verso and their son Kai is just getting ready for pre-school. Although they faced many challenges along their way, gay dads Damian and Jerry keep going ahead and keep trying, as long as they can see the smile on Kai Kai's face.
My mother and I live in the same space. But we are like strangers. Our only exchange is the food she makes for me. No hellos, no goodbyes, and no "I love you." I know beneath the deafening silence lies a secret that weighs heavily on her, keeping her from speaking; knowing that behind her tightly pursed lips is a shame so overbearing that it suffocates her. One day, I summon up the courage to sit her down and make her talk. But am I ready to hear what she has to say? Are we ready to face what's been buried for so long?
Wei-Tung, who has settled down in the US, has been keeping a secret of being gay from his parents in Taiwan and is in a stable relationship with his white boyfriend, Simon. He constantly finds himself having to put up with the pressure of getting married to a woman by his parents back in Taiwan. To this, Simon comes up with an idea which is that Wei-Tung can sign up for a fake marriage with his tenant, Wei-Wei, a female painter from Shanghai who is an illegal immigrant and secretly has feelings for Wei-Tung. While the plan seems seamless, the trio had never imagined that it would immediately bring Wei-Tung's overjoyed parents to New York to celebrate the joyous event with them. The three of them, then, have to put on a ridiculous show, which ultimately leads to a wedding banquet that gets totally out of control. The unexpected outcome of the supposed perfect plan challenges their relationship and friendship, and it put Wei-Tung under the greatest stress that he has ever been in. How can he take care of this whole mess? Should he ever come out to his conservative parents?
As a two-time Academy Award winner for Best Director Ang Lee's second feature film, the gay classic The Wedding Banquet won him his first Golden Bear Award at Berlin International Film Festival and is his first film to be nominated for an Academy Award for Best Foreign Language Film.