As the original pioneers of the "Hallyu" wave that today makes for a billion dollar global entertainment industry with a legion of die-hard, dedicated fans from all across the globe, South Korea is the cradle to the highly captivating and influential world of K-Pop that has left a lasting impact on the contemporary cultures, the audiovisual entertainment landscape and the current zeitgeist of the times ever since the start of the 21st century. Home to the world's most famous boy and girl bands (Big Bang, Super Junior, BTS, Girls' Generation, TWICE, Blackpink), top-rated A-list stars and celebrities (Lee Min-ho, Park Shin-hye, Kim Soo-hyun, Jun Ji-hyun, Park Seo-joon), and awarding winning on-screen and off-talents that have recently gained global praise and fandom (Train to Busan, Bong Joon-ho for Parasite, Youn Yuh-jung for Minari) to name a few, South Korea seems to be slowly but gradually opening its door to more LGBT-focused content in the past one decade (Just Friends, Method, Man on High Heels, Itaewon Class, Where Your Eyes Linger). Taking inspiration from this, we, here at GagaTai have come up with a list of a total of 6 gay short films in an attempt to give you a glimpse into the chemistry, skinship, and relationship between everyone's beloved Oppas from South Korea!
Dong-su, who is tired of living and working in the city, takes three days off and goes on a long-distance bike ride to the remote countryside where he accidentally falls into a ditch and hurts his leg. While wandering around with his injured leg, Dong-su eventually stumbles upon a farmhouse and stays there for a few days with the help of In-pyo, the farmhouse resident. Upon meeting and spending time with each other, Dong-su and In-pyo find that they are attracted to each other but aren't really sure about how they truly feel. 

(Source: GagaOOLala)
Some More by the South Korean director Kang Woo is a short film with a simple storyline that happens to be described in an ambiguous tone. In a particular scene where Dong-su and In-pyo are eating watermelon by the riverside, we are introduced to the sight of In-pyo attending to Dong-su's injuries with his face close to Dong-su's leg. All of sudden, both of them turn aside, and before we know it,  Dong-su is on top of In-pyo, with the rest left for you to figure out yourselves.
Hun works part-time at a bar and has a crush on the boss, Mr. Jang. But Mr. Jang is attracted to a regular customer Misuk instead. One day, when the bar is about to close, Misuk comes in alone.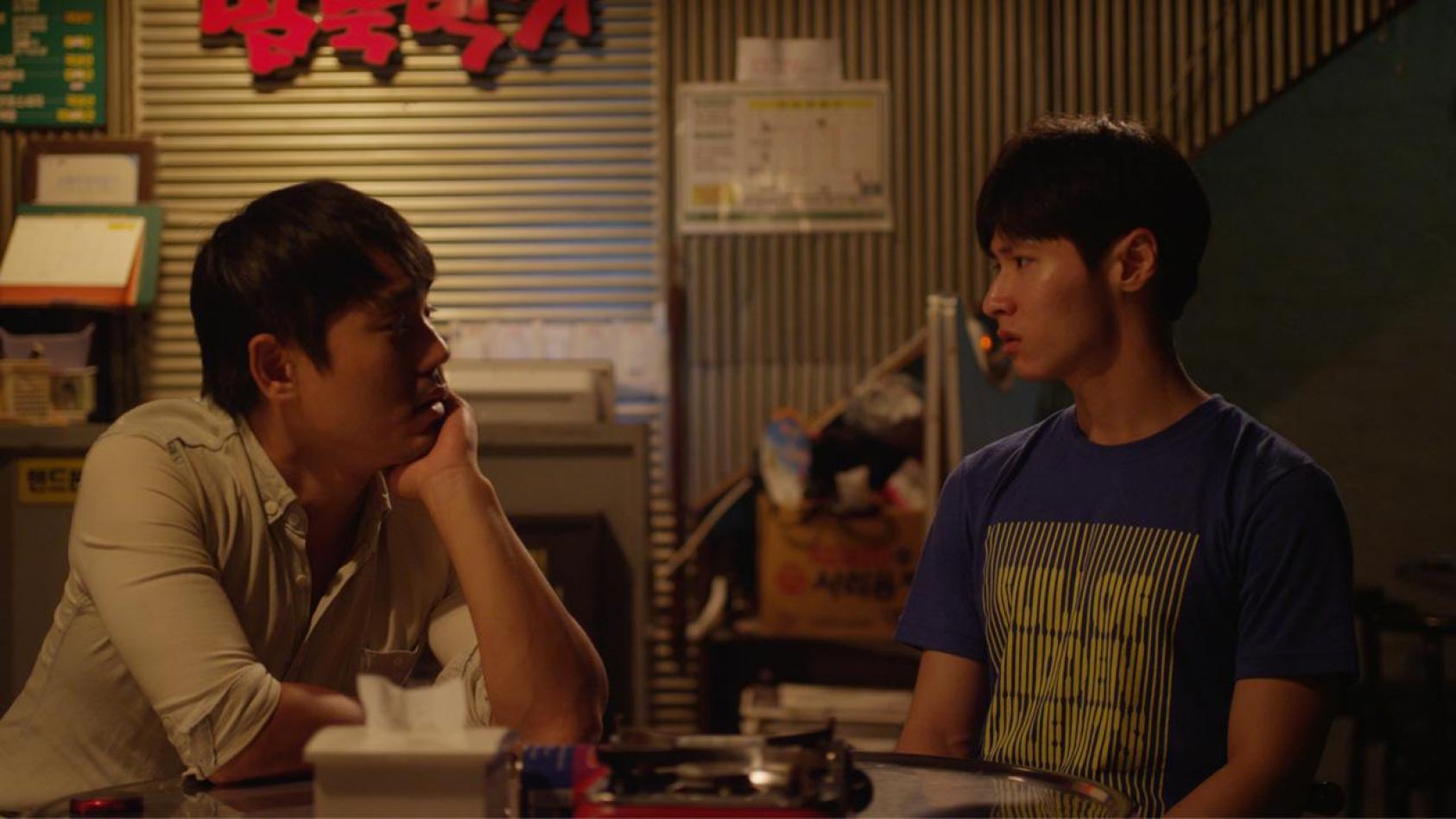 (Source: GagaOOLala)
A rather meaningless plot, right? We get it. We honestly do. But let us tell you this: "If you're having second thoughts about the film, then the sight of Mr. Jang' should be enough to get you convinced." Clad in a body-hugging ensemble that doesn't leave one with much to imagine, it's no wonder why Hun is so fascinated by the hot and well-built Mr. Jang. But beyond his muscular physique, what makes Mr. Jang even more attractive is that he's actually a man of heart. Take, for instance, a scene where he is thoughtful enough to hand a tissue over to a heartbroken female customer upon noticing that she is upset, thereby going further enough to comfort and sympathize with her situation, which results in the cute and adorable Hun getting fueled with anger and jealousy.
Han Do is at his house working on his assignments with his friend Jun Jae when his boyfriend suddenly barges into his place. The boyfriend becomes doubtful of the relationship between Han Do and Jun Jae upon noticing the sight of them together thereby resulting in Han Do being embarrassed by his boyfriend's actions and Jun Jae becoming flustered about the whole awkward situation.

(Source: GagaOOLala)
How is it that someone who is working on his homework is caught engaging himself in a sexually suggestive position with his friend the very moment his boyfriend decides to enter his place? The mise en scène by the director Jun Bum is simply on point in portraying the awkwardness between Han Do, his boyfriend, and Jun Jae at the very sight of the particular scene with Open being a film about the love triangle between the three college boys.
Jin Gyu, who has a secret crush on his schoolmate, buys himself a pair of glasses with a special "secret" function, which he decides to use to view his crush. But upon discovering the secret of the glasses, can Jin Gyu's unrequited love for his cush continue?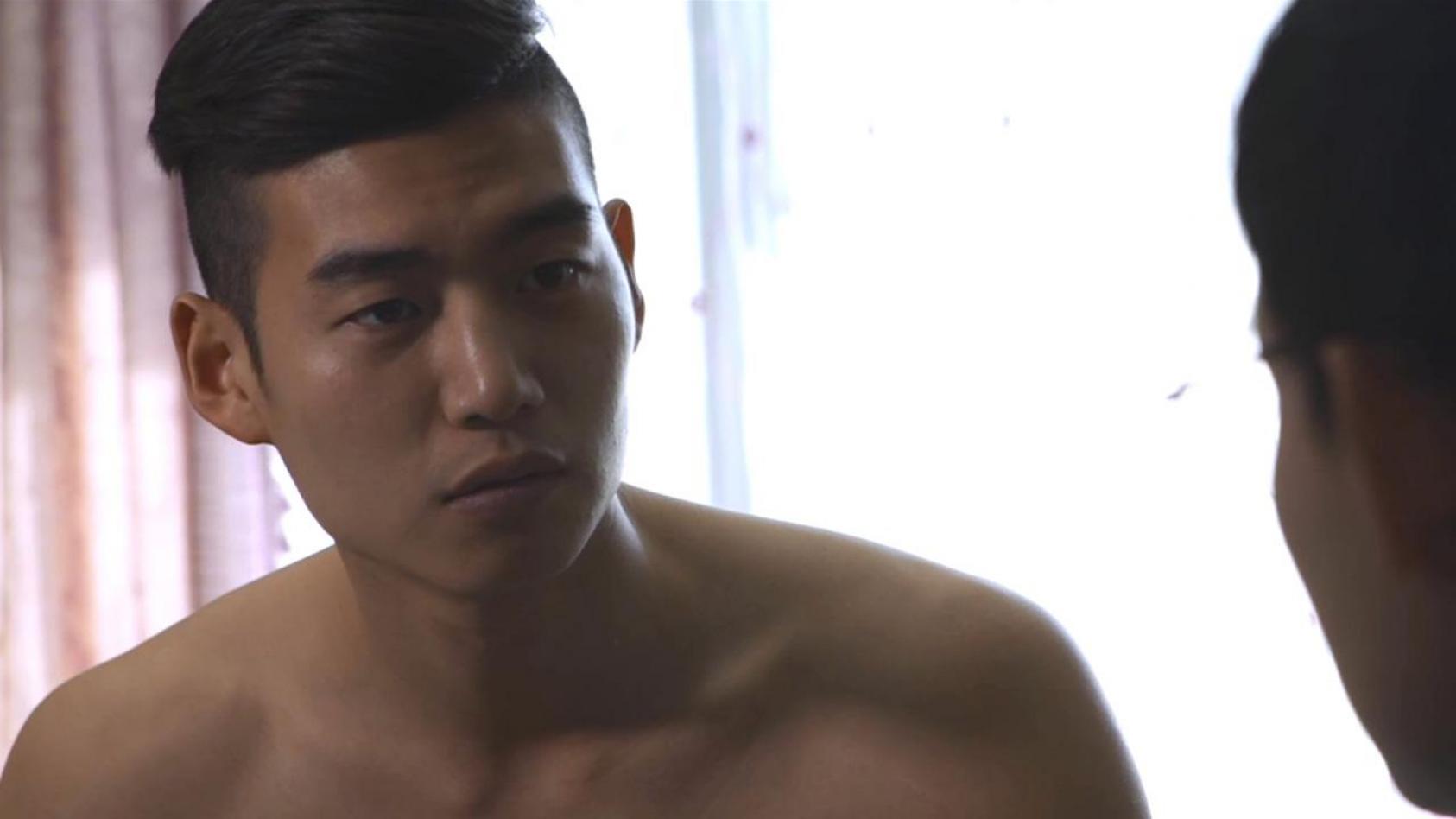 (Source: GagaOOLala)
There is Kichiku Megane from Japan that gives the person who wears a special pair of glasses the capability to take on a different personality with superpower abilities. However, in the case of Secret Spectacles from South Korea, it is much easier as you can see through everything with it without needing to switch one's personality. In the film, we see Jin Gyu wears the glasses to perform a test run on his classmate, thereby perfectly unlocking the naked body of his classmate. However, it is an absolute pity that a pile of books and a pillow are on his way! Come on, stand up for me, would you?
Ji Hoon gives Hyun Duk a condom the night he is going to lose his virginity. Kingdom, a condom for convenience stores, is selected and sold by Ji Hoon. Kingdom is presented to Hyun Duk, Ji Hoon's lover, but when he wakes up, he finds himself in an unexpected place. What is the final destination of Kingdom?

(Source: GagaOOLala)
Do you think Don is a film simply about condoms? Let us tell you this: Don is not just a condom, it is a self-aware condom, and it has friends! Built upon an amusing plot laced with many interesting settings. Don uses the point-of-view of the condom with a hilarious tone and various "surprising" discoveries to guide the audience towards understanding the relationship between the male protagonist and the other characters. If you meet someone you really like for the first time, will you prepare a condom for him, and will you cherish the sacred first time between the two of you?
Beom-soo is an aspiring and struggling musician. While busking, Beom-soo meets and falls for Hyun-woo, a fan of his, Hyun-woo thereby discovering his musical identity in the process. Producer Hee-jin wants Beom-soo to be a successful singer, but Beom-soo just wants to make good music. 

(Source: GagaOOLala)
The comforting warmth of the morning sunlight, a plush sofa big enough to fit two, and an empty studio is the perfect place and setting for me to show you my love. In the particular scene, Beom-soo sings the song "Remember me, remember this moment" gently into Hyun-woo's ears. Hyun-woo then wakes up from his sleep and responds to Beom-soo voice with a kiss lightly on his lip. Ah, imagine the possibility of this happening for real. Away from the extreme twists and turns or the emotional upheavals of most Korean films and dramas As If You Whisper is a film capturing the essence of pure, innocent love; Ii is a song that might seem a bit blue on the surface but is filled with extra warmth on the inside.