Zheng Jia-jian, a well-built 185 cm boy with a bad-boyish vibe, is an idol admired by the younger generation in China. After starting his career in some insignificant roles in several TV series, Zheng Jia-jian has gone viral since he played an attractive high school student in River Knows Fish Heart.
Zheng Jia-jian, who often plays the naughty bad boy, is the personification of hot and sexy. He gets the audience's attention with his cool smirk and his mysterious eyes. In River Knows Fish Heart, he plays an outgoing gifted high school musician who moves into his classmate's place. Zheng Jia-jian's character is not innocent at all: slightly bossy, athletic, and focused. Moreover, his dominating features and the way he bends his roommate really make fans want to be a poor, dominated bottom!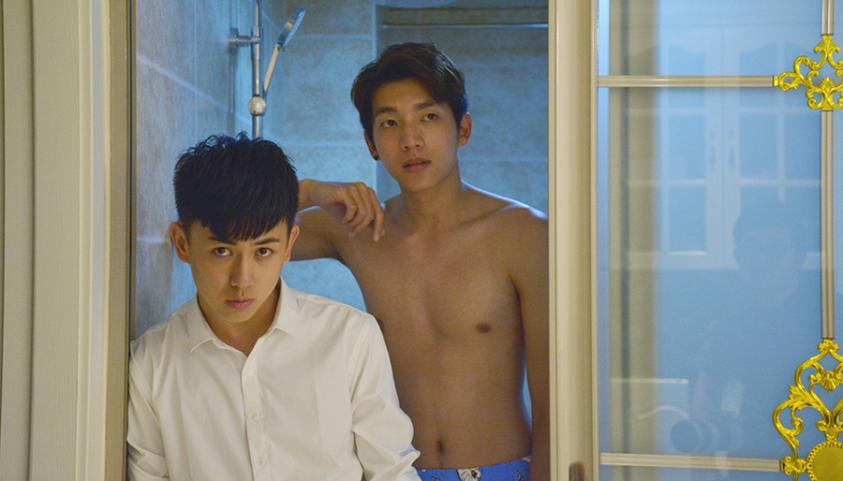 Zheng Jia-jian (Right) in River Knows Fish Heart / Source: GagaOOLala)
The most edgy scene in River Knows Fish Heart is when Zheng Jia-jian forces his roommate to kiss him in the bathroom, erotically whispering: "I want every inch of you." Even more sensual is that, at the end of the film, they smooch HARD in bed. 
Maybe it is because Zheng Jia-jian is particularly talented at interpreting gay characters, just after River Knows Fish Heart he immediately got a part in Love is not Easy to Have, a famous Chinese sort film starring Han Jing-cheng. And, surprisingly, the two cute young hunks play a charismatic couple. Since the release of a one-minute trailer, the Internet community has been blown away by the chemistry between the two buddies --a difficult love, indeed. Zheng Jia-jian's passionate and moving acting skills, once again, won him many fans.

From Love is not Easy to Have / Source: YouTube
After a series of mind-blowing performances in the BL market, the fans are looking forward to another fascinating gay movie starring Zheng Jia-jian. Let's rewatch River Knows Fish Heart, the masterpiece that has made him so well-known, before the next one comes out!